Juiciest Burger Ever
No more Hamburger Joints for us!
David said I have ruined going to hamburger joints after eating this juicy burger.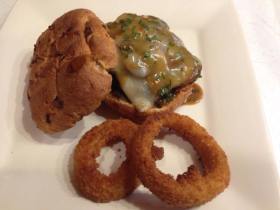 Do you ever just want a juicy – but not greasy hamburger?  Fast food hamburgers are like eating cardboard or many of the restaurant hamburgers are too greasy and don't have flavor.
There is nothing like a hamburger bursting with flavor and juice running down your face that's not grease!
This hamburger recipe takes a little prep time, but it is so worth it.  Served on an Onion Bun, with Jalapeño Jack Cheese, Mushrooms and a killer sauce, it's almost a sin to eat!
Juiciest Burger Ever
Ingredients
1 pound Sirloin Steak, trimmed and cut into 1/2″ pieces
2 tablespoons Butter
Kosher Salt and Pepper
1 teaspoon Olive Oil
1/4 cup Mayonnaise
2 teaspoons Soy Sauce
1 small Garlic clove, minced
1 teaspoon Brown Sugar, packed
3/4 teaspoon Worcestershire Sauce
2 teaspoons fresh Chives, minced
2 large Onion Burger Buns, toasted and buttered
Garnish
1 small Shallot, sliced thin
1 Jalapeño, seeded and sliced thin
4 Mushroom, sliced
2 Jalapeño Jack Cheese slices
Olive Oil to cook
Directions
Prepare Garnish. I fried shallots, jalapeño and mushroom separately and transferred to bowls and set aside.
Prepare sauce. Whisk in a bowl, mayonnaise, soy sauce, garlic, Worcestershire sauce, chives and set aside.
Prepare Burger. Place the pieces of beef on a baking sheet in single layer. Freeze beef until very firm and starting to harden around edges, but still pliable, about 30 minutes.
Pulse beef in a food processor until finely ground, scraping down sides of bowl.
Preheat oven to 300F degrees. Drizzle melted butter over ground beef and add 1/2 teaspoon pepper. Gently toss to combine, being careful not to overwork meat. Divide meat mixture into 2 lightly packed balls and gently flatten each ball into 3/4″ patty.
Season patties with salt and pepper. Heat oil in a skillet over high heat. Place burgers in skillet and cook without moving for 2 minutes. Flip burgers and continue to cook for 2 minutes. Transfer patties to clean, dry baking sheet and bake until burgers register 120 to 125F degrees (for medium-rare) 3 to 6 minutes. Transfer burgers to plate and let rest for 5 minutes.
Place bottom bun on baking sheet…spoon some of the sauce on the bottom, place a burger on top of the bun, and layer with fried shallots, jalapeño, and mushrooms…top with cheese slice. Broil until cheese starts to melt.
Remove from oven and spoon more sauce on top of cheese and top with top half of the bun. And serve!