Silo Elevated Cuisine
I love fine dining and San Antonio is full of restaurants that take their foo seriously.
Since I am a gourmet home cook, it's hard for me to find a restaurant where I feel the food is worth the price.  After we eat our meal and look at the check, I often say that I can purchase enough groceries to make a couple of meals as good or better than the one we just had.
We usually go out to eat for a late lunch.  I just hate spending the dinner prices until I know the food is worth it.  Lunch portions are perfect and we usually end up bringing some home to enjoy later.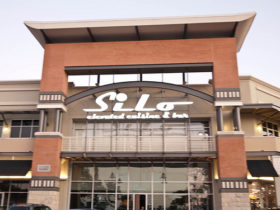 Here is one of those special restaurants I can recommend without any reservations.  I love the Silo Elevated Cuisine restaurant located at 434 North Loop 1604 West in San Antonio.
It's easy to get to, right off Loop 1604, but different for a restaurant setup.  When you walk in the doors, there is an elevator to your right.  You are standing in an entry way and there is no hostess waiting to show you to your table.
If you continue to walk in, through the entry way, it's not a restaurant at all, but a very nice lounge or bar area.
The first time David and I went, we had no idea to take the elevator up to the restaurant.  We thought it was just a bar, but there were no people and no bartender to ask questions.  So we decided to take a look at the upstairs, thinking maybe they just weren't open yet.
On the second floor we were greeted by a hostess and there were tables and you could see a kitchen.  Whew, we were at the right place.  For lunch the atmosphere was casual business.  What I mean is that there were folks in business attire having a business lunch.  We also observed some ladies who looked like they had finished going on a shopping spree and stopped in for lunch and a glass of wine.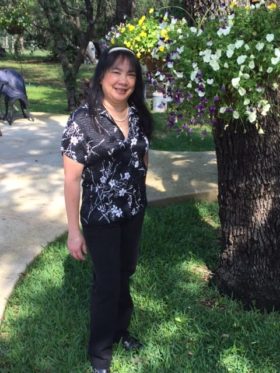 But that's ok, we're in Texas.  David and I were dressed casual Texas. That's a cross between looking nice and being comfortable.
We're retired, so the days of business attire are long gone.  I can say for myself, it's an occasion that I can get a little dressed up and for David, well with some glares, he cleans up nice too.
We're not here for a fashion show, we're here to eat some good food!
Our waiter poured our water and then brought out a citrus plate.  It had lemons, limes, oranges and grapefruit slices to put in our water.
Then bread with butter.
The waiter told us the daily special while we were studying the menu.  I wanted to take our time and order all the different courses.  This was our date lunch and since I got dressed up, I wanted to enjoy our date.  I always feel like Julia Child in the movie Julia, Julia.  Eating was an event and every bite needs to be savored.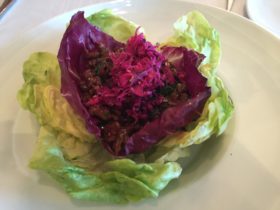 We started off with Black Angus Beef Lettuce Wraps. $10.00
Stir Fried Beef, Peppers, Scallions, Radicchio served with Bibb Lettuce.
We love lettuce wraps from PF Changs, but these were definitely different.  The beef had just the right amount of a charred flavor, and with the peppers and sauce, it had a slight Asian flavor.  Very good!
A spoonful of the beef wrapped in the delicate Bibb lettuce was just the perfect bite.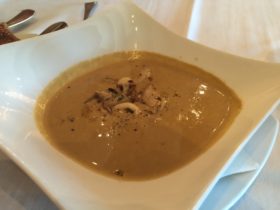 The Silo Daily Soup, was a Wild Mushroom Bisque. $6.00
The blend of mushrooms and the creamiest rich bisque was delicious.
There was a deep flavorful earthy mushroom flavor from the roasted mushrooms.  A mild hint of possibly cognac and finished with truffle oil.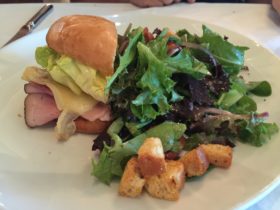 David ordered Salad with half Club Sandwich. $9.00
The half Club Sandwich pile full with Black Forest Ham, Applewood Bacon, Swiss Cheese, Avocado, Bibb Lettuce on a Challah Bun, would have been considered a whole sandwich, with just the other half of the bun!
The salad had mixed greens, red onions, cherry tomatoes, cucumbers (hold those, David doesn't care for them.), croutons, and a honey-dijon walnut vinaigrette.
This was the perfect lunch for David.
We're in a gourmet restaurant, so I'm going all out for their signature dish.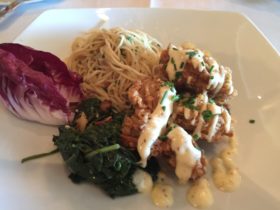 Signature Chicken Fried Oysters. $15.00
The Chicken Fried Oysters, need to be their signature dish.  The breading was perfectly seasoned and encased the oysters without falling off.
Served with Angel Hair Pasta, Sautéed Spinach, Applewood Bacon, Tart Apples and Mustard Hollandaise.
I enjoyed every bite.  I still can't get over the way the breading stuck to the oyster and was fried perfectly.  From the crunch of the breading to the oyster melting in my mouth, and the little tang of the hollandaise, I couldn't stop eating every little bit.  In my view, if a restaurant takes the time and effort to get the breading right, it is earning a sweet spot in my culinary heart.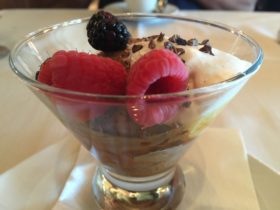 For dessert, we shared a Belgian Dark Chocolate Mousse. $7.00
Fleur de Sel Caramel, Cocoa Nibs, Chantilly Cream in a really small glass.  David should have ordered his own.
Fleur de Sel is a hand-harvested sea salt collected by workers who scrape only the top layer of salt before it sinks to the bottom of large salt pans.  Mixed with the cream and butter cooked to make the rich caramel.  A light Chocolate Mousse, with a dollop of Chantilly Cream, which is whipped cream flavored with vanilla, little crunchy bits of Cocoa Nibs and raspberries and blackberries.
Need I say, this dessert was the perfect ending to a delicious meal?
After eating, we needed to sit and sip on coffee.  Just to take it all in, everything that we ate, and the good company of each other. Not many words were spoken, but more of caveman noises through the whole meal!  Trying to keep it clean, thank goodness no one was sitting close to us, because I wasn't grunting, I was groaning. The flavors on my tongue danced.
I love Silo Elevated Cuisine and will visit many more times.
I'm Ramona Werst and this is my Foodie Restaurant Review….
Bon Appetite!