Texas, In Her Own Words
A  good Texas Book for everyone
My friend Tweed Scott has written a book about Texas that I wish I had written.
The title is Texas, In Her Own Words as told to Tweed Scott.
It's a great read if you love good books about Texas and it has a lot of quotes and essays from several folks you already know and a few you will get to know.  The forward of the book is by Texas character/candidate Kinky Friedman.  Kinky described the book as "a living chronicle of what it truly means to be a Texan."  Wow!  Kinky just instictively knew what to say about Tweed's book, a true labor of love that covers Texas from the panhandle to Mexico and from El Paso to East Texas.
Tweed  and his wife just about wore out a new car in their search for what it means to be Texan by traveling to all corners of Texas.  It took those many miles traveled to talk to as many folks as possible to get an accurate view on what being Texan meant to many different people from all walks of life.
Who did he interview and talk with?
Some names you might recognize include Liz Carpenter, John Kelso, Poodie Locke, Roger Moore, Willie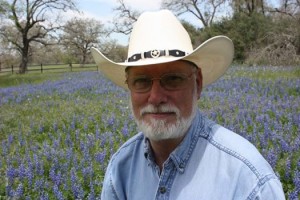 Nelson, Darrell K. Royal, and of course the aforementioned Kinky.  The photo to the left here is of Tweed himself.  But there were plenty more folks you will get to know, some famous in their own right and some who just are uniquely Texan.  Like Bill Leftwich, a sculptor artist, writer, and former tank driver for General Patton.  Bill makes mention of a time when he was standing on a bridge with some Moroccans during WWII and they wanted to know where Bill was from.  In true Texas fashion, he answered, Texas.  Bill said the Moroccans started making motions like they were whippin' their horse and shooting their six guns.  "They knew exactly what Texas was about."  Those kinds of stories are what make Texas In Her Own Words such a good read.
I've said many times that you can take any kid from Japan to Sweden and draw an outline of Texas or the Alamo and they will know what it is.  Try that with any other state and you'll just get a blank stare in return.
Not only was I entertained and enthralled by the book itself, since I have a manuscript of my own at the editor as we speak, I was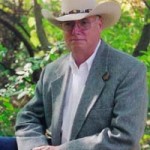 mightily impressed with the physical aspects of the book,  The cover design was a spectacular photo Tweed's wife took of the sun shining through the fabric of a Texas flag.  The cover itself is also unique in that it has two half flaps front and back that add to the total design package. They call it a laminated French flap.  I think the design really adds to the flavor of the book.  Maybe I'm just interested in such things, but I have several friends who are published authors and this is by far the most interesting design I've seen inside and out.
Now in case you did not know, Kinky Friedman is not just another would be politician.  He is quite a musician, a muse, and wit, and he is a very accomplished mystery writer himself.  In a quick search of Amazon, I stopped counting at 30 titles either written by Kinky or in collaberation with someone.  The point being, Kinky knows a good Texas book when he reads one.
Here's another quote about Texas in Her Own Words by Kinky:
"Searching for the soul of Texas, Tweed Scott has done a great service.  People and places and the cowboy poetry of the heart – Texas In Her Own Words is chockfull of all these things.  It deserves a special place on your bookshelf right between Larry McMurtry and J. Frank Dobie."
That's a pretty good recommendation for you to go out and buy this book.  How do you do that?
I asked Tweed and he said the best way to buy this very collectible book was to simply email him "Tweed@TweedScott.com" and he will get back to you right away.  If you are in San Antonio, you can also buy it at the bookstore at The Alamo.  Now how Texan is that?
Go ahead and order yours today.  It's all Texas!