Here's an email I received recently from a friend and reader.
Hey David, this is the Kidd in Odessa. Where can a REAL TEXAS HUMAN BEING find a place to eat the best chicken fried steak in Texas? Me and two other buddies are going to spend 2010, sacrificing our time, money, and taste buds trying to find that one place that will satisfy our lust for the best chicken fried steak.

I enlist you for 2 reasons.  One, I know you and your bride appreciate good food.  And two, you have a large readership. This would help our search for the holy grail of the best chicken fried steak.

We would appreciate it if one of your readers might write in and suggest a cafe, resturant, bistro…..whatever.
Here is my reply: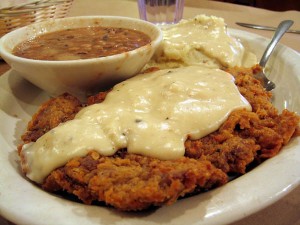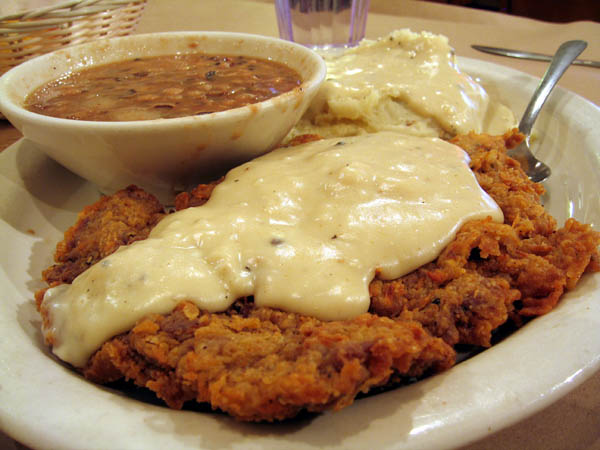 What a noble endeavor!  I can think of no better quest for three Real Texans from Odessa than to search out the very best chicken fried steak in the Great State.  Now that is a goal that is worthy of any good Texan in the year 2010.  And three Real Texans from Odessa are automatically qualified to be the very best of judge of what is and is not a good chicken fried steak in any Texas Cafe or restaurant.
As a certified 5 year survivor of quadruple by-pass surgery no doubt brought on by a lifetime consumption of prodigious platters of chicken fried steak, I also have an informed opinion on this matter.
Two good places to start that are in semi proximity (by West Texas standards) to you and your friends would have to be:
Grandma's Kitchen – Big Lake, Texas.  Grandma's make as good an all around chicken fry as you would ever want to eat.  Make sure you get it fresh made.
The Hitchin' Post – Ozona, Texas.  Their batter and crust is a little different than some you have had, but still good.
My disclaimer:  Times change, restaurants change, and cooks change so what used to be best a few years ago might not be best today.  However, a great chicken fried steak is a thing of beauty to a Real Texan.
Here is a link to a series of articles on another connoisseur's search for a good chicken fried steak.  The author can recognize a frozen patty CFS (chicken fried steak) a mile away and he gives some really good tips on what an outstanding chicken fried steak should look like and taste like.  And he explains some of  the criteria used to judge an outstanding chicken fried steak.
Every young athlete in Real Texas knows what it is like to eat a chicken fried steak after a sporting event in a neighboring town.  We all grew up on chicken fried steak and we've had the good, the bad, and the ugly of this Real Texas dish.
What say you Readers?  Where should three good ole' boys from Real Texas go to start their search for a great chicken fried steak?