Hungry Horse Restaurant, Boerne, Texas
The best Hamburger in town….
We not only love Mexican Food, but we can eat a good hamburger anytime.  We were at David's doctor appointment in Boerne.  (We can get in and out of the Cardiology Center in no time and don't have to pay for parking either.)  His Cardiologist comes to Boerne 1 time a week from the medical center in San Antonio and we are taking advantage of the slower pace.  We asked the technician for a recommendation on the best hamburger place in Boerne.  He immediately recommended the Hungry Horse. He's a Boerne native, born and raised there.
He said that not only are the burgers tasty, but you get a lot of food for the price.

A little more about Boerne…
We love Boerne!  It's a big little town.  What I mean, is it's like Fredericksburg.  There are all kinds of interesting and unique shops lining both sides of the Main Street that goes for about a mile.  They call it the Magic Mile.
And did I mention food?  Lots of restaurants.  From gourmet delights, to ice cream and anything you are hungry for you can find.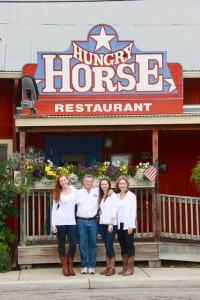 The Hungry Horse, isn't on the Main Street, but is just around the corner. 109 S. Saunders, Boerne, Texas.
Very western decor and the folks are really friendly.
When you walk in the door, before you even get to the counter to order, there is a glass case loaded with all kinds of pies!  My eyes were wide and my mouth was watering, oh, David said we needed to eat lunch first…. lol
Looking over the menu, it all sounded delicious.  Kinda reminded us of the Hitchin' Post in Ozona, with Chicken Fried Steak, Chili, Steaks and of course all kinds of Hamburgers.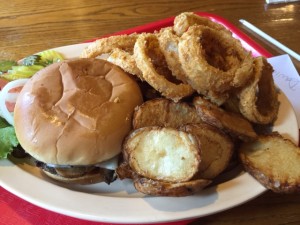 We came hungry for a hamburger, so that's what we were going to order.  We remembered the technician saying it was a lot of food, so we decided to split a hamburger and add a half order of fries and onion rings.
We ordered the Mushroom and Swiss Cheese Hamburger with 1/2 order of Onion Rings and Fries… $11.95
This was one of the best hamburgers that we've eaten in a long time…the hamburger was a nice thickness, and cooked perfect.  The mushrooms were cut thick, roasted and the melted swiss cheese held them in place on top of the hamburger.  The home cooked fries were thick and crisp.  My favorite were the onion rings, lightly battered and sweet onions fried crisp.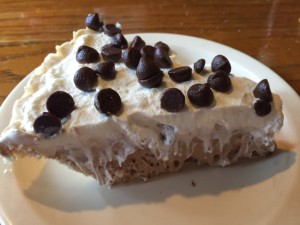 It was finally time to order dessert…but how many pieces of pie could I eat?  There was Buttermilk pie, Bread Pudding, Blueberry pie, cherry pie and on the bottom shelf there it was…Jen's Dark Chocolate Truffle Cream pie.
This pie was made at the restaurant.  The crust was flaky with a thin layer of the dark chocolate.  The chocolate cream filling was not too sweet, but light and rich, topped with homemade whipped cream and chocolate chips.  It was a piece of heaven!
We'll be back to try more from the menu.  I think we've found a favorite down home cooking place in Boerne, Texas.
I'm Ramona Werst and this is my Foodie Restaurant Review….
Bon Appetite!