Asian Sticky Chicken Wings
Have Extra napkins for these delicious Asian Sticky Chicken Wings.
This chicken wing recipe is a hit.  With the delicious sweet Asian flavor, they are definitely finger licking good.
Asian Sticky Chicken Wings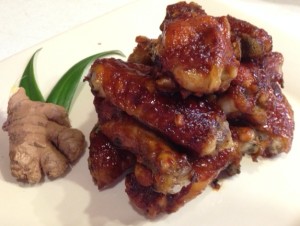 Ingredients
3/4 cup Dark Brown Sugar
1/4 cup Soy Sauce
2 tablespoons fresh Ginger, minced
4 Garlic cloves, minced
1/2 teaspoon Cayenne Pepper
1/4 cup Tomato Paste
1 pound Chicken Wings, tips cut off and cut into two pieces
Kosher Salt and Pepper
Vegetable Oil Spray
Directions
Place a 6-quart saucepan, with a steamer basket and 1 inch of water in the bottom, over high heat, cover and bring to a boil.
Remove the tips of the wings and discard or save for making stock. Use kitchen shears or a knife to separate the wings at the joint. Place the wings in the steamer basket, cover, reduce the heat to medium and steam 10 minutes. Remove the wings from the basket and carefully pat dry. Lay out the wings on a cooling rack set in a half sheet pan lined with paper towels and place in the refrigerator to dry, about 1 hour.
In a bowl add brown sugar, soy sauce, ginger, garlic, cayenne and tomato paste.  Whisk until sugar is dissolved.
Remove the chicken wings from the refrigerator and place on an oil sprayed rack and place on a rimmed cookie sheet.
Position oven rack 10″ from broiler and heat broiler.
Brush chicken wings with the mixture and broil until lightly charred and crisp, 10- 15 minutes.  Flip chicken over, brush with mixture and continue to broil until lightly charred and crisp on second side, 5 – 10 minutes.