What's for breakfast?
It's a breakfast burrito.
Inside you will find eggs, and sometimes bacon, jalapeños, peppers, onions, cilantro, diced tomatoes, chorizo, and as many more additions and ingredients as your taste buds allow.  A burrito is portable and delicious.  I have consumed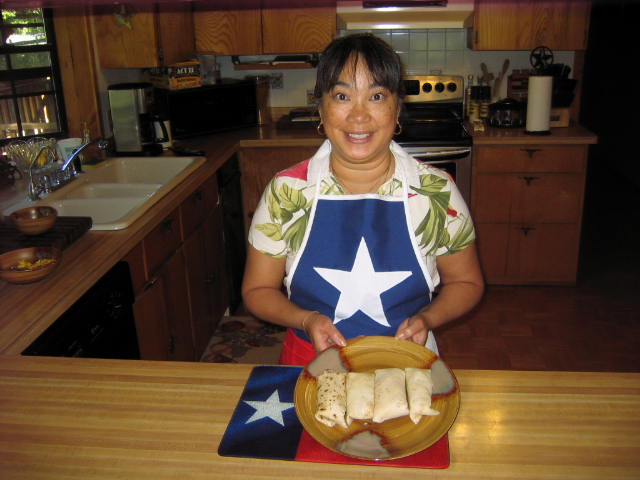 and enjoyed literally thousands of burritos of all kinds and flavors.  I really have….just ask my cardiologist.
Here is a photo of my Ramona with a plate of her world famous breakfast burritos.  She learned to make them after tasting and loving the burritos Pearl Ramirez made when Pearl had her burrito place in her backyard in Big Lake, Texas. We loved Pearl's burritos.
They are the best portable food on the planet.
My personal favorite?  A big ole' fat bacon and egg burrito con jalapeños!
In my traveling past, when I was gone for more than a few days out of the Great State, the first thing I wanted when I got back was to start the day with a burrito.  A tasty and nutritious burrito.  Con jalapeños.  We know what that means in Real Texas.  Then a lot of us add some hot salsa to that burrito after every bite we take.
The burrito originated in Mexico.  It literally means "little donkey".  The legend is that the word 'burrito' evolved from the bedroll often carried by the donkeys or burros by travelers in Mexico.  The bedroll was rolled up and placed on the burro.  And since the modern day burrito resembles a rolled up bedroll, the name stuck.
It's a burrito.  A taco it is not.
Some folks may also add avocados, brisket, refried beans, lettuce, salsa, guacamole, and cheese.  The inside part of the burrito is limited only by your imagination.  The outside is a grilled or possibly steamed tortilla.  The best tortillas are of course, home-made.  The very best tortillas are made by your Mexican mother in her kitchen on a flat iron skillet, often known as a comal,  rolled out with an old galvanized metal pipe she possibly inherited from your grandmother.  The testales are hand-made and rolled by hand using the pipe.  Does the word testales sound familiar?  Yep, that's what the little balls of dough look like before they are rolled flat into a tortilla.
How do I know about making home-made tortillas?  Many years ago when we were all young, I called up Rosie Martinez. Her husband Mario and I had been working on some project together (or maybe we were just off drinking cerveza somewhere) and he mentioned that Rosalinda (aka honey bunch) made him fresh tortillas for his lunch every day.  Now Rosie was salutatorian of her high school class and one of the smartest people I know.  She learned from her mother who is straight from Mexico.  She taught me to make tortillas from scratch and when she pulled out that old galvanized pipe to roll the testales, I knew I was watching an art form.  Rosie has been in the banking business for many years now and she still makes her own tortillas.
A burrito is NOT a taco, so quit calling them breakfast tacos like some damn yanqui or California-to-Austin transplant.  Here is a picture of a taco.  Do you notice the difference between the two?  And damn yanqui is not a cuss word in Texas.
Why do they want t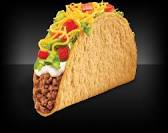 o call it breakfast taco in Austin?  I ordered a good looking burrito for breakfast at an event in Austin and the man at the counter turned around and asked the ladies to make one breakfast taco.  I loudly told the man I did't want a breakfast taco, I wanted a bacon and egg burrito con jalapeños.   The man, of Mexican descent, proceeded to try and explain the difference between a taco and a burrito to me, an obvious gringo, but connoisseur of breakfast burritos.
After his pointless and factually devoid explanation, I pointed an accusatory finger at his very brightly colored plastic menu on the wall of his establishment and pointed out a gigantic taco.  Then I identified a photo rendition of a big bright burrito.
They are obviously different.  Two very different food items as identified on his own menu.
So I asked him about that.  He shrugged his shoulders and had his palms raised up.  He didn't know.  No sabe.
But I know the difference between a burrito and a taco even if the folks in Austin don't.  It's like a lot of things in Austin.  They call something one thing, and the rest of the state calls it another.
And if they don't really know the difference between a burrito and a taco, well….Heaven help us all.
What do you think?
I'm David out in Real Texas
….where we know the difference between a taco and a burrito
{ 8 comments }