There's nothing better than finger licking BBQ Baby Back Ribs!
I like to mix up my football season appetizers so we don't get bored eating too many wings.  Even though….how can a Real Texas football fan get tired of Nachos?  And wings?  And if you have noticed,  I am mixing up the Chicken Wing recipes too so you can have a variety from which to choose.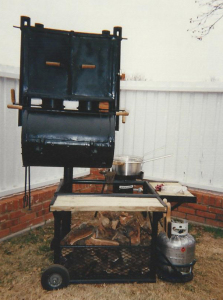 David has a custom Texas barbecue Pit that has a smoker at the top and we try to use only Mesquite wood when we use the Pit.  Until we attended a Texas Monthly BBQ Festival in Austin three years ago, he was unaware that other types of wood were used to make Real Texas BBQ.  Some folks use oak and some use pecan.  But he is a West Texas native and they think mesquites are actually trees.  The fact is….the mesquite smoke imparts a flavor as good as a fine wine.  At least that's what west Texas boys believe.
The making of the custom Texas Pit is an interesting story in itself.  Custom Texas Pit
In Texas, men take BBQ very seriously.  It's a bonding time, men with their BBQ pit, the type of wood, the beer and I need to mention the hours it takes for this bonding with plenty of beer and stories….all of which I have heard many times before and still manage a polite smile even now.
Texans take their football very seriously too.  I had to come up with a BBQ recipe that we could eliminate the hours of bonding, (so we could actually watch the football game before falling over, lol) and yet have a Texas BBQ worthy recipe.
We're using Dr Pepper (made in Texas), a gas grill, mesquite wood chips and the oven.  Less time, delicious flavor, and of course the football game.  And yes, I was made aware (loudly) that the Dr in Dr Pepper does not have a period after Dr  I'm still learning how to tawk Texan in some ways.  Those instructing me in the finer nuances of being Texan were careful not to actually cuss at me for putting the period in Dr Pepper.  After all, they do like to eat.
Real Texas Dr Pepper BBQ Ribs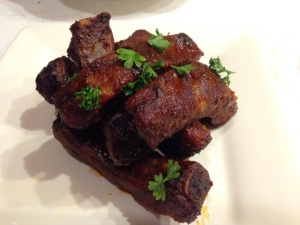 Ingredients
Spice Rub and Ribs
2 1/2 tablespoons Brown Sugar
1 1/2 tablespoons Smoked Paprika
1 1/2 tablespoons ground Black Pepper
2 teaspoons Kosher Salt
1 teaspoon Chinese Five-Spice Powder
1 (1 /12 pound) rack Baby Back Ribs
1 cups Mesquite Wood Chips, soaked and drained, and sealed in a foil packet with holes poked in it.
Sauce
4 cups Dr Pepper (I used the Dr Pepper with Real Cane Sugar….of course!)
1/2 Onion, cut into large chunks
1/4 cup Water
1 1/4 cup Ketchup
1 tablespoon Red Wine Vinegar
2 teaspoons Yellow Mustard
1 1/2 teaspoons Worcestershire Sauce
1/4 teaspoon Vanilla Bean Paste
Directions
Spice Rub and Ribs:  Combine the sugar, paprika, pepper, salt, and five-spice powder in a bowl.  Measure and reserve 2 tablespoons of the spice mixture for the sauce.
Pat dry the ribs with paper towels and rub them evenly with the remaining spice mixture.  Place in a ziploc bag and refrigerate overnight
Next day remove ribs from refrigerator and let sit at room temperature for 1 hour before grilling.
Sauce: Simmer the Dr Pepper in a large saucepan until it measures 1 cup, about 30 minutes.  Meanwhile, puree the onion and water in a food processor, about 1 minute.  Transfer the onion mixture to a fine-mesh strainer set over a bowl and press on the solids to collect 1/4 cup onion juice; discard the excess liquid and solids.  Whisk the onion juice, ketchup, vinegar, mustard, Worcestershire, and the reserved 2 tablespoons spice mixture into the reduced Dr Pepper and continue to simmer until slightly thickened, about 10 minutes.  Remove from the heat stir in the vanilla bean paste.  Pour into an airtight container and refrigerate overnight.
Next day measure out and reserve 1/2 cup of the sauce for cooking; set aside the remaining sauce for serving.
Preparing the Gas Grill: Place the wood chip packet directly on one side of the burners.
I actually have a wood chip holder that I put the mesquite chips into so they don't all burn up and drop into my gas grill.  I got that wood chip holder from Sur Le Table in San Antonio.
Turn all the burners to high, cover, and heat the grill until hot and wood chips begin to smoke heavily, about 15 minutes.  Turn 1 side of the burners off and the burner under the wood chips to medium heat.  You want to maintain the temperature at about 325F degrees.
Ribs: Clean and oil the grill that is turned off.  Place the ribs, meat side down.  The ribs can overlap slightly.  Cover and cook until the ribs are deep red and smoky, about 2 hours, with the temperature at about 325F degrees.  Flipping and rotating the ribs and the wood chips to opposite sides of the grill.
During the final 20 minutes, preheat the oven to 250F degrees. Arranging the rack to the middle position.
Remove the ribs from the grill, and place on heavy duty foil.  Pour the 1/2 cup sauce reserved for cooking, and wrap the foil tightly. Lay the foil-wrapped ribs on a baking sheet and continue to cook in the oven until tender and a fork inserted into the ribs pulls the meat off easily.  1 to 2 hours.
Remove the ribs from the oven and let rest, still wrapped, for 30 minutes.  Unwrap the ribs, slice them between the bones and serve the the remaining sauce.
Enjoy!
I'm Ramona out here in Real Texas
Hope you enjoy your ribs!
{ 0 comments }