Class Reunion time
There are class reunions, family reunions and gatherings at all times of year, but mostly they are held in the summer time.  You know, so the old folks can melt into their lawn chairs and the young folks can float down the rivers.
One of the best gatherings is class reunions.  My old high school will have an all school reunion this summer on June 13.  It will have been 48 years since I have graduated from high school.  That seems impossible to me.  I was in the graduating class of 1967.  I remember my folks going to Temple, Texas for their 50th class reunion.  They were all old folks!
Since I attended a small Texas high school, I was friends with my classmates both upper and lower grades, and remain friends with many of them to this day.  Some I have lost contact with, some I was not all that close to, and some probably try to avoid all contact with me in any circumstance.  You just never know.
There are some graduates who avoid class reunions like the plague.  Their attitude is that they didn't like their classmates back then and they sure don't like them any better now.  Others are just shy or they may be concerned about their looks or appearance.
Most of the guys think they are just as studly and good looking as they were 48 or 50 years ago.  Some of the women are concerned about their weight or gray hair or wrinkles.
My attitude is:  "who cares?"
For the class of 1965 it has been 50 years since graduation.  For me, after 48 years or more, it's a pretty good bet most of us have gained weight, lost hair, gained wrinkles, and some of us have been rode hard and put up wet.  Of course we are envious of those who still look fabulous.  Well, actually we hate them. We also hate the men who have grown more handsome over the years and have all their hair.  You all know who you are.  Yes, just kidding of course.  You are all invited to come make the rest of us jealous and envious of your hair.
But we have survived.  Those of us still alive survived the 60's and 70's.  We have survived wars, children, ex-husbands, ex-wives, fast vehicles and good and bad times.  Many of us have gone on to distinguished careers, made money, lost money, found Jesus, been derelicts, and have still survived to this point.  I have to say there is not a single one of my classmates I would not like to see.  I liked them all.  We were all young together.
I won't be traveling to my hometown for the all-school reunion this year, but it is not because of any bad experiences.  Ramona's health does not permit us to make long overnight trips any more and our bobcat expects to be fed every night.
Instead, I will be joining the RCHS class of 1965 in San Antonio June 5th and 6th this summer for the 50th anniversary of their graduation.  Yes, I was in the class of 1967, but as I said, it was a small school and we were all friends anyway.  It is their 50th class reunion and I was and still am friends with many of that class.  And since it was a small school, they are also inviting any Reagan County High School graduate to come celebrate with them.
Back in 1965 the songs were:  Eve of Destruction, Wooly Bully by Sam the Sham and the Pharaohs, I Can't Get No Satisfaction by the Rolling Stones, I'm Henry the VIII I Am by Herman's Hermits, and plenty more by the Beatles, Petula Clark, The Righteous Brothers, and more, more, more.  I still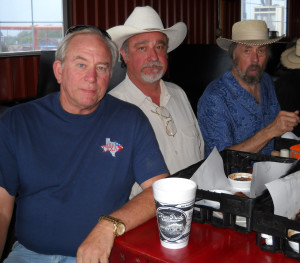 listen to those songs and they are programmed into my playlist.  I have outdoor speakers and the backyard is blasted with "She's about a Mover" by the Sir Douglas Quintet and Doug Sahm with my friend Augie Myers on the Vox Continental organ.  It was #65 on the Billboard charts at the end of 1965, but you would have to move well off the top 100 before any of us would be stumped for the lyrics of most of the songs of our generation.  Yes, that's Augie, T. Gozney Thornton, and me at a barbecue joint in the San Antonio area.  Augie is a really good guy and one heck of a musician.  We were there to support K.R. Woods and his Fathers of Texas band.
The memories are many.  I was with a member of the class of 1965 when we ended up in the Vulcan Gas Company in Downtown Austin with the 13th Floor Elevators blasting the doors off the place.  There were amoebas and paramecium crawling up the walls of that iconic Austin dive.
But we survived.  And if he is at that reunion, we will tell what we remember about that night.  There are plenty of other stories to be shared at this and at your own class reunion.
The hotel of choice is the Emily Morgan and class reunion organizers have secured a block of rooms for the June 5th and 6th dates.  I'm told there are many classmates who are regular readers of Real Texas Blog and that I should relay this reunion information here.  So be it.
The class reunion folks plan lots of visiting and eating out together in the downtown/Riverwalk area.  Of course there are the obligatory boat rides and activities along the riverwalk.  I have been known to stagger perilously close to the edge of the river, but not in a while.  Plus, I will be attending with supervision.
In fact, these days I don't get out of the house much without supervision.
I'm David out in Real Texas
See ya at the class of '65 reunion.
{ 12 comments }