Halloween in small town Texas
With a 'treat' at the end of the story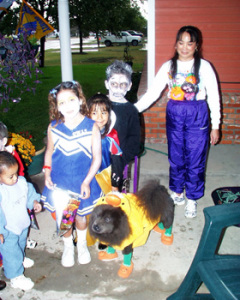 Halloween in small town Texas used to mean a Halloween Festival at the elementary school, with trick or treating around town afterwards.  The town-wide Festival was generally sponsored by the PTA as a fund raiser and looked forward to by young and old alike.
Now I am sure some of my now San Antonio, Austin, and Dallas friends observed Halloween in the city or at school with trick-or-treating in selected neighborhoods, but it was probably under strict supervision by parents going door-to-trusted door.  In smaller towns, we were totally unsupervised except while at the Halloween Festival which was at the school.
In my school, classrooms were decorated by hard working teachers and many of those same classroom hosted the fishing' hole, bean bag toss, cake walk, craft sales, and of course, bloody bowls of  spaghetti and macaroni along with plenty of fake brains and assorted severed fingers.  Each talented teacher and the PTA moms had their favorite ghoulish concoctions.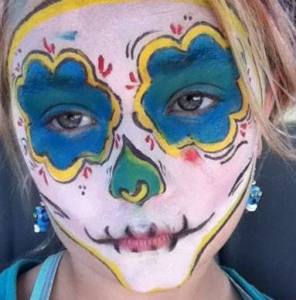 The PTA benefited and purchased classroom supplies, the kids had a great time and parents were able to see all sorts of costumes from the tow sacks my friends and I wore along with our faces painted with Frankensteinesqe scars to cute princesses, cowboys, and vaqueros.
And we never gave a second thought to someone dressed as either a sheriff or a Texas Ranger or an outlaw carrying a cap gun on school grounds and obnoxiously shooting as many fiends and friends as possible.  We were totally not politically correct.
The Halloween Festival morphed somehow into a Fall Festival and it was eventually moved out of the elementary school with its long hallways  and classrooms…..much to the relief of the teachers, I'm sure.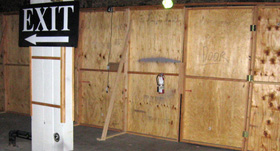 Later, there were haunted houses at the local Volunteer Fire Station. These were some of the best of all as the local Volunteer Firefighters worked hard to put on a good haunted house show.
A couple of years later, when many of us were driving by age 14, a town wide egg fight was planned.  I have no idea how this egg fight was planned, but it very much had something to do with a local rancher who had gone into the egg business a few miles out of town near the community of Texon.  The rancher had a son my brother's age who was four years older than us and we knew were were going to be severely outgunned or rather…out egged.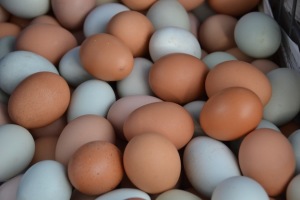 That group of older boys started stockpiling eggs at least a month in advance of Halloween.  I had seen the cases and cases of eggs that had been stockpiled for the coming battle.
I'm sure the rancher saw his egg production plummet and was probably scratching his head as to the cause of his hens being so stingy with their eggs all of a sudden.
Since us younger boys did not have access to such an abundance of eggs, we did the next best thing.  We bagged up fresh manure from the 4-H barn and kept our arsenal watered, wet, and fresh.  We tended a small manure pile for a couple of weeks until it was ripe and ready….very ripe.
It was after all….War.  And we really needed an equalizer.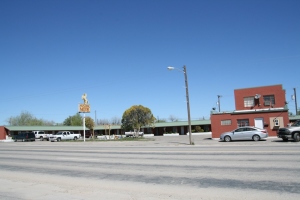 Our little town had one main street.  We called it the drag and it was about one mile long through the middle of town with a turn-around at both ends.  In all those years, we must have driven thousands of miles up and down that street, highway 67, with a turnaround near the drive-in theater and another one mile down the opposite direction where a lone tree guarded the entrance to the town.  As we would pass by another car full of friends, we would often honk our horns at each other as if we had never seen them before.  This of course drove the Chief of Police crazy and every few months he would crack down on the horn honkers and their greetings.
In the dead center middle of that one mile, there was a stop light.  Around the stop light or very nearby the intersection, were several buildings, including the newspaper office owned by my family.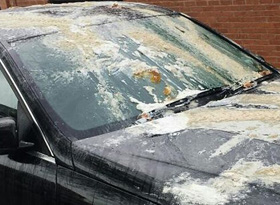 Battle stations were readied as nightfall neared.  The first vehicle to drive unknowingly down the street was inundated with a literal deluge of eggs, bags of exploding manure, and a few water balloons thrown for good measure.  That first car was a dripping mess and the windshield washers merely smeared the ordinance making it impossible to drive without hanging out the window…..which was another hazardous activity itself.
As the battle really got started, several sides took up positions on top of the buildings and many more were in their vehicles driving up and down the street.  It was a true gauntlet and a tank-like battle between pickup loads of kids.  Of course after the younger manure throwers unloaded on the older kids cars and pickups….they were quickly driven from those positions by a hail of eggs.
As the night wore on, there were major battles and minor skirmishes all over town.  The stop light area was slick with broken eggs and manure.  Several fights broke out among some of the targets and at least one car window was knocked out by an angry fist whose vehicle received a bag of fresh manure dead center on the windshield while driving with his girlfriend.  He assumed he would be immune to attack, but on that particular night….no one was safe.
After quickly exhausting our arsenal, I rode in a single cab pickup with five others about my age.  My luck was to have a local girl ride sitting in my lap the remainder of the evening. Some one had to sacrifice.
It was a halloween to remember, that night of The Great Halloween Egg Fight in our small town.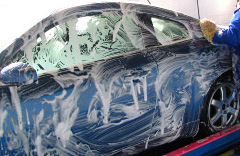 The next day was spent cleaning up the aftermath.  Cars were washed off, streets hosed down, intersections sanded, and windows of local businesses were washed and cleaned, many by the warriors of the night before.
It was a night to remember.
Now I am sure nothing like that ever happened in your town.  It was just an alignment of the stars that provided an almost unlimited supply of eggs, pens full of 4H animals, and the era of living in that time of non-helicopter parenting.  We were pretty much on our own to our eternal delight.
There was a specific odor, however, that lingered in the air for more than a few days.
 Now here is the promised treat
You all know Ramona loves to cook.  Here she is now with a Halloween recipe:
By Ramona
I love the holiday season and it starts with Halloween.  Not only is it getting cooler and almost time for a fire in the fireplace, but there's plenty of baking, making tamales and my favorite holiday….Christmas Day….which is also David's birthday!
Even my dog and cat children LOVE to dress up for Halloween!
NOT!!
But they are good sports and show off their costumes. Sandy the house cat was the only one who would not participate, although the others participated under protest.
They don't go trick or treating, but they stay at home and greet the kids!
This year I made Whopper Ball Spider Cookies and Halloween Candy Corn Bark.  I learned a cool new technique to melt chocolate!
Halloween Candy Corn Bark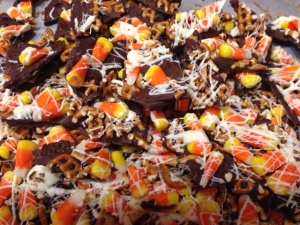 Ingredients
10 oz Dark Chocolate Chips
1 cup Candy Corn
1 cup square mini Pretzels, broken into small pieces (but not crumbs)
1/2 cup White Chocolate Chips
Directions
I learned a cool new technique from Alton Brown (Good Eats is his cooking show) on melting chocolate.  Using a heating pad, remove the cloth covering.  Place the heating pad in a large bowl.  Place a smaller glass or metal bowl on top of the heating pad making sure it's small enough to fit into the bowl holding the heating pad.  Place the chocolate chips in the bowl and turn on the heating pad to high.  Keep checking until the chocolate is melted…the time will depend on how hot your heating pad gets, mine took about 15 minutes.  Using this techniques takes patience, but the chocolate won't scorch and over cook.
Pour the melted chocolate on a greased cookie sheet.  While the chocolate is still hot, sprinkle the pretzels and candy corn on top of the chocolate.  Press to push the pieces into the chocolate.
Melt the white chocolate chips.  Once melted, using a fork, dip into the chocolate and drizzle over the candy to make spooky cobwebs.
Chill until the chocolate is firm.  Loosen from the cookie sheet and break into smaller pieces.
It's 'spooktacularly' good!
Sorry 'bout that!   Enjoy.
{ 4 comments }