It's "Ramona" recommended!
By Ramona Werst
If you want the freshest best quality seafood in South Texas, go visit Groomer's Seafood here in San Antonio.
How many people do you know who after a life threatening surgery talks to their surgeon about cooking?
I have been followed up by my surgeon for the past two years, every 2 – 3 weeks.  Of course we talk about what's going on with me medically, but then he lightens the conversation and puts me in a good mood as he asks what I've cooked recently.  He is a gifted chef himself and I always try to learn his secrets…..
On one occasion, he mentioned where he gets his seafood.  Little

did he know that I would immediately go there and get to know the owners.  This has been the biggest find for me since I've been cooking.  If you have eaten seafood prepared in gourmet restaurants around Austin, San Antonio, or the surrounding areas, you are probably eating fresh seafood from Groomer's Seafood.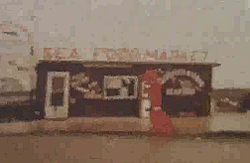 The family owned business started commercial fishing and shrimping the Gulf of Mexico out of Port Isabel, Texas, back in 1892, by both sides of the family. Grandfather Bernardo Perez fished the Lower Laguna Madre. Bernardo would take his schooner out into the bay, spread his nets across the water, pull them in by hand and catch fish native to the Texas Gulf Coast: Redfish, Drum, Flounder and Speckled Trout. Most of his catch was sold to the local population, thus the start of our family in the seafood business.  On the wall they have a fishing license from 1902. Their first retail store was in a little wood shack, in 1976.
Groomer's Seafood in San Antonio opened in 1982 and became the an Express Delivery service to restaurants all over this part of Texas.  By 1993, they realized that they could not sustain all these warehouse locations and consolidated their operations to the central location in San Antonio.
They built a custom 20,000 square foot facility that is totally temperature controlled. This facility allows them to offer the freshest and most diverse selection of seafood in the state as well as competitive pricing and year round availability.  Hopefully in 2014 they will be opening a new location in Corpus Christi.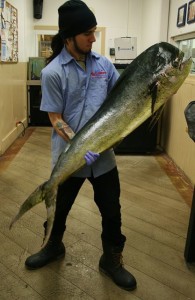 I have had the privilege of working with Blake Groomer.  When he features their seafood in their weekly newsletter (you can sign up on their website), I call Blake and let him know that I have a delicious recipe that I want to try.  He fixes me right up and recommends what kind of fish and how much I need and David has the toughest job, he has to be the taste tester for my new recipe!  I post recipes frequently to the Groomer's Facebook page.
I'm a blogger and it's just my duty (and pleasure) to bring you interesting news and recipes.  Groomer's has been my best kept secret and now I will share it with you.  There is no other seafood market like Groomer's.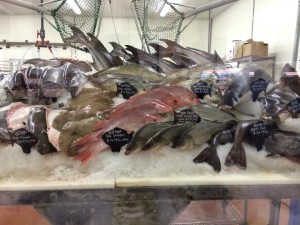 When you step into Groomers, you are looking at the entire process. Yes, you can see employees actually processing fish orders through several large windows.  More than likely, you'll even be helped by one of the Groomers themselves. If you see a fish and you want it, they will take it right to the back and cut it up for you any way that you want. They'll package it up and even put it on ice for you. Groomer's goes through 100,000 to 200,000 pounds of seafood a week!  Yes…A week!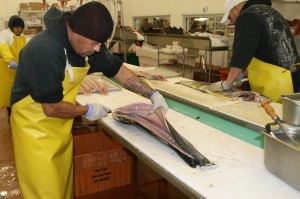 In the back room, it's very cold. It's like an assembly room. The fish comes in and goes to the experts to fillet the fish. Some of the experts have been working for Groomers for over 20 years. The next person will continue to remove the bones. The fish can be skinned or scaled,  the gils and guts are also removed so it's ready to be cooked when you get it. It's fresh cut to your order. The fish then goes to the Warehouse Manager for quality control just to make double sure everything is like it should be.  the Groomer folks are very big on customer service and satisfaction.   If the fish order is for a restaurant, it goes to another person to check the weights and to assure the order is correct, and then it is boxed up for delivery.
The order is loaded onto the trucks and is on the road in a jiffy. Yes Groomer's gets the fresh fish to restaurants all over San Antonio and surrounding areas. They can usually deliver the fresh fish to the restaurant within the hour.  That is called service!
Jerry handles the Oysters. Groomers handles about 800 to 1000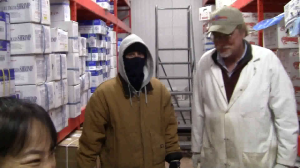 bags of Oysters a week. Most of the Oysters come from the Texas Gulf, right out of the Galveston Bay. There are 2 types of Oysters, the Gulf Oysters and a treasure band or blue band Oyster which is a pressure treated Oyster. They use a pressure treatment to remove the outside mud, the Oyster opens up a little and some of the mud from the inside is also washed out. A blue band is put around the Oyster to keep it closed. A pressure treated Oyster is easier to open, cleaner and a much better tasting Oyster. I ate one right there as Jerry picked one up and opened it. Yum.
In the freezer it's about 8 below zero, and this is where Groomers keeps all the fresh fish. lobster tails, exotic seafood like Tobiko which is used for sushi, squid, calamari, head on and head off shrimp, King, Dungeness, soft shell, and Snow Crab, catfish, black drum, Brazino, Clams, and all kinds of delicious seafood.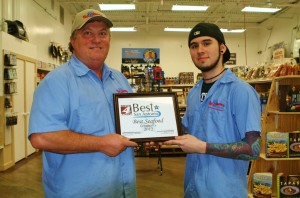 Pictures can tell my story pretty good…but how would you like to come with me to meet Blake and Rick Groomer and see why Groomer Seafood has built an extraordinary reputation by consistently providing their customers with the highest quality fresh seafood products and selection. See for yourself why Texas' highest rated chefs and restaurateurs trust Groomer Seafood as their fresh fish and seafood company of choice for more than 30 years.  Here is a video of what makes Groomer's tick!
Retail Customers Welcome
In addition to the best seafood, Groomer's has a fantastic retail store too.  They even have their own fun clothing line including hats, t-shirts and all kinds of logo stuff.
When you first walk into Groomer's, you see all kinds of custom made grills including all the accessories to cook with along with the utensils and hard to find cookware.  They even have a special fish spatula so you can turn over your fish on the grill so it doesn't fall apart.  I could have used that when I filmed my Stuffed Red Fish recipe. (Since then guess what David got me?)
There is a Himalayan Salt Block you can cook on.  I will be showing how to use this with some really delicious recipes soon.
Be sure to browse the Asian section with all the hard to find items for making Sushi, stir fry's and all the tools needed too.
Groomer's also supports local vendors.  They have Organic Pasture-raised eggs from Vital Farms.  Vital Farms' core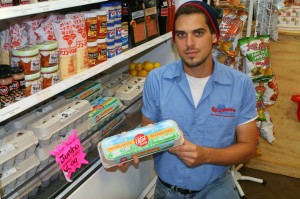 mission is to bring ethically and sustainably produced food to the table by coordinating a collection of family farms to operate with a well defined set of organic agricultural practices that includes the humane treatment of farm animals as a central tenet. By marketing the superior nature of the products it is intended to encourage consumers to migrate from their traditional egg choices, and by so doing, create opportunities for more family farms to convert from harmful industrial practices.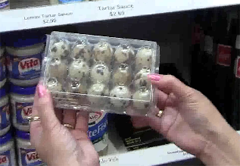 Another specialty item are Quail Eggs. They are very popular with local chefs and they can barely keep them on the shelves. You can use quail eggs for baking just like chicken eggs, but they are richer and the yolk to white ratio is higher. Cakes turn out heavier and denser. It takes about 5-7 quail eggs per large chicken egg depending on the size of the quail eggs.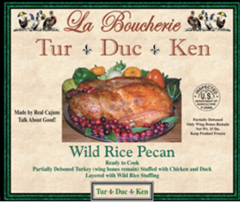 Groomer's retail area also stocks Frozen Cajun foods from a family owned business La Boucheries' in Houston, Texas.  We tried a Turduckin for the first time this past Thanksgiving.  Imagine taking a deboned turkey, duck & chicken and combining them to make one entree! Our Turduckin was stuffed with a Jalapeño stuffing…it was delicious!  Groomer's carries a good selection of Cajun foods from La Boucheries' and other suppliers including Crawfish Pie, Dirty Rice, Green Bean Casserole, Smothered Corn, stuffed Chicken breasts and all the delicious side dishes.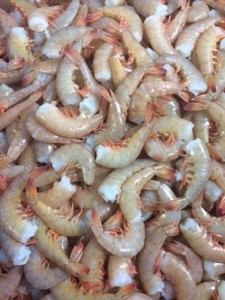 My favorite item is the Gulf Shrimp!  Most of their fresh shrimp comes from Port Isabel.  They work closely with the family shrimpers and bring the best shrimp back. I buy it by the 10 lb bag full.  They have the Colossal and Jumbo size shrimp that is caught fresh and quick frozen right away. Usually when you buy fresh shrimp you have to use them within a day or two.  With their technique in freezing them, you can keep them for a couple of months.  When I get them, I divide them into smaller ziplock bags so whenever I want some, all I have to do is reach in and grab a few. Here is one of my favorite Real Texas Recipes.  Real Texas Spicy Shrimp with Real Texas Sriracha Sauce
What goes really good with Shrimp?  How about a Porter House Steak.  Well, Groomer's carries wonderful steaks from Kansas City!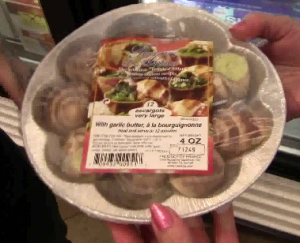 Another favorite appetizer of mine is Escargot.
Groomers has Escargot in a heatable dish that comes complete with the garlic butter and all you do is bake in the oven and enjoy!
They even have Quail from the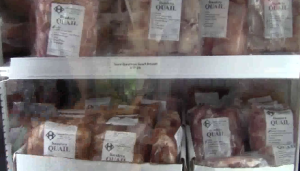 Diamond H Ranch in Bandera.  Raised on an all-natural diet and processed on-site at the ranch, this delicately flavored quail meat is an excellent complement to wild game meats. It is Texas Quail at its finest!  Get some and impress your friends at your next backyard cookout.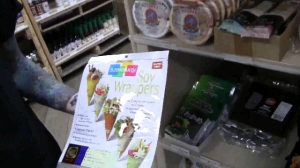 From the freezer at Groomer's, we move to the shelves.  They have a really nicely stocked Asian section.  They stock everything you will need to make Sushi.  Not only the spices, but the tools you'll need to roll the Sushi, and don't forget the fresh fish.
Some Texas seasonings available include Rick's Treaux Gourmet Seasonings.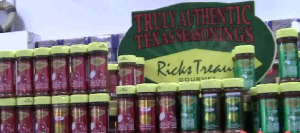 My favorites are Rick's Lime Garlic Pepper and a Sweet Red Onion seasoning. Rick Singleton is a close friend of the Groomer's. No MSG, and 70% less salt.
Another friend of the Groomer's family,  Amy has created Lola's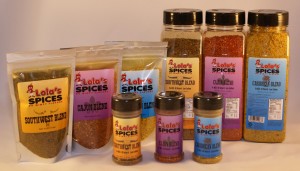 Spices. Lola's Spices comes in three distinct flavors each boasting No Wimpy Flavors! We saw Cajun, Caribbean and a Southwest Blend! Lola's Spices-No Wimpy Flavors seasoning blends are versatile and bold enough to add flavor to any meat, fish, side dish, or vegetable!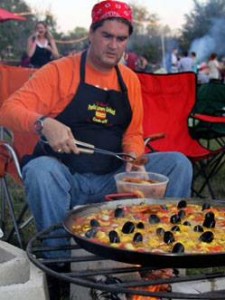 Cooking demonstrations
On some Fridays and Saturdays, Groomer's features demonstrations by local Chefs.  They come in and prepare some really delicious dishes using different methods of cooking.  This is Chef Eric Paz, originally born in Panama and he has an incredible enthusiasm for rice and cooking.
Chef Eric has more than 25 years experience making traditional Paella.
A private chef and entrepreneur, Chef Eric lives in Austin, Texas, "La meca de la buen comida", and is the two-time winner of Austin's Paella Cook-off with his team "Los Piratas del Sabor" in 2008 & 2009.
As a devoted chef he has experience developing new recipes, several products and a food writer & critic.  This is the type of quality chefs you will find at Groomers.
Did I say this place is a chef's paradise…..and it is a perfect place for home cooks, backyard barbecue parties, and mom's to get started.  It literally is seafood heaven right here in San Antonio.
If you see a Groomer's Seafood truck, as it says on the back you can follow them back to the Freshest Seafood around!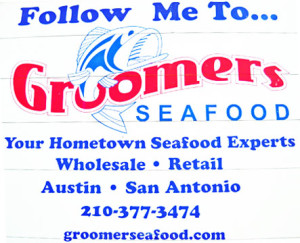 { 0 comments }