Mesquites are trees too!
I was fully grown before I came to realize there were areas of Texas and other lesser parts of the world that were covered in trees.  Real Trees.  I had considered the thorny forests of my West Texas youth to be trees.  They were the only trees I had seen other than Chinese elm and a few pecan trees.  The area of Texas I grew up in did not even have live oaks.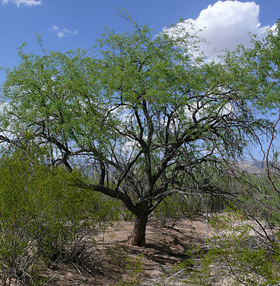 So when reading some of the children's books or Classic Comics, my vision of Robin Hood's Sherwood Forest was a forest of mesquite trees.  Goes to show you that your perspective is sometimes limited to what you experience.  Another disclaimer.  I'm of the last generation to grow up without TV's.  We did not see documentaries of forests on our non-existent Discovery Channels.  And to compound our ignorance, the local movie theater primarily showed westerns, Dean Martin and Jerry Lewis movies, and "B" grade horror movies.  We loved 'em all!  But we never saw a forest.  For us, we had our forests of mesquite trees.
For me, books were the primary source of both inspiration and information.  It was books and our almost daily forays down oilfield roads lined with mesquites that gave us our knowledge of trees.
Love 'em or Hate 'em
Many Real Texans either hate mesquite trees or love them….after a fashion.
Yes, we know now that mesquite trees are actually legumes and they cover almost 58 million acres of Texas.  That much acreage by the way, is much larger than most other states in the USA.  We also know that legumes and mesquite trees by extension add quality to soil.  However, to West Texas ranchers, mesquite trees only lead to water depletion, soil erosion, and loss of grazing lands.  The old timers in my part of West Texas said when they first came to the big lake country, grass was as high as a horse's belly.
Nowadays, the only thing out in the pasture are mesquite trees in various stages of growth.  that is of course unless you live on the other side of Midland and Odessa in a place named No Trees, Texas.  It's a good bet there aren't many trees there but if there are, they are probably mesquite trees.
There are mesquite forests in West Texas and South Texas that are all but impenetrable.  Only the largest trophy whitetail bucks seem to be able to penetrate the thorny branches that protect them from hunters.
And here are a few facts about mesquite trees:
Very drought tolerant
Their taproot has been measured at 194′ deep
Mesquite beans can be dried and made into flour
They are pervasive and crowd out other vegetation
and finally, they are fantastic used as fuel and smoke for Texas barbecue.  Mesquites serve their purpose making great barbecue.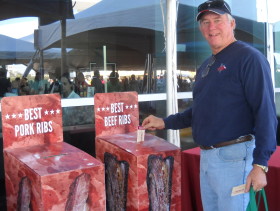 When I attended a Texas Monthly barbecue event in Austin a couple of years back,  I was quite surprised that some of the famous barbecue folks used wood other than mesquite.  I had just assumed – again due to limited exposure – that mesquite flavor would be much preferred over pecan, live oak, or oak.  I was horrified to hear one famous barbecue-er say he preferred pecan flavor over all others.  He also stated that pecan was more readily available to him than all the other fuels and flavors in his area….and that is sort of understandable but probably a form of barbecue heresy.
That was our case also.  Mesquite was so available that it was the flavor to which we had become accustomed.  However, visitors to our place in West Texas often loaded up mesquite logs from my woodpile to take back to their pits.
Mesquite is not desirable to many ranchers, but it does have its uses as firewood, barbecue flavoring, and in some woodworking  ventures.
It does make beautiful flooring, tables, lamps and other objects of art.  It was along those lines of thinking that I had son Joe David take down a large mesquite tree we had on lakefront property on Lake Buchanan in Burnet County.  The trunk of the tree was quite large and he had to roll it off a retaining wall onto a flatbed trailer to bring it to me in Mertzon, Texas.  I had asked around of many folks, including my old high school shop teacher, who around where I lived might have the ability to make a legacy piece of furniture for me.  I was thinking of a table of some sort.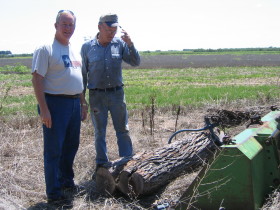 The recommendation came back with the name of one Charlie Roberts.  Charlie and his wife lived out in the Mereta community outside of San Angelo, Texas and he was a retired farmer.  When I went to visit Charlie, I asked him a question.  I knew a friend of mine had grown up in that general area and asked him if he knew any Bitner's from around there.  He answered, "Yes, I married one."  Turns out he married the sister of a good friend, my preacher…..I claim him, not sure he claims me….J.B. Bitner, Jr.
Charlie is a master woodworker and give him a block of wood and he will turn it into a bowl, clock or other work of art.  Mesquite has become a specialty of his.
For his first work for us, he turned us some mesquite bowls with a star in the bottom.  But the star was just a plain old star, not a Texas Star.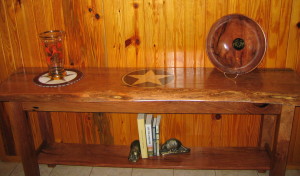 The next project was to be a legacy piece of furniture….a mesquite table with a Texas Star in the middle.  After communicating the importance of the star being the Texas Star…..we left the big mesquite log with Charlie and waited.
It took several months of waiting on our part, and hard, artful, exacting work on Charlie's part.
The table turned out to be a masterpiece.  It was exactly the type of legacy furniture we had wanted.  It will be passed down for generations.
And the star was the Texas Star.  Charlie said he made about 20 different jigs or prototypes before he got the result he wanted.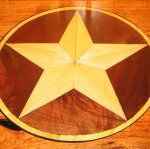 Charlie has made other pieces from mesquite, but I can not imagine anything more beautiful than the mesquite table he made for us.
It is Charlie Roberts who is the Real Texas Star.
I'm David out in Real Texas
Totally enjoying the Real Texas Lifestyle
Have you subscribed to Texas Tidbits?  Get a weekly dose of Texas here…all fun stuff!
{ 5 comments }