Crunchy Asian Chicken Wings
Another Football Season Chicken Wings Recipe.
This Asian Chicken Wing recipe is delicious and has a little extra crunch to the skin.
Crunchy Asian Chicken Wings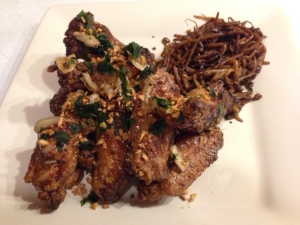 Ingredients
1/4 cup Fish Sauce
1/4 cup Sugar, processed in food processor until super fine
8 cloves fresh Garlic, 5 crushed and 3 minced
1 pound Chicken Wings, tips cut off and cut in two pieces
2 tablespoons Peanut Oil, plus more for frying
1/3 cup Cornstarch
1 tablespoon chopped Cilantro
Directions
Place a 6-quart saucepan, with a steamer basket and 1 inch of water in the bottom, over high heat, cover and bring to a boil.
Remove the tips of the wings and discard or save for making stock. Use kitchen shears or a knife to separate the wings at the joint. Place the wings in the steamer basket, cover, reduce the heat to medium and steam 10 minutes. Remove the wings from the basket and carefully pat dry. Lay out the wings on a cooling rack set in a half sheet pan lined with paper towels and place in the refrigerator to dry, about 1 hour.
In a bowl, whisk fish sauce, sugar and crushed garlic.  Add the wings and toss to coat.  Refrigerate for 3 hours, tossing the wings occasionally.
Heat 2 tablespoons of the oil in a small skillet.  Add the minced garlic; cook over moderate heat until golden, approximately 3 minutes.  Drain on paper towels and set aside.
In a large pot, heat 2″ of oil to 350F degrees.  Pat the sings dry on paper towels; reserve the marinade.  Put the cornstarch in a ziplock bag and add the wings.  Shake to coat.
Fry the wings in batches until golden and cooked through.  Drain on paper towels and transfer to a bowl.
In a small saucepan, simmer the marinade over medium-high heat until syrupy, approximately 5 minutes.  Strain over the wings and toss.
Top with cilantro and fried garlic and serve immediately.