Spaghetti Warehouse, San Antonio, Texas
Is that a spicy meatball?  Or not?
We love Italian food.  I learned how to make a pasta sauce from an old Sicilian friend of mine.  Cooking a big pot of pasta sauce takes all day, and a bottle of red wine. (I use Sangria, because it's sweet.  Don't tell, it's not the sacred  Sicilian wine to use.)
The warehouse district…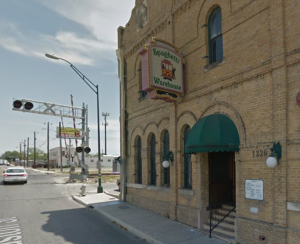 I'm sure that Spaghetti Warehouse makes sure they are in a warehouse district with trains running near because we also went to the Spaghetti Warehouse in Austin and sure enough right next to train tracks.
The decor fits the old warehouse theme and there is even a box car in the restaurant.  But that's about most I have to say about the uniqueness of the restaurant. 🙁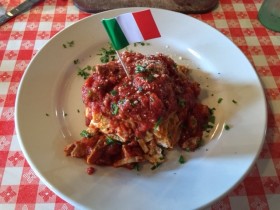 They are known for their 15-Layer Lasagne.  The sauce counts for a layer too, or rather several layers. Their menu is like a newspaper and the main article is a write up of their famous 15-Layer Lasagne.  I was so impressed  I had to order it.
Their 15-Layer Lasagne with a side salad is $12.95.
The Lasagne in the picture looked good, but when I took my first bite, I was disappointed…it really was bland.  I thought the article said it took 3 days to make, but the flavor did not AT ALL reflect all the time it took to make.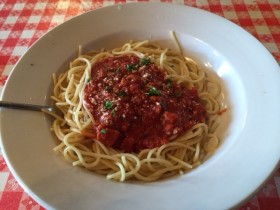 David ordered the Spaghetti with spicy meat sauce and a side salad $11.00.
Of course he knew that it wouldn't stand a chance up against my pasta sauce!  But he likes spaghetti and after all we were at Spaghetti Warehouse. lol
He is so spoiled…at home he can get an extra scoop of sauce.  He loves extra sauce.  But here it was just enough to top the spaghetti.  He also likes spicy, so when he ordered spicy, he expected at least a little spicy.  But it was just about as bland as just tomato sauce…and where was the BEEF?
We didn't order dessert, I had just made my homemade Tiramisu at home and we didn't want to ruin the anticipation for the real thing.
So I'm sorry to say, without a coupon, it would have been an expensive adventure.  The portion was small for the price.  But we would have paid for flavor!  Spaghetti Warehouse was flavorless.
My take?  Don't waste your time or money.
Once again….only a few small changes can take most restaurants from mediocre to good.
I'm Ramona Werst and this is my Foodie Restaurant Review….
Bon Appetite!