Brown Sugar Chicken Wings with Roasted Red Bell Pepper Cream Sauce
Are you ready for more Chicken Wing Recipes?
This recipe is a sweet baked Chicken Wing recipe, dipped in a Roasted Red Bell Pepper Cream Sauce.  They are baked in the oven and are so delicious.
Brown Sugar Chicken Wings with Roasted Red Bell Pepper Cream Sauce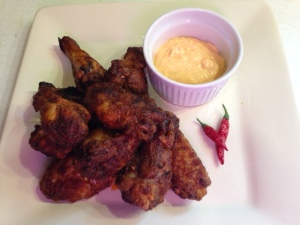 Ingredients
Chicken Wings
2 tablespoons Brown Sugar
1 teaspoon Kosher Salt
1 teaspoon Onion Powder
2 teaspoons dried minced Garlic
2 teaspoons Smoked Paprika
2 teaspoons Chili Powder
1 teaspoon Black Pepper
2 tablespoons Olive Oil
12 Chicken Wings, wing tip snipped, and cut in two pieces
Cream Sauce
1 medium Red Bell Pepper, roasted and chopped
1/4 cup Feta Cheese
1/4 teaspoon Kosher Salt
2 tablespoons Sour Cream
1 Thai Chili, seeded (optional, but will add some heat)
Directions
Preheat oven to 425F Degrees.
In a ziplock bag, combine brown sugar, salt, onion powder, garlic, paprika, and pepper. Set aside.
Using a food processor, add the roasted red bell pepper, cheese, salt, sour cream, and Thai Chili.  Process until well combined.  Refrigerate until ready to serve chicken wings.
Place a 6-quart saucepan, with a steamer basket and 1 inch of water in the bottom, over high heat, cover and bring to a boil.
Remove the tips of the wings and discard or save for making stock. Use kitchen shears or a knife to separate the wings at the joint. Place the wings in the steamer basket, cover, reduce the heat to medium and steam 10 minutes. Remove the wings from the basket and carefully pat dry. Lay out the wings on a cooling rack set in a half sheet pan lined with paper towels and place in the refrigerator to dry, about 1 hour.
Drizzle the chicken with olive oil and add to the dry spices in ziplock bag.  Shake to coat chicken.
Place on a baking sheet and bake for 10 minutes, turn the chicken wings over and continue to bake until cooked to 160F degrees, approximately 5 minutes.
To serve, pour cream sauce in little bowls to dip chicken wings in.