Roasted Hatch Chile Pepper and Lime Chicken Wings…
Roasted Hatch Chile Pepper and Lime Chicken Wings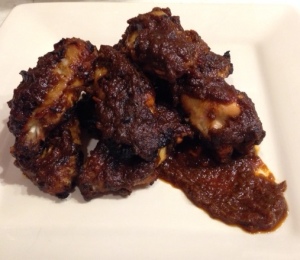 Ingredients
2 pounds Chicken Wings, wing tips cut off and cut into 2 pieces
1 cup Roasted Hatch Chiles, peeled, seeded and pureed
1 cup fresh Key Lime juice
1/4 cup Olive Oil
1 tablespoon Sweet Soy Sauce
1 tablespoon Smoked Paprika
1 tablespoon Sugar
1 teaspoon Kosher Salt
1 tablespoon Lemon Pepper
2 tablespoons Garlic Powder
Key Lime wedges for garnish
Directions
Place a 6-quart saucepan, with a steamer basket and 1 inch of water in the bottom, over high heat, cover and bring to a boil.
Remove the tips of the wings and discard or save for making stock. Use kitchen shears or a knife to separate the wings at the joint. Place the wings in the steamer basket, cover, reduce the heat to medium and steam 10 minutes. Remove the wings from the basket and carefully pat dry. Lay out the wings on a cooling rack set in a half sheet pan lined with paper towels and place in the refrigerator to dry, about 1 hour.
In a bowl, mix together pureed roasted Hatch chiles, lime juice, olive oil, soy sauce, paprika, sugar, salt, lemon pepper, and garlic powder to make marinade.
Place the chicken wings in a ziploc bag.  Pour 1/2 of the maenad over the wings and seal the bag.  Mix well and place in refrigerator overnight.
Preheat the grill.
Place the wings on the grill in an even layer.  Grill until golden brown and slightly charred, 4 to 5 minutes.  Reduce the heat of the grill to medium, turn the wings over, and close the lid of the grill.  Continue grilling until just cooked through, 15 to 20 minutes longer, brushing with the small bowl of reserved marinade every few minutes and turning once during the last 10 minutes of cooking.
Serve with Key Lime wedges to add more lime flavor if desired.
I'm Ramona Werst
Are you ready for some football!  (and wings!)