The Harness Maker's Dream
Wow!  What a Texas sized story.
Here is the story of an immigrant who came to the United States.  He was 17 years old, knew zero English, had very few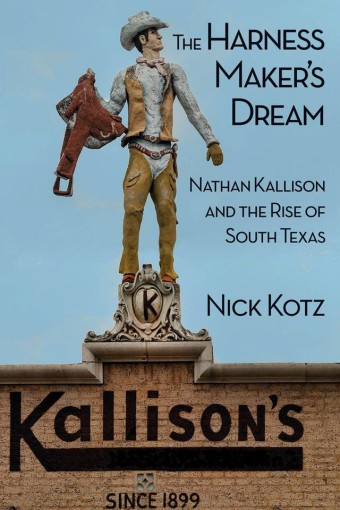 contacts, made his way across the country to Chicago, lived in mind-numbing poverty and wretchedness, made his way to Texas, and he and his family made a huge difference in the rise of South Texas and San Antonio in particular.  How they did-all that they did-is a wonderful story.  Not all immigrant stories turn out like this…but this one did.  Why?
Sound familiar?
Not really.  The focus these days is on immigrants from Mexico.  All that is another story with its own successes and failures.
This particular Jewish immigrant came to the U.S. as one small person of a 2 million Russian Jewish mass of humanity fleeing anti-semitic Czarist Russia and Eastern Europe whose armies conscripted children as young as 9 years old into the Russian Army essentially sentencing them to a life of hardship and death.  This mass exodus came at the turn of the century in the late 1800's, filling New York and Chicago with it "huddled masses."
As a child, Pulitzer prize winning investigative reporter Nick Kotz spent time with his grandfather but failed to ask him about his past, how he came to Texas, and more details on his life story.  Later in life, Kotz began researching the San Antonio area ranch his family had owned where he had walked with his grandfather.  That research revealed a very intriguing and moving account of a Ukranian Jewish immigrant who somehow escaped brutal Russian Cossacks and fled to America.
Nick Kotz wrote a Texas sized account that centers on his grandfather, Ukranian born Nathan Kallison and his flight to the safety of America and finally to Texas.  Nathan Kallison and later his brothers left their homeland and through hard work, strength of character, strength of will, study, saving and innovation, built the south Texas/San Antonio Kallison stores into a powerhouse farm and ranch supply business many years ahead of what we know today as big box stores.
Did we mention hard work?  Nathan Kallison and his family physically built their lives with strong wills to succeed.  Kallison was only 17 years old when he traveled only at night across Europe to make his way to America. He had to learn English.  He had to start at the bottom.  He lived in grinding poverty and young Nathan earned a living as a harness maker.  In that day and age, harness makers were in demand and young Nathan Kallison turned that skill-set into an empire, giving rise to the advice that whatever you do – do it well.  Nathan Kallison built an empire for his family starting from scratch.
Nick Kotz was born in San Antonio and is a nationally known journalist with The Washington Post and Des Moines Register.  He won the Pulitzer for National Reporting and has written six books. He is also a U.S. Marine Corps Veteran.
The Harness Maker is a Texas sized story worthy of your time to read.
Learn more about Nick Kotz at:   www.nickkotz.com
—————————————————————————————–