Checo's, San Antonio, TX
We're looking for the best Mexican Food Restaurants in San Antonio and surrounding areas…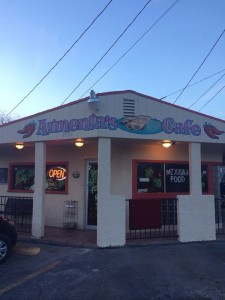 In San Angelo, where we previously lived, there were a few really delicious Mexican Restaurants.  Our favorite was Armenta's Cafe.
We mostly ate there for breakfast.  David always ordered the Huevos Rancheros and I had Chorizo and eggs.
Once we moved to the San Antonio area, I had to learn how to fix the authentic Huevos Rancheros and I did!  The recipe will be in my cookbook I'm working on now.
Whenever we would visit San Antonio, we would have to drive to the downtown area and eat at Mi Tierra, one of the oldest Mexican Food Restaurants in San Antonio.  We will review Mi Tierra soon.
We have tried several Mexican Food restaurants, not only gourmet, but also some of the mom and pop places.  We are in search of the real authentic Mexican home cooking.
I have just started to take pictures and write reviews of our restaurant adventures, so we will have to go back and visit all the Mexican food we have tried.  It's funny because whenever we're out running errands, I always want to find a new Mexican food restaurant.  I look in all the strip malls, the side streets, and anywhere I can find one.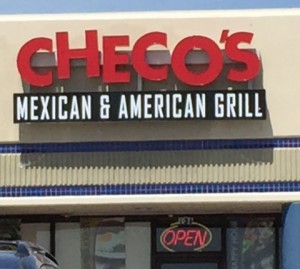 Today we were at Sam's club and were heading home.  It was lunchtime and of course, I was hungry.  Only 2 blocks from Sam's club in the Post Office shopping center we saw Checo's. 5999 Dezavala Road Suite 136, San Antonio, TX 78249
Good news!  I just so happened to have a coupon for 10% off the total check….bonus!!!
I presented the coupon to the waitress….she was taking our drink orders.  I asked what the daily specials were.  Her response was shocking, but funny.  And she was serious.  She said that with the coupon it didn't apply to the specials, and walked away.  I looked at David and we both thought the same thing….maybe we wouldn't have used the coupon, but just pay full price.  All we wanted to know was all we could find out about their specials.
We decided to order from the menu.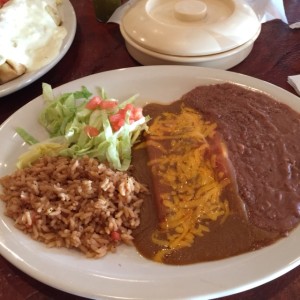 David ordered the Cheese Enchilada Plate (2) $6.50.
The cheese enchilada sauce needed to be spicier or jazzed up for our taste, and the rice, with a little help from additional salt added, was good.  The refried beans were homemade, but also needed some salt.
Over all it was a fair lunch and affordable.  Nothing special here and as many small restaurants go, just a few adjustments could go a long way in upgrading the dining experience….at least for our tastes.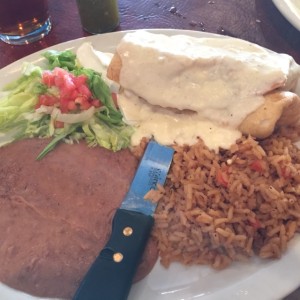 I ordered a Beef Chimichanga with a Sour Cream Sauce – Deep Fried Burrito (Beef or Chicken) with Cheese and Sour Cream * Gravy, Cheese Dip, Sour Cream Sauce – optional * $8.25
I used to eat these all the time in Arizona where I grew up.  So I was looking to bring back a wonderful childhood memory.
They have a different take than I remembered, it was ground beef, not shredded and I remembered them to be a little more deeper fried.  Nothing like I remembered from my childhood.
Of course we had to order dessert!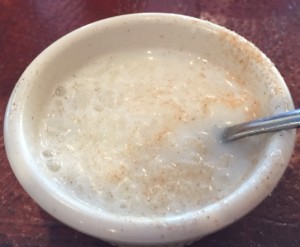 While we waited for our dessert, the waitress brought us a sampling of Arroz con Leche.
This did bring back memories.  My nanny would make this for me after school.
I remembered it a little creamier and sweeter and it was one of my favorite desserts.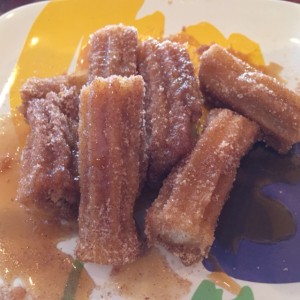 We ordered the Churros with a Caramel Sauce.  It's a new item on their menu.
We have eaten Churros at Rodeos.  Our favorite Rodeo junk food is Funnel Cakes, but sometimes they aren't offered so we tried Churros.
It's funny because we always thought that they weren't cooked all the way through, and found out from our waitress that there is cream in the middle!  Oops…usually we always order Sopapillas, but I was in the mood to try something else.
These weren't like the Rodeo Churros, because they were in a caramel sauce and so you couldn't pick them up with your fingers.  And they were small instead of a longer version.  The caramel sauce made the dessert.  We still don't taste the cream in the center, but it does have a gooey texture.
We enjoyed our lunch, it satisfied my Mexican Food craving and we went home full as ticks!
However, nothing memorable here, and we are still looking for that one special place for our "go to" Mexican food.
If it doesn't exist in San Antonio, it probably does not exist anywhere on this planet.  We're still looking.
I'm Ramona Werst and this is my Foodie Restaurant Review….
Bon Appetite!