II Sogno Osterio Restaurant, Pearl Market, San Antonio, Texas
A 5 star Italian Restaurant at the Pearl Market…
Chef Andrew Weissman graduated at the  top of his class at the Culinary Institute.  He then went to France to further his culinary pursuits.  It's a widely agreed among his current customers that all that training and preparation has paid off.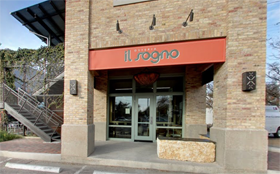 His ventures in San Antonio, include:  The Sandbar Fish House & Market, an upscale oyster bar; The Luxury, an outdoor restaurant featuring retro-fitted cargo containers and a menu of high end cargo cuisine; and Il Sogno Osterio Restaurant, his five-star ode to the trattorias and osterias of Rome and Florence.  A trattoria is an Italian inspired restaurant.
A couple of years ago, from a suggestion by my surgeon, for my birthday, David took me for a special birthday supper to II Sogno Osteria Restaurant, 200 E Grayson, San Antonio, Texas.  It's at The Pearl Brewery/Market area.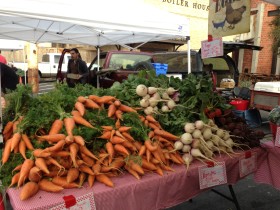 I love the Pearl Market area.  We go on Saturdays for the Farmer's Market, stroll through the shops, (David's favorite is Twigs Bookstore) and then eat at one of the many delicious restaurants.
The Farmer's Market is open on both Saturday and Sunday. (Sunday isn't as big and there aren't as many produce vendors.)
My birthday was a special day.  It just so happened to fall on a Saturday, so we started walking through the Farmer's Market.
When we walked into II Sogno Restaurant, we were seated right by a fantastic wine wall!  From our table we could see the chefs in the kitchen and there was a beautiful arrangement of all kinds of food set up on a table.  I'll tell you all about this colorful food arrangement as I describe the menu.
The waiter explained that we could start off with an Antipasti and that there were several ways to create our own personal tray.  Antipasti means "before the meal" and is the traditional first course of a formal Italian meal. Traditional antipasto includes cured meats, olives, peperoncini, mushrooms, anchovies, artichoke hearts, various cheeses (such as provolone or mozzarella), pickled meats, and vegetables in oil or vinegar.
There were so many choices, but we didn't want to fill up on delicious Antipasti and not be able to eat our main course.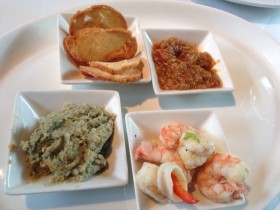 We settled on Eggplant Caviar $9.00 small $12.00 large; Artichoke Tapenada $9.00 small $12.00 large; Mixed Seafood Salad, Shrimp, and Calamari $9.00 small $12.00 large.
This was served with crisp bagel chips.  The flavors danced off our tongues!  The Eggplant Caviar was light and creamy.  The Artichoke Tapenade had a citrus hint and was so fresh.  The Mixed Seafood Salad was perfection with the Shrimp and Calamari crisp and fresh with a little lemon squeezed on top.
We were really taking our time tasting each of our Antipasti, commenting on each bite.  Good thing our table was close to the wine wall, so that people would look at the wine and not us licking our fingers!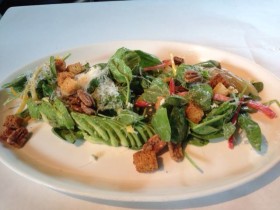 Next course was the Insalata, we shared this course.
The Insalata had baby spinach, with bacon, blue cheese, pears, candied pecans and avocado. $14.00
I have never paired pears with blue cheese before, but if you made the perfect bite (Julia Childs used to put all the ingredients on her fork and put it all into her mouth so as she chewed, she would enjoy every flavor all together.)  I made the perfect bite for David before I made mine and we both rolled our eyes and just said yum together.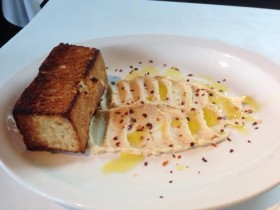 Next course was Focaccia with Hummus. $12.00
This was a new and different way to enjoy Focaccia.  This is a flat oven-baked Italian bread product similar in style and texture to pizza doughs. It may be topped with herbs or other ingredients.  But this Focaccia was not topped with anything and was not a pizza dough.
It was a flavorful bread toasted and was dense.  The Hummus was a homemade spread with olive oil and red pepper flakes.  When you spread the Hummus on the Focaccia, it was so creamy with just a heat kick from the pepper flakes, but not bland at all – right down our Texas tastebud trained alley.
For the main course, we each ordered our own, and of course shared.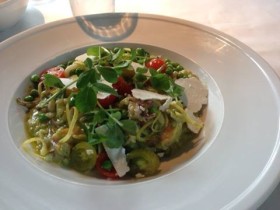 David ordered Shrimp with Calamari over Sweet Pea Risotto. $28.00
This was divine!  We love Risotto and I have learned how to make several different recipes, but have never had Sweet Pea Risotto.  The Risotto was so creamy and with the sweet peas, added a sweetness to the shrimp and calamari.
There were little shavings of parmesan cheese that just took the flavors out of this world.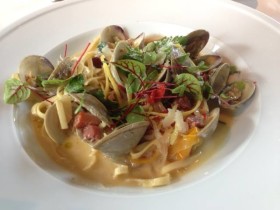 I ordered Clams over homemade Linguini. $26.00
I love Clams, but I think my most favorite way to eat this meal was to dip some Italian bread in the sauce and slurp my clams and linguini!
The sauce just made this dish so delicious  and it had to be a secret sauce.  I know there was butter and lemon with a slight hint of garlic, but the blend was so delicious.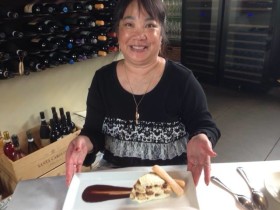 Of course no birthday supper would be complete without dessert.  And I love Tiramisu!  So it's not too hard to guess what I ordered… Tiramisu $9.00
I could have eaten it all by myself, but I shared with David…
I make a pretty mean Tiramisu, but this one is one that I don't want to learn how to make.  I want to have a special place to go and enjoy the best Tiramisu I have ever eaten.  (Whenever there is Tiramisu on the menu, I enjoy  Tiramisu!)
As you can tell, I love II Sogna Osteria Restaurant!  If you are in the San Antonio area and have time to enjoy a real taste of Italian cuisine, you have to visit Chef Andrew Weissman's  II Sogna Osteria Restaurant.
I'm Ramona Werst and this is my Foodie Restaurant Review….
Bon Appetite!