Beer Chicken Wings with Blue Cheese Dip
It's Football Season, and that means it's Chicken Wing Season…
These wings will hit the spot and are spicy, crunchy and delicious!
Beer Chicken Wings with Blue Cheese Dip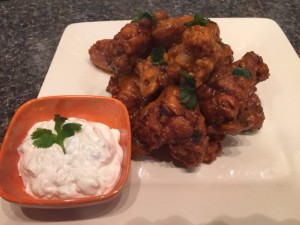 Ingredients
12 – 16 Chicken Wings, cut into 3 pieces and tips trimmed
1 tablespoon Kosher Salt
2 cups  plus 1 tablespoon Buttermilk
1 cup All-Purpose Flour
1 teaspoon Cayenne Pepper
1/2 tablespoon Garlic Powder
1/2 tablespoon ground Mustard Powder
1/2 tablespoon Onion Powder
1 teaspoon fresh ground Black Pepper
2 eggs, beaten
8 cups Peanut Oil for frying
Sauce
1 cup Shiner Beer
1/2 cup Frank's Hot Sauce
1 teaspoon Worcestershire Sauce
6 tablespoons unsalted Butter
Blue Cheese Dip
1/2 cup Sour Cream
1/4 cup Mayonnaise
1/2 cup Blue Cheese, crumbled
1/2 teaspoon Cider Vinegar
1/8 teaspoon Kosher Salt
1/8 teaspoon fresh ground Black Pepper
Directions
Blue Cheese dip:  Combine all the dip ingredients and using a fork combine, smashing the blue cheese crumbles against the side of the bowl to break up.  Cover and refrigerate until ready to serve.
Wing Sauce:  In a small sauce pan over medium high heat, combine the sauce ingredients, except the butter.  Bring to a boil; boil 12 to 15 minutes or until reduced by 1/2.  Remove from heat.  Add butter; stir until melted.
Chicken Wings:  In a gallon ziplock bag, add chicken wings, 1 tablespoon Kosher Salt, and 2 cups buttermilk.  Seal the bag and refrigerate for 1 hour.
In another gallon ziplock bag, combine flour, cayenne pepper, garlic powder, mustard, onion powder, pepper and 1 teaspoon salt.  Set aside.
Remove wings from buttermilk mixture, shaking off any excess.
Combine eggs with the remaining buttermilk in another gallon ziplock bag.  Place wings in the ziplock bag and shake to coat the wings.
Remove the wings and shake off the excess egg mixture and place the wings in the flour mixture bag and shake.
Remove the wings and place on a wire rack in a rimmed cookie sheet and refrigerate for 30 minutes.
Heat the oil over medium to 350F degrees.
Add the wings in batches into the hot oil and fry for 6 – 8 minutes, until golden, crispy and thermometer reads 165F degrees.  Place on a wire rack and place in the oven at 200F degrees to keep warm while frying the remaining wings.
Place all the wings in a large bowl, pour the sauce over the wings and toss until coated.
Serve with the blue cheese dip.