Las Palapas, San Antonio, Texas
We love Mexican Food!
After our move to San Antonio, we finally we have found a really delicious sit down, but quick Mexican restaurant.  In San Angelo, we left one of our favorite's,  Rosa's Mexican Restaurant.  The food was simple and affordable, but was home cooked.

Now we have a new restaurant named Las Palapas, 1604 and Hausman, San Antonio, Texas.  It's right by UTSA.
Las Palapas is  family minded, they are closed on Sundays, so employees can go to church and spend the day with their families.  And they really take care of Military and Veterans…they offer 25% discount for active duty and retired (all you have to do is be in uniform, or have proper id)  I don't know of any other restaurant that offers that nice of a discount.
Las Palapas started in 1981 with the idea of serving a fresh mix of traditional family recipes from California (East L.A.) and South Texas.  Mexican food that can be enjoyed with friends and family at everyday value pricing.
They serve Starbucks brand coffee, make everything from scratch, there are onions in their skillet potatoes, the salsa is tasty (not quite spicy enough for us, but we like it hot) and the tortillas are delicious.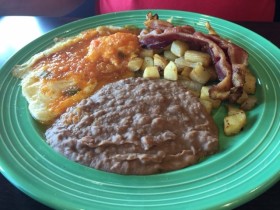 David, ordered Huevos Rancheros $4.29 with bacon $1.49 (who would have guessed! lol)
The Ranchero sauce was delicious, not quite like mine because it didn't have enough big chunks of peppers and onions, but it was actually Ranchero sauce and not just salsa.
The refried beans where nice and thick and salted very well.  I already was impressed with the skillet potatoes with the onions cooked with the potatoes, and 3 pieces of bacon.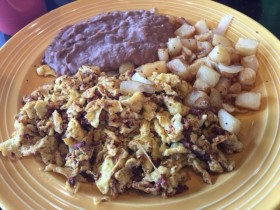 I ordered my test plate.  Chorizo and Eggs $5.99.
I still have not found my runny (which is greasy), red chorizo, but this was really tasty, with the right amount of salt.  The seasoning brought out the nice sausage flavor.
I like to take a warm fresh tortilla, spread some beans, and top with a few potatoes and the chorizo and egg; roll it up and take my first bite.  Yum…
We each had coffee and we love Starbucks.  I always order 1/2 cup of coffee and cream.  The waitress was very attentive and she couldn't understand why I would only order 1/2 cup when the coffee is made fresh for each cup.  I explained to her the reason is because I add sugar and lots of cream.  She said the coffee was delicious and it was.  I had a full refill.
When we got our check there was a $4.00 military discount…this paid for our tip!  It's so much fun to find a delicious restaurant that for breakfast we can both eat a big meal for around $15.00 including tip and 2 coffee's.  I even took half of my breakfast home it was such a large plate full…I can enjoy it again tomorrow morning and make David my famous Huevos Rancheros.
I give Las Palapas two thumbs up.  Muy Bueno!
I'm Ramona Werst and this is my Foodie Restaurant Review….
Bon Appetite!