Slow Cooker Mahogany Chicken Wings
Another Football chicken wing recipe….
This is a slow cooker recipe…marinating the wings overnight and cooking in the crockpot all day.  The chicken wings are ready for Monday night football!!!
Slow Cooker Mahogany Chicken Wings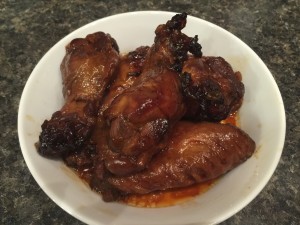 Ingredients
24 Chicken Wings, cut in thirds and wing tips discarded
1 cup homemade Beef Broth (you can substitute with canned)
2 bunches Scallions, chopped
1 cup Sweet Soy Sauce
1 cup Strawberry Jam
6 Garlic cloves, minced
1/2 cup Molasses
1/4 cup Apple Cider Vinegar
1 tablespoon Cornstarch
Directions
In a ziplock bag add the broth, scallions, soy sauce, jam, garlic, molasses and vinegar.  Remove 1/2 cup of mixture and put in an airtight container and refrigerate overnight.  Add the chicken wings to the ziplock bag, seal and refrigerate overnight.
Remove the chicken wings from the marinade, and place in a crockpot.  Discard the old marinade.
Add the cornstarch to the reserved marinade in the airtight container.  Add to the crockpot with the chicken wings.
Cover and cook on High for 4 to 5 hours or Low for 7 to 8 hours.  Or until the chicken is cooked through.