Real Texas Thanksgiving Pumpkin Cookies
There are never enough recipes to use up your Halloween Pumpkin, but I'm trying all kinds of new recipes.  This reminds me of a Thanksgiving version of the Christmas Snickerdoodles.
Real Texas Thanksgiving Pumpkin Cookies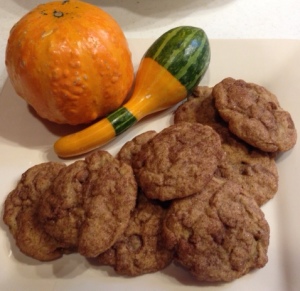 Ingredients
3/4 cup fresh Pumpkin
2 teaspoons ground Cinnamon
1/4 teaspoon ground Ginger
1/4 teaspoon ground Cloves
1/2 teaspoon Kosher Salt
2 1/2 cups All-Purpose Flour
1 teaspoon Baking Soda
1/2 teaspoon Baking Powder
3/4 cup unsalted Butter, at room temperatue
1/2 cup Sugar
1/2 cup packed Brown Sugar
1 large Egg
2 teaspoons Vanilla Extract
1 cup Cinnamon Chips
Cinnamon Sugar Mixture:
1/4 cup Sugar
2 teaspoons ground Cinnamon
Directions
Pumpkin Puree:  Preheat oven to 350F degrees. Cut pumpkin in half and remove the seeds. (You can roast the seeds for a snack) Cut up the pumpkin into several large pieces.  Place on a greased cookie sheet and bake for approximately 1 hour or until a fork can be inserted easily.
Remove from the oven and allow to cool until it can be handled.  Peel the skin from the pieces.  Place in a food processor and puree.
In a large skillet, measure 3/4 cup of the pumpkin and save the rest for other recipes.  Add the pumpkin puree, cinnamon, cloves, salt and ginger.  Stirring frequently over medium heat until most of the moisture is evaporated and the puree is fragrant.  Approximately 10-15 minutes.  Set aside to cool.
Preheat oven to 350F degrees.  Line a cookie sheet with parchment paper.
In a medium bowl, whisk together flour, baking soda, and baking powder.  Set aside.
In a stand mixer bowl, cream the butter and sugars together until light and fluffy, about 3-4 minutes.  Add the pumpkin, egg and vanilla and mis until combined, about 3 minutes.  Slowly add in the dry ingredients.  Mix until just combined.  Stir in the cinnamon chips.
In a small bowl, mix together sugar and cinnamon.  Shape dough into rounded tablespoons (which is sticky, but will roll into a ball in the sugar mixture) and roll in the cinnamon sugar mixture.
Place balls 2″ apart on cookie sheet.  Lightly press down on the cookies with your fingers, just mashing a little.
Bake for 10 minutes or until cookies are just beginning to brown around the edges.  Let the cookies cool on the cookie sheet for 1 minute.  Transfer to a wire cooling rack and cool completely.