Real Texas Barbecued Chicken Wings
This recipe is a Barbecued Chicken Wing and what makes this a new recipe is the amazing Barbecue sauce.
Real Texas Barbecued Chicken Wings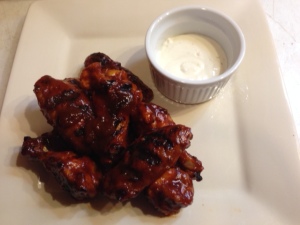 Ingredients
Barbecue Sauce
2 tablespoons Unsalted Butter
1/4 cup Onion, minced
Kosher Salt
1 1/2 teaspoons Chili Powder
1 Garlic clove, minced
2 1/4 cups Spicy V8 Juice
3/4 cup White Vinegar
2 tablespoons Worcestershire Sauce
2 tablespoons Molasses
1/2 teaspoon dry Mustard mixed with 1 tablespoon Water
1 teaspoon Chipotle Chile in Adobo Sauce, minced
Fresh ground Black Pepper
Chicken Wings
1 teaspoon Kosher Salt
1 teaspoon Black Pepper
1/8 teaspoon Cayenne Pepper
2 1/2 pounds Chicken Wings, tips cut off and cut in 2 pieces
2 cups Barbecue Sauce
Side Sauce:  Original Ranch Dressing
Directions
Barbecue Sauce
Melt the butter in a medium saucepan over medium heat.  Add the onion and a pinch salt and cook until softened, 2 to 3 minutes.  Stir in the chili powder and garlic and cook until fragrant, about 30 seconds.  Whisk in the V8 juice, 1/2 cup of the vinegar, Worcestershire, molasses and mustard mixture and chipotle.
Bring the sauce to a simmer and cook, stirring occasionally, until slightly thickened and reduced to 1 3/4 cups, 30 to 40 minutes.
Off the heat, stir in the remaining 1/4 cup vinegar.  Cool to room temperature, season with salt and pepper to taste.
Chicken Wings
Combine the salt, pepper, and cayenne in a bowl.  Pat the chicken wings dry with paper towels and rub them evenly with the spice mixture.
Turn on all the burners to high, cover, and heat the grill until hot, about 15 minutes.  Turn all the burners to medium-low.  Maintain the grill temperature around 350F degrees.
Clean and oil the cooking grate.  Place the wings on the grill skin side down.  Cover and cook until the ski is crisp and golden 15 to 20 minutes, flipping the wings half-way through.
Flip the wings over so the skin side is up and brush with some of the barbecue sauce, until glazed and deep brown, about 5 minutes longer.
Transfer the chicken wings to a platter, brush with the remaining sauce and serve.
Football season may be half over as I publish this recipe, but David says we can still be Spurs, Mavericks, and Rockets fans all through the basketball season.
Long live the seasons!