Real Texas Smoked Chicken Wings
Smoked Chicken Wings versus Barbecued Chicken Wings…
Just like Barbecue wood Pits and Gas Grills there is a difference between Smoked Chicken Wings and Barbecued Chicken Wings.  What's the difference you ask?
The main difference is when you barbecue chicken wings, it's about getting a quick char on the skin and the delicious sauce you baste on the the wing.  Smoking chicken wings is a slow cooking process allowing the smoke from your favorite wood chips (we use Mesquite, but we're from West Texas) and enjoying the smoky flavor.
I have shared with you a Barbecued Chicken Wing recipe and now here is a Smoked Chicken Wing recipe.
Real Texas Smoked Chicken Wings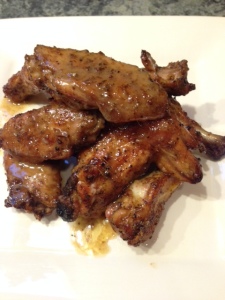 Ingredients
Mesquite Wood Chips
13″ x 9″ disposable Aluminum Pan
24 Chicken Wings, wing tips cut off and cut in two pieces
1/4 cup + 2 teaspoons Barbecue Seasoning Rub, divided
1/3 cup Bourbon
1/4 cup Butter
Directions
Soak the wood chips in water 30 minutes.  Drain.  Place the wood chips in heavy aluminum foil.  Fold foil to seal.  Pierce the foil packet with a skewer to allow smoke to escape.
Place disposable aluminum pan on one side of the gas grill and fill half way with hot water.
Turn on the opposite side of the grill on high, heating to 275F degrees.  Leave the side with the water pan unlit. Place a wire rack or grate over the water pan.
Toss the chicken wings with 1/4 cup barbecue seasoning rub.  Arrange the chicken wings on the rack over the water pan.  Place the foil packet on the lit side of the grill.  Close the grill lid, maintaining the heat at 275F degrees for 1 1/2 hours or until a thermometer inserted into thickest part of the chicken registers 185F degrees.
Transfer chicken wings to a large bowl.
Bring bourbon to a boil in a small saucepan.  Cook, uncovered, until reduced by half, approximately 5 minutes.  Whisk in butter until melted.
Pour butter mixture over the chicken wings and toss to coat.  Sprinkle 2 teaspoons barbecue seasoning rub on the chicken wings and serve.
Not just serve….Turn the game on and Serve….nothing better than wings and football.
Enjoy!