Thanksgiving Pistachio Cookies
This cookie uses Pistachio Nuts and Crasins.  I think of Cranberries for Thanksgiving and Crasins fill in just fine.
Thanksgiving Pistachio Cookies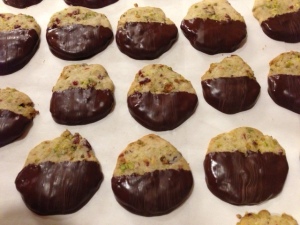 Ingredients
2 1/2 cups All-Purpose Flour
1/4 cup Sugar, processed in the food processor to make it superfine
1/8 teaspoon Kosher Salt
2 sticks Butter, cut into 16 pieces
1 1/2 cup Pistachios, shelled and chopped coarsely
1/2 cup dried Crasins, chopped coarsely
1 oz Cream Cheese, softened
2 teaspoons Vanilla Extract
8 oz Bittersweet Chocolate, chopped
Directions
Add Flour, sugar and salt to a stand mixer.  Combine on low speed.  Add butter, 1 piece at a time and mix until crumbly.  Add pistachios, crasins, cream cheese, and vanilla and beat until mixture begins to form large clumps.
Knead dough by hand.  Divide into 2 even balls and roll into a log shape.  Wrap in plastic wrap and refrigerate for 30 minutes.  Or until firm enough to slice into slices.
Preheat oven to 375F degrees.  Line a cookie sheet with parchment paper.
Remove the cookie logs and slice into 1/8″ slices.  You may have to form them, using your fingers, a little to hold them together.
Bake 5 minutes and then rotate the cookie sheet and bake another 5 minutes or until light golden brown.  Let cookies cool on the sheet for 3 minutes, then transfer to wire rack and cool completely.
Using a tall coffee mug, fill with the chocolate pieces and microwave on low for 2 minutes.  Stir and you may need to microwave a little longer, but watch carefully.
Dip each cookie halfway in chocolate and let the excess drip off and lay on parchment paper on the counter top. Let chocolate set for at least 1/2 hour before moving the cookies.