Taco Cabana, San Antonio, Texas
Delicious Mexican Dishes made from Scratch…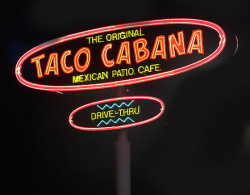 Even though Taco Cabana is a franchise chain, at every restaurant all the Mexican dishes are made from scratch.
The first Taco Cabana was located at the corner of San Pedro and Hildebrand Avenue in San Antonio.  Built by founder, Felix Stehling, as additional parking space for his family owned bar, he decided to open a Taco Stand.  He designed an open air effect that led to the Patio Cafe concept.  His wife created the decor, but the first night after closing, all of the furniture was stolen, so he decided to stay open 24 hours a day, and this is where the around the clock service concept began.
The food is all about fresh ingredients and made from scratch, and boy can you taste it.  It is food just like the Mexican momma's would be proud of.
I remember my Mexican Nanny making flour tortillas.  She taught me and the recipe was a couple of handfuls of flour, a little handful of lard, a pinch of salt and water until it was just right.  You mixed with your hands and patted out the kinda round shape and cooked it on an old cast iron flat pan.  You never washed it because tortillas were all that was cooked on it.  We slapped some butter on a warm tortilla and hmmmm, it was so delicious.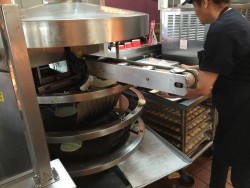 Taco Cabana has a tortilla machine that cooks the tortillas on a conveyor belt, but the taste is just like making them 1 at a time.
What a cool invention, you just make the dough and roll up into little balls my nanny called testales.
It only takes 1 person to place the dough balls on the conveyor belt and the machine presses them into a round flat disc, cooks them and puts them out at the end.
Taco Cabana serves them with all their dishes and you can even purchase by the dozen.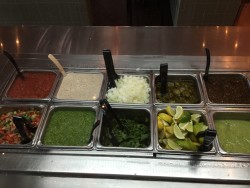 They also have a fresh Salsa Bar with all kinds of different salsas, fresh lime wedges, onions, cilantro and jalapeños.
There is a traditional Picante, Pico de Gallo, Salsa Verde, Roasted Pepper Salsa, Avocado Salsa, Cream Salsa and even a Pineapple Salsa.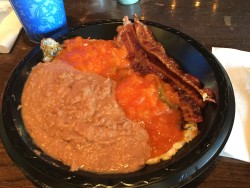 Whenever we eat in, David, of course, has to order the Ranchero Plate. $4.89
Ranchero Sauce served over 2 eggs, crispy bacon and refried beans.  Don't forget the fresh tortillas too.
When we eat on the go, he orders a Bacon and Egg Burrito. $2.19 It's scrambled eggs with bacon wrapped in a large tortilla.  The tortilla isn't the one made fresh, but it is a larger tortilla.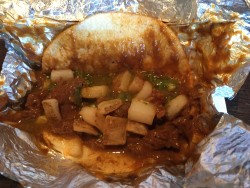 I order a Carne Guisada Taco with potatoes added. $2.89
Slowed cooked beef chunks, with potatoes wrapped in a fresh tortilla.
I sprinkle with a little salt and I love the Verde Salsa on top.
It's a little messy to pick up, so eating in with a fork and napkin is advised.
All of the food is cooked to perfection and is so delicious.
If you keep your receipt and take the online survey, with a code you get after completing the survey, you can take your receipt the next time you eat at Taco Cabana and receive $1.00 off.  I like to fill out the survey to let them know how much I enjoy eating at Taco Cabana.  But on a couple of occasions, a mishap like cold potatoes in my taco, I mentioned in the survey.  A manager called me and invited me to come back and have breakfast on them.  They don't usually have any problems, but that's what the survey is for so they can keep their attention to all the details.
We eat at Taco Cabana whenever we have to run to town in the mornings.  Sometimes I just have to have something from the store and it just happens to be in the morning.  And I say to David, if you go with me to the store, we can have breakfast at Taco Cabana.  Never a problem! lol
I'm Ramona Werst and this is my Foodie Restaurant Review….
Bon Appetite!