Crowd Pleasing Spicy Butterscotch Chicken Wings
I love Football season and all of my crowd pleasing Chicken Wing recipes!
Last year when I started with several different chicken wing recipes, I received a lot of comments on how delicious my recipes were.  So this year I want to continue with more recipes.  I look for different interesting recipes, but recipe that you can make at home yourself and for your guests.
This recipe is such a pretty dish, and it carries a little punch and sweetness all in the same bite!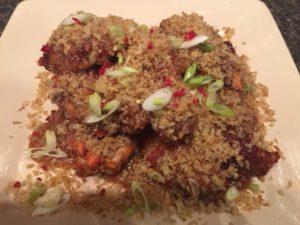 Spicy Butterscotch Chicken Wings
Ingredients
24 Chicken Wings (tips cut off and cut in two pieces)
2 tablespoons Soy Sauce
2 tablespoons Ketchup
2 tablespoons Sriracha Sauce
1 teaspoon ground Black Pepper
1 teaspoon Onion Powder
1 teaspoon crushed Red Pepper Flakes
1/2 teaspoon Kosher Salt
Butterscotch Sauce
1/2 cup Sugar
1/2 cup Whole Milk, warmed
2 tablespoons Unsalted Butter
Topping
1 tablespoon Unsalted Butter
1/2 cup Panko Bread Crumbs
2 Scallions, sliced diagonally, divided
1 Garlic Clove, minced
2 dried Red Bird's Eye Chili Peppers, minced
Directions
Preheat oven to 400F degrees.
Combine, soy sauce, ketchup, Sriracha sauce, black pepper, onion powder, crushed red pepper flakes, and 1/2 teaspoon salt in a large bowl.  Add the chicken wings, tossing to coat and set aside.
In a non-stick skillet, over medium heat, melt butter.  Add bread crumbs, 1/2 of the scallions, garlic, salt and pepper.  Stir until golden, approximately 2 minutes.  Remove from heat, transfer to a bowl and set aside.  Clean out the skillet to use again.
Place the coated chicken wings on a foil lined, rimmed baking sheet.  Bake in pre-heated oven for 10 minutes.  Turn down the oven heat to 350F degrees and continue baking chicken wings for approximately 15 minutes, or until a meat thermometer reaches 165F degrees, when inserted in the meat and not touching a bone.
Meanwhile in the now clean skillet, spread the sugar evenly over the bottom of the skillet.  Without stirring over medium heat allow the sugar to melt, gently stirring the sugar so it melts evenly.  Cook sugar until it turns to an amber color.  Carefully stir in the butter until melted.  Add the warmed milk and continue to stir.  (The sugar may harden a little, but continue to stir and should melt once the mixture heats up.)  Turn down heat so the mixture simmers and continue to stir for approximately 5 minutes, or until thickens to a caramel like sauce.
Once chicken wings are fully cooked, remove from oven and transfer to a serving platter.  Drizzle the sauce over all of the wings. Sprinkle with the toasted topping and garnish with the remaining scallions and red bird's eye chili peppers.