Real Texas Garlic Hot Chicken Wings
Here's another chicken wing recipe…very different flavor with extra garlic.  Not overwhelming but just right.  I made these with Potato Skins (recipe coming soon).
Garlic Hot Chicken Wings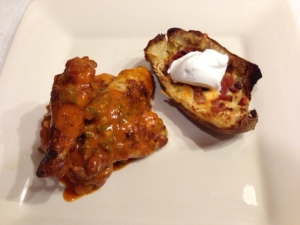 Ingredients
Wings
1 tablespoon Garlic powder
1 tablespoon Cayenne Pepper
1 tablespoon Mustard powder
1 tablespoon freshly cracked Black Pepper
1/2 teaspoon ground White Pepper
2 teaspoons ground Cumin
2 pounds Chicken Wings, tips removed and cut into 2 pieces
Sauce
2 tablespoons Olive Oil
1 tablespoon Garlic, minced
1 Jalapeño Pepper, minced
1 (12 oz) bottle Hot Pepper Sauce (I used Frank's)
4 tablespoons Unsalted Butter
1 tablespoon White Vinegar
1 tablespoon fresh Key Lime juice
Directions
Place a 6-quart saucepan, with a steamer basket and 1 inch of water in the bottom, over high heat, cover and bring to a boil.
Remove the tips of the wings and discard or save for making stock. Use kitchen shears or a knife to separate the wings at the joint. Place the wings in the steamer basket, cover, reduce the heat to medium and steam 10 minutes. Remove the wings from the basket and carefully pat dry. Lay out the wings on a cooling rack set in a half sheet pan lined with paper towels and place in the refrigerator to dry, about 1 hour.
In a large bowl, combine the garlic powder, cayenne pepper, mustard powder, black pepper, white pepper and cumin.  Remove and reserve 2 tablespoons of the spice mixture for the sauce.
Add the wings to the bowl and toss to coat the wings with the spice mixture.  Lay the wings on a baking sheet, loosely cover and refrigerate 1 to 2 hours.
Preheat the grill.  Place the wings on the grill in an even layer.  Grill until golden brown and slightly charred, 4 to 5 minutes.  Reduce the heat of the grill to medium, turn the wings over, and close the lid of the grill.  Continue grilling until just cooked through, 15 to 20 minutes longer.
Meanwhile, make the sauce:  In a medium saucepan over medium-high heat, combine the olive oil, garlic and jalapeño.  Sauté 1 minute, stirring constantly.  Add the reserved 2 tablespoons spice mixture and the hot sauce.  Bring to a simmer then add the butter, vinegar and lime juice and stir until the butter melts.  Keep warm until the wings are cooked and ready to serve.
Transfer the wings to the large bowl, pour the sauce over the wings and toss to coat.