Little Gretel, Boerne, Texas
The best of Boerne, Texas….
We are enjoying visiting different gourmet restaurants in and around the great state and in particular the greater San Antonio area.  Our definition of gourmet is food that is prepared to have a unique twist on flavor.  Flavor is using herbs, spices and fresh ingredients combined to give the taste buds the ultimate taste adventure possible!
A little about Boerne…
In 1849, a group of German colonists from Bettina camped on the north side of Cibolo Creek, about a mile west of present-day Boerne. They called their new community Tusculum, after Cicero's home in ancient Rome. In 1852, Gustav Theissen and John James laid out the town's site and changed the name to Boerne in honor of Ludwig Börne, a German poet and publicist. The German cultural tradition has dominated the community in many ways similar to the communities of Fredericksburg and New Braunfels.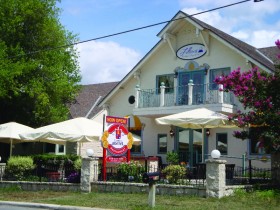 In the middle of the German community, there is a Czech/German restaurant called Little Gretel. 518 River Rd, Boerne, TX 78006
Chef Denise, originally from Czechoslovakia, began developing her culinary skills from her mother at a young age while living in Prague. She perfected her cooking techniques in restaurants all over the world, learning in kitchens from Paris, France and Munich, Germany to Boulder, Colorado.
Her Czech recipes come from family cookbooks and her experience from family-owned restaurants in Colorado, feature unique menu items such as authentic Czech, traditional German and American favorites not found anywhere else in the Hill Country.
Chef Denise says, "Where possible, we grow our own fresh vegetables and herbs and purchase our foods from reliable vendors utilizing sustainable products. We "GO TEXAN"
Their menus are a mix of choices for the whole family ranging from Little Gretel's famous  pancakes, waffles and eggs Benedict to salads, sandwiches and authentic daily specials of Central European countries ending with the highest quality of venison steaks, roasted duck and Antelope schnitzels.
Their Schnitzels, for example, are prepared in a revolutionary German oven – one which is slowly making its way into the better kitchens, culinary institutes and schools around the country.
We had lunch there and the food was delicious and very affordable.  What I really appreciated was the menu for lunch featured a choice of 1/2 sandwiches along with the full sandwiches.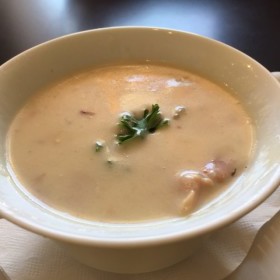 We started with Little Gretel's Clam Chowder – Traditional chowder made with clams, bacon, potatoes and cream, in a sourdough bowl for $8.49  or a cup for $6.99.  I like to try clam chowder wherever I see it on the menu and this was the real deal.
The clam chowder was perfect.  The clams were well washed (no sand!) and minced.  Every bite had plenty of clams and minced potato.  The rich creamy base was blended so there was just a hint of a seafood flavor which was delicious.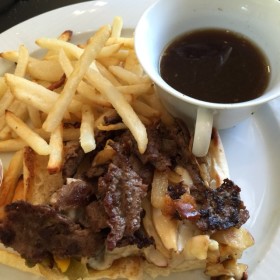 I ordered 1/2 French Dip Au Jus Sandwich – Shaved rib eye steak, covered with sautéed mushrooms, onions, peppers and Provolone cheese on a freshly baked sourdough hoagie, with Au Jus Half sandwich for $7.99  Full $9.99.
The sandwich was prepared perfectly.  The ribeye steak was seasoned and cooked with a little char.  It sat on top of sautéed baby mushrooms, peppers and onions.  The cheese was melted on the fresh baked, lightly toasted bread.  As you dipped the perfect bite (with the steak, mushrooms, peppers, onions, cheese and bread) into the Au Jus, you need to get ready to taste all the flavors on your taste buds.  The French Fries were not fried….instead they were oven baked and had a light crisp crunch to them.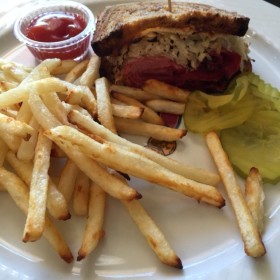 David ordered Uncle Ruben's Reuben Sandwich – Thinly sliced corned beef, homemade sauerkraut, Provolone cheese and Uncle Ruben's dressing, on grilled marbled Rye bread Half for $7.49  and full for $9.99.
We have eaten our share of Reuben sandwiches from Fredericksburg to my own homemade version.  But this Reuben sandwich was way better!  The Corned Beef was so tender and juicy.  You could tell from the flavor that it was prepared very slowly to ensure the spices infused into the meat and were packed full of flavor. It was sliced just right too, not too thin or thick but just right and loaded between the slices of bread.  The Sauerkraut was not too sour, but had the right amount of twang to compliment the corned beef.  And yes they had a secret sauce, that added a creamy texture to the sandwich.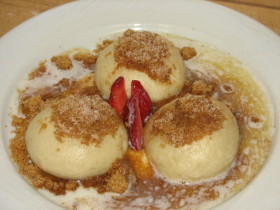 We couldn't leave without ordering dessert!  The Apple Streusel with ice cream wasn't ready, so we decided to try the dumplings.
These little treasures where the perfect ending to our lunch!  The dumplings were filled with fresh strawberries and the dough surrounded them and held in the fruity flavor.  I believed they are steamed, leaving the pastry light and chewy (not like a pie crust).  Then they were very lightly topped with brown sugar and the dumplings laid in melted butter.  The perfect bite with the cooked strawberry, soft warm pastry and the richness of the melted butter and a little crunch of the brown sugar was heaven.
I guess from enjoying our lunch with us, you can tell that we really enjoyed our visit to Czech cooking.
I'm Ramona Werst and this is my Foodie Restaurant Review….
Bon Appetite!