Camp Verde General Store, Camp Verde, Texas
Relaxing  to visit, delicious food too!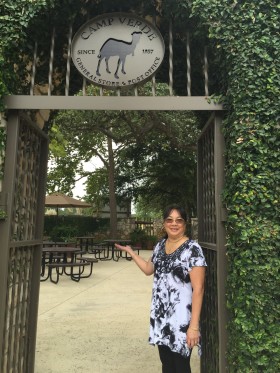 There's a little piece of paradise just between San Antonio and Kerville.  Camp Verde is located on Bandera Highway (Hwy 173), just approximately 12 miles south of Kerrville.  Camp Verde General Store, 285 Camp Verde Road East; Camp Verde, Texas 78010
We live on TX16 approximately 18 miles from San Antonio, and we just have to turn north a ways to make this our favorite drive to Kerrville.  Instead of the interstate….why not take the less traveled road of highway 16.  Highway 16 turns into 173 in Bandera on onto Kerrville right through Camp Verde.
The scenery is beautiful, with all the big ranches, and the Hill Country.  We always see plenty of deer, and exotics along our drive to go with the beautiful scenery.
A little History about Camp Verde…

In 1854, Secretary of War Jefferson Davis (who later became President of the Confederacy) petitioned Congress to appropriate $30,000 for the Army to experiment using camels for supply transport and other military purposes. With the support of President Pierce, the bill was subsequently approved by Congress on March 3, 1855. Major Henry Wayne and Lieutenant David Porter were put in command of securing the camels from the Middle East. The first shipment from Egypt (of nine swift dromedaries, twenty burden camels, plus four others of mixed breed) arrived via naval supply ship in April of 1856. Four native drivers (who were given "American" names of Greek George, Long Tom, Mico and Hi-Jolly) accompanied the camels to the New World.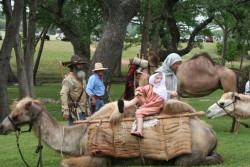 It was late August of 1856 when this first group of camels finally arrived at Fort Camp Verde. The second load of 40 animals arrived during the spring of 1857. By the time the Civil War had begun, there were over 50 camels in residence at the Fort. During the winter of 1861, the Fort was captured by the Confederacy. When the Fort was recaptured by the US Government in 1865, there were more than 100 camels.
The animals passed every test of their ability – carrying heavier loads and traveling longer distances than the mules and horses used in the area. However, the War Department sorely needed funds for Reconstruction after the Civil War. The Fort was deactivated in 1869 – ending the experiment. While a fire destroyed the buildings of nearby Fort Camp Verde in 1910, the courage and bold spirit of the Great Camel Experiment survives to this day.
The General Store was established in 1857, and the purpose was to offer goods and services to the soldiers stationed at Fort Verde.

David and I visited Camp Verde on one of our trips to San Antonio to Audie Murphy VA Hospital, where I was being treated after a very major surgery.  David decided to take the back roads back to Mertzon near San Angelo (where we then lived) to show me a different scenery other than just I-10.
It was a fun break in our long drive and I was able to get out and walk through the beautiful grounds.  There was only the General Store, which had lots of different jams, sauces, knick knacks and fun kitchen gadgets.  There was a little room off of the General Store where they had post office boxes and quick sandwiches and sodas.
Camp Verde has come a long way, baby!
In fact it has grown from a small little General Store, to a beautiful piece of art.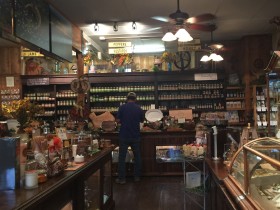 When you walk into the General Store, it's like walking into a classy old time country store.
There is a whole wall filled with Jams, Jellies, Sauces, and all kinds of syrups and hot sauces.  On another wall, there is handmade fine jewelry, candles and in the center, there are homemade cookies and knick knacks.
Upstairs is like several different boutiques: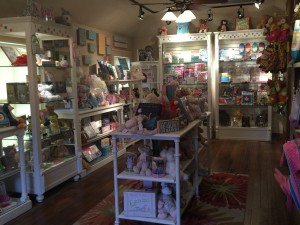 A Children's room with books, wall hangings, stuffed animals, and all sorts of unique decor.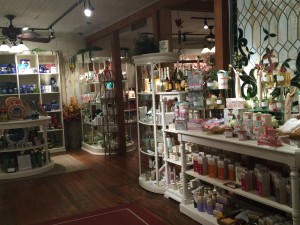 A Fragrance room with a full Men's line and of course Ladies toiletries.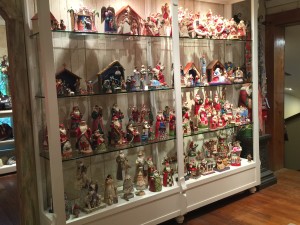 A Christmas room with hand carved wooden St. Nicholas and Nativity Scenes.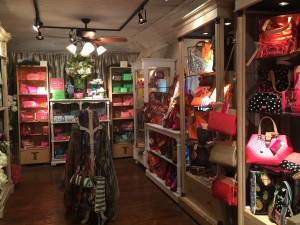 A Designer Purse and Scarf room.
Heading back down the stairs and towards the new Restaurant, is my favorite room!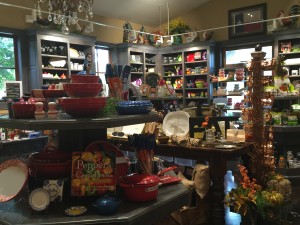 A Kitchen Gadget room!  There are so many fun kitchen gadgets, I want them all!  I promise you can find your favorite kitchen gadget here.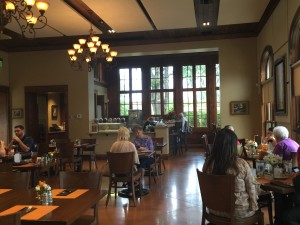 This picture of the Restaurant doesn't do the room justice.  The woodwork makes the room look so grand.  The craftsmanship is absolutely beautiful.  The big arched windows, the large picture windows and even the ceiling woodwork is very well crafted.
Oh, yes this is a food review!  You won't be disappointed in the food either.  The gourmet food stands up to the beautiful surroundings.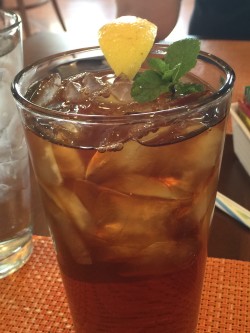 The Iced Tea ($2.00) even starts our meal off with a special flair of the mint leaves.  I guess I feel like royalty sitting in this grand dining room and then the little detail of the mint leaves just makes me feel special.
They have daily specials, and today there was a Veal Schnitzel, but it was lunch and we love their sandwiches.
David ordered the Camp Verde Club Sandwich $10.00
This thick sandwich has Smoked Turkey, Black Forest Ham, Crispy Bacon, Lettuce, Tomato, Cheddar Cheese, Mayonnaise, and Mustard on Sour Dough Bread.  This is served with either Fries or Homemade Chips.  The Homemade Chips are thick and crispy.
Also a half of a hard boiled egg and a kosher pickle spear.  Yum!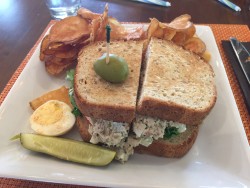 I ordered the Tuna Salad Sandwich $9.00
The Tuna Salad is piled into this sandwich, just 1/2 sandwich is a full sandwich in itself.
It's served on a Toasted Wheat-berry Bread with Lettuce and Tomato.  I also ordered the Homemade Chips and the half of hard boiled egg and kosher pickle spear came with it.  I have to say, these folks really know how to make a delicious Tuna Salad Sandwich.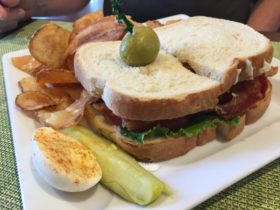 On another occasion, we visited and David ordered the BLT with homemade chips. $8.00
Loaded with thick crisp bacon, served on sourdough bread with tomatoes and lettuce, every bite was a delicious smoky bacon bite.
We just have to have the Homemade Chips and it comes with half of a hard boiled egg and kosher pickle spear.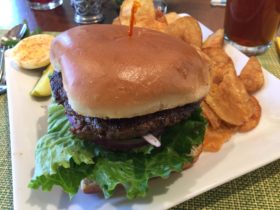 I ordered Camp Classic Burger. $9.00
1/2 lb grilled beef patty, topped with lettuce, tomato, red onion and pickles with mayonnaise and mustard on a sourdough bun.
Homemade Chips and half of a hard boiled egg and kosher pickle spear.
We both had to bring home 1/2 of our sandwiches and chips.  We enjoyed them for our lunch the next day!
After our lunch we strolled outside to walk around the grounds.  It's so green, beautifully landscaped and so peaceful.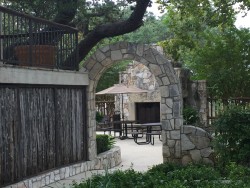 A patio area with an outdoor fireplace, water fall and tables with umbrellas.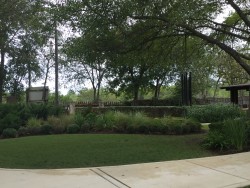 When you walk through the archway, you enter into a green garden area.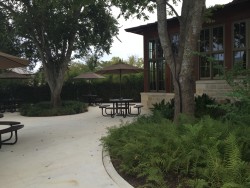 Around the corner is another area with tables.  Eating outdoors at Camp Verde would be a treat, listening to the birds, and just being outdoors.  (Of course in the Fall or Spring!)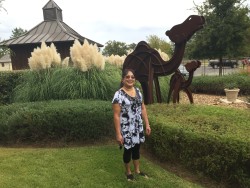 From the Restaurant windows you can see Arthur and his little friend.  I don't know the story behind this Camel Artwork, or the name Arthur, but I'm sure it's as interesting as the Camel Experiment.
As you can tell, I love Camp Verde and we go for lunch every  time we go to Kerrville…sometimes, we don't need a reason to go just for a beautiful getaway.  Go off the beaten path at least once and enjoy delicious food and a great part of Texas history!
I'm Ramona Werst and this is my Foodie Restaurant Review….
Bon Appetite!