Ramona Werst and her Foodie Restaurant Reviews
How my 'food reviews' got started
If you know me, then you know I love Food!  I'm always on a SEEFOOD diet!  I see food and I eat it! lol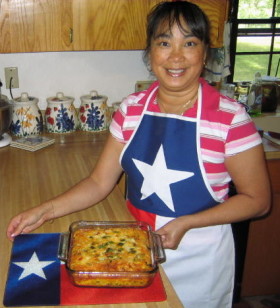 David and I got bored with eating out and this is where David created a MONSTER!
I'm obsessed with food!  I wake up thinking about what I'm going to cook that day.  For breakfast, grab some leftovers and create a new omelet (which David always says, my leftovers are better than some peoples meals) fix a light lunch, prep for supper, cook supper and then go to bed with my cookbooks in hand to prepare for the next day's menu.
I have sticky tabs on all of the recipes that I want to try.  But I don't stop there….I research each recipe on the internet, combine several of the key ingredients, add a Texas Twist (usually Jalapeños, Pecans, or other favorite Texas spices or ingredients) and this is how I cook.
I used to be concerned that my dishes don't look picture perfect. Then I found out that pictures of food aren't really edible food….some are sprayed with wax to make them look bright and shiny, and some of the dishes you see on TV are replaced during a commercial with beautiful dishes prepared by chefs from the culinary institute and they even have food designers!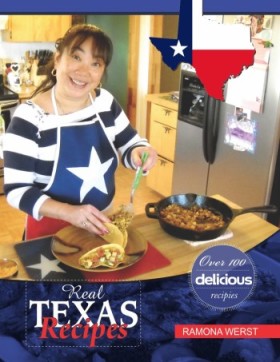 As some of you know I am creating a Real Texas Recipes cookbook.  My recipes will be unique Texas sourced recipes I am creating.
The recipes will be step-by-step and are able to be made by the home cook.
And I hope the photos of the finished dish turns out looking as good as it tastes because I'm actually taking the picture right before I serve the dish.
David says that I have ruined going out to eat…
I hear comments like: "Why pay the prices, when I can sit in front of my large screen tv at home and eat gourmet food which is better than most restaurants."
Now that's a compliment…but I have to agree, when we go to the mid level or even fast food restaurants, I pick the dish apart and am usually disappointed.  Pointing out that I could go to the store and purchase a Porterhouse Steak and Lobster and we could enjoy at home.
My favorite shows, you guessed it are the Food Channel cooking shows like Chopped, Cutthroat Kitchen, MasterChef and I love going to see my favorite chefs when they come to town.  I have autographed cookbooks from Chef Christopher Kimball, Alton Brown and Robert Irvine.  I love the San Antonio Book Festival and spend all my time in the HEB Cooking Tent watching the cooking demos and have autographed cookbooks from all of the local chefs too!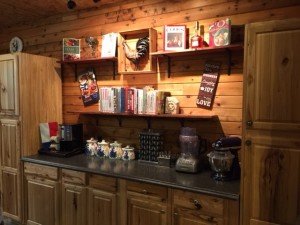 I have all my favorite cookbooks on display in my new kitchen that David has built for me.
We will be filming my recipes that will be in my cookbook, in my new kitchen.
We are still working on the little finishing touches and the finale will be when David adds my professional Thermador stove!
This wall where the cookbooks are displays some of my favorite cookbooks and it breaks up the kitchen.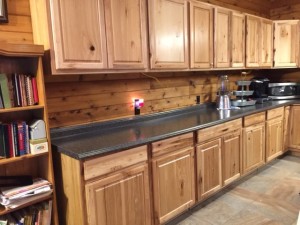 The other wall you see to the left here is all cabinets, almost 18′ of cabinets!
I have tons of cabinets, and there will even be more cabinets under the island that David is designing and building.
And not to mention the 18′ length pantry we have built!  They say everything is bigger in Texas and my kitchen is definitely a Texas Kitchen!
This is a garden window I have over my sink.
I'm getting good at growing Orchids and love looking out the window while I am doing the dishes.
I really enjoy doing the dishes because I don't have that big pile of dishes.
I do my dishes as I am cooking and after we eat all I have is just the few dishes we used and the last of the pots and pans.  It's actually relaxing for me to finish the dishes while I watch the chickens in the front yard and smile looking at my Orchids.  I also have herbs and basil that I just clip and use in my recipes, growing right there in the garden window.
With all of this said, I still enjoy going out to eat.  I got way off subject!
Back to my Foodie Reviews….
Whenever we're out and are hungry, we just don't know where we want to eat.  I look at reviews and most of them talk about the service, a little about the atmosphere, and finally touch on the food.  The reviews really don't make my mouth water to want to sit down and eat.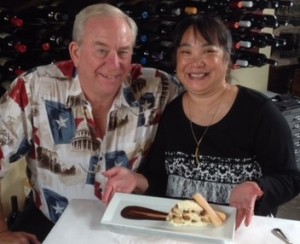 They say if you can do it better, then don't talk about it, but do it!
So this is where my Foodie Restaurant Reviews was born.
As we visit restaurants, I will share with you our experience, but most important, how the food tasted.  I hope you enjoy, and please comment about your experiences so we can all learn as much as we can about the restaurants both around the area and around this great state.
I'm Ramona Werst and this is my Foodie Restaurant Review….
Bon Appetite!