Vietnamese Style Chicken Wings
What makes this a Vietnamese style Chicken Wing recipe is the combination of the spices.  Vietnamese cooks love to use fresh spices like ginger, chili peppers, and garlic. Along with these spices we use soy sauce, and sesame oil.
For this football game day recipe, I added potstickers with fresh dipping sauce and egg rolls.
Vietnamese Style Chicken Wings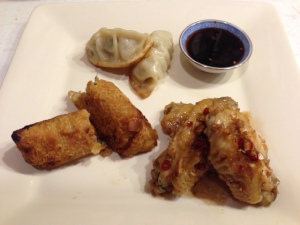 Ingredients
2 pounds Chicken Wings, wing tips cut off and cut into 2 pieces
2 tablespoons Garlic, finely minced
2 tablespoons fresh Ginger, peeled and minced
1/4 teaspoon fresh Thai Chili Pepper, finely minced
1/4 cup Rice Wine Vinegar
1/4 cup Soy Sauce
2 tablespoons Asian Dark Sesame Oil
1 1/2 tablespoons Sugar
Freshly ground Black Pepper
2 Scallions, sliced in thin rings for garnish
Directions
Place a 6-quart saucepan, with a steamer basket and 1 inch of water in the bottom, over high heat, cover and bring to a boil.
Remove the tips of the wings and discard or save for making stock. Use kitchen shears or a knife to separate the wings at the joint. Place the wings in the steamer basket, cover, reduce the heat to medium and steam 10 minutes. Remove the wings from the basket and carefully pat dry. Lay out the wings on a cooling rack set in a half sheet pan lined with paper towels and place in the refrigerator to dry, about 1 hour.
Preheat oven to 425F degrees.  Line a baking pan with parchment paper.  Place the chicken wings on the parchment paper in a single layer.  Bake for approximately 15 – 20 minutes, turning chicken wings over halfway during cooking process.  Both sides should be golden.
While chicken is baking, make the sauce.  To make the dipping sauce, combine together all the ingredients in a large bowl (large enough to fit in all the wings)
Toss the cooked chicken wings in the sauce to coat.  Garnish with scallions.