Tangy Baked Wings…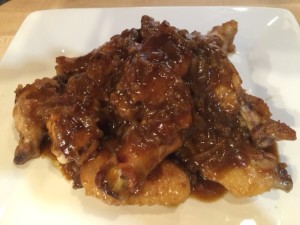 Ingredients
1 package Dry Onion Soup Mix
1/2 cup Honey
2 tablespoons Spicy-Brown Mustard
12 Chicken Wings, cut and tips discarded
3 tablespoons Kosher Salt
Directions
Place wings in a ziplock bag.  Add salt and fill with water to cover the chicken wings.  Seal ziplock bag and refrigerate for 3 hours or overnight.
Preheat oven to 400F degrees.
Stir soup mix, honey and mustard in a large bowl.
Remove chicken wings from the water and pat dry with paper towels.
Toss chicken wings in bowl coating with soup mixture.
Place chicken wings in a baking dish and pour the excess soup mix over the chicken.
Bake for 45 minutes, turning the chicken wings over half way through the baking time.
Remove the chicken wings and place on a serving platter.
In a skillet, pour the soup mix from the baking dish and over medium high heat, reduce by 1/2 or until it's a thick glaze.
Pour over the chicken wings and serve!