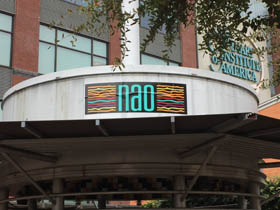 Today I experienced some of the most amazing food!
David and I met with Fernando Salazar, Managing Director of The Culinary Institute of America.  We met at the NAO Latin Gastro Bar, a gourmet resturant run by CIA students.  This restaurant is located at the Pearl, 312 Pearl Parkway, San Antonio, Texas, 78215.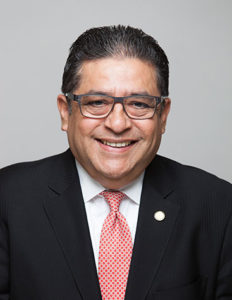 Fernando Salazar is a food and beverage expert.  He has spent his career in several prestigious major hotels domestic and international including properties owned by Omni, Wyndham, Westin, and more.  Mr. Salazar is also founder, advisor, and judge, International Tapas Competition, Valladolid, Spain.
You can see his expertise everwyhere you look at CIA.   The chef instructors and students all talk with him and he regularly visits with diners.  We saw him interact with several groups who were obvious regulars at NAO. (Pronounced: 'Now').
NAO is a teaching restaurant which is a part of the Culinary Institute of America, a premier educational facility of national prominence in the culinary field.  The culinary students rotate through duties to experience every position of the restuarant as a part of their educational requirements.  This is the last part of their two year schooling before they graduate.  They spend 7 1/2 weeks in the front part of the restaurant, learning all about waiting tables, customer service, table side presentations and managing the daily operations.  Then 7 1/2 weeks in the back part, preparing their gourmet meals in the kitchen. The students learn menu setting, cooking, and running each and every station in the kitchen. This is important because after graduation, they will then know how to put their skills to use in the real world and be able to get a restuarant job right away.
Dining with Fernando was a great way to experience the delicious menu, because instead of each of us ordering a dish, Fernando ordered all sorts of different dishes from the menu and we all sampled everything!  If you get a chance to dine at NAO, you need to.  Did I say the food is amazing?  It's perfection on a plate and the service is outstanding.
The menu changes every 15 weeks. This gives the students a chance to prepare the dishes and to serve them too.  There are daily specials along with the main menu.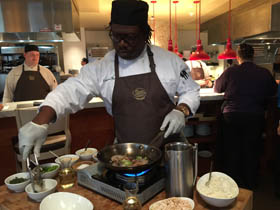 We started with a daily special served table side. It's a challenge to be able to prepare a dish, interact with the guests and to remember all the ingredients.
Our table side Chef was excellent!  He explained the ingredients, how he was preparing the dish and a little history of the Puerto Rican culture.
Puerto Rican Zarzuela
Gulf Prawns, Chicken, Rice with a Charred Tomato Broth.
Prawns were cooked perfectly and the heads were added for presentation.  Served over a bed of rice that was creamy like a Risotto.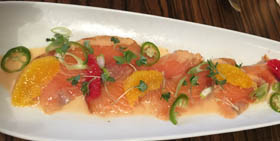 While we were waiting for our table side dish, we enjoyed a type of Cerviche dish.  A very thinly sliced smoked Salmon topped with blood orange and orange slices, thinly sliced Serrano chilies, and a mild but delicious sauce.
Fernando asked if I'd ever tried Octopus, and I said no, but I have always wanted to try it  They brought out Grilled Octopus served with Botija olives, baby arugula, purple potatoes, and a smoked lemon vinaigrette with roasted garlic mayo.  As you can see there is no picture, because we dove right in and ate every delicious bite before we noticed I didn't take a picture!  Guess David and I will have to go back and have another order (and of course more of the other dishes) so I can show you this beautiful dish.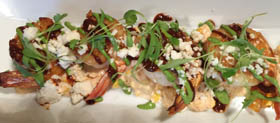 Another dish was Shrimp Esquites.
Beautifully grilled Shrimp served with charred corn, equine chile, lime mayo, and Cotija cheese.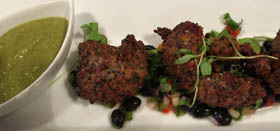 I have never eaten Quinoa prepared this way and these little fritters were so tasty. Quinoa Cheese Fritters served with a black bean salsa, charred pineapple and roasted poblano sauce.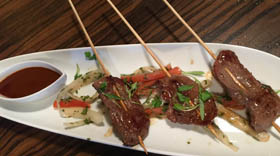 To finish our lunch we just had to try the Skirt Steak Skewers served with a citrus adobo, and salsa criolla.
The skirt steak was so tender and juicy. Dipped in the citrus adobo gave it a little smoky flavor with a kick to the flavor.
We were not finished with our meal yet!  A meal is not complete without dessert, and I love dessert.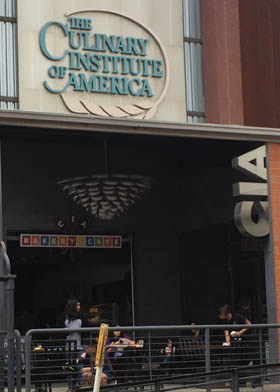 At the Culinary Institute of America the school would not be complete without a bakery.  Several weeks out of the year they open a portion of their school as a pop-up bakery.
I can appreciate all of the eloquent baked goods.  It's a science to exactly measure all of the ingredients, and the skill of making each treat look like a piece of art on a plate is amazing.  I even ate a piece of real Gold that topped a dessert.  It was so rich!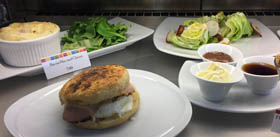 At the CIA Bakery Cafe you can also get savory baked goods.
It's a nice way to have a quick lunch on the outdoor patio.
We each ordered a dessert, and we didn't share!  I know my eyes are usually bigger than my tummy, but I was able to eat every last crumb.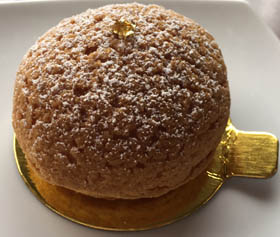 Fernando had an Eclair style dessert, filled with a tropical cream in a puff pastry, dusted with powdered sugar, and topped with a little piece of real Gold.
To finish off his meal, he enjoyed a Triple Espresso!  Oh, I would be bouncing off the walls…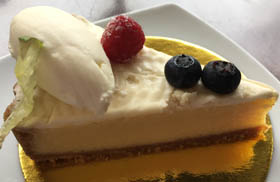 David loves Key Lime Pie, so that's what he had. The key lime flavor was so delicious.  Just a hint of key lime flavor and it was so creamy and rich. He had a slow pour coffee with his dessert.
When the key lime flavor is not balanced you end up with that bad twang flavor in the bottom of your pallet, and you make that lemon face.  This key lime pie was balanced perfectly and the flavor and taste on point!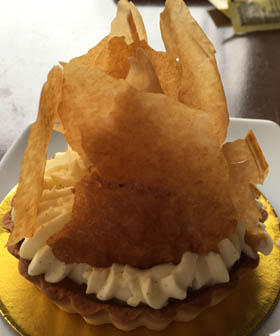 For my dessert, I think I picked out the most beautiful of all of the desserts.  A Banana Cream Tart!  I think my dessert was the most delicious too.  Oh, the banana cream was so rich, yet light with a real creamy banana flavor. The tart crust was so buttery and crisp.  The pieces of puff filo pastry added a little crunch.  I was in heaven.  I finished with the most smooth, rich, lightly sweetened Latte.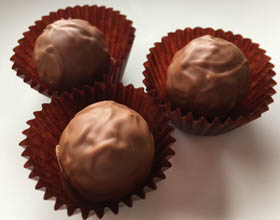 My eyes just couldn't move away from the truffles!  I think I've become a truffle connoisseur.  I recently made truffles and I'm so proud that they turned out and were so pretty.
I couldn't eat another bite, not even a truffle. Fernando packaged them up for me to bring home to enjoy.
I didn't make it to our truck before I had to just take a little nibble of a truffle.  These were different than the truffles that I made. Within the creamy ganache there was a layer of caramel.  I didn't nibble, I ate the whole truffle!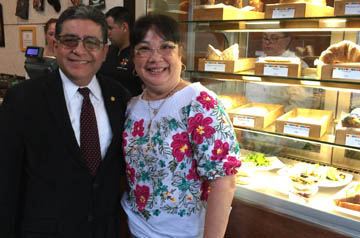 Fernando was a wonderful gracious host. His career spans the world and he makes every person feel special.  He is an International Food superstar.
I could listen to him talk about food all day long and I look forward to working with him on a special project in the future.
David and I will make NAO Latin Gastro Bar a regular favorite restaurant.  We look forward to new menus and I will certainly frequent the CIA Bakery Cafe!  San Antonio is a wonderful city to live in and to visit.  and on your next trip here, we highly recommend NAO, Latin Gastro Bar.  It's at the Culinary Institute of America at the Pearl!  And if you happen to see Mr. Fernando Salazar, tell him hello from his new friends….He is an amazing person of accomplishement and was a wonderful host.
I'm Ramona Werst and this is my Foodie Restaurant Review….
Bon Appetite!