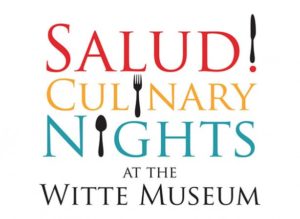 David and I attended our first Salud! Culinary Nights at the Witte Museum Tuesday, February 8th.
The Witte Museum hosts these culinary themed nights several times a year.  This is a program where Top Chefs explain the process of their unique dishes and folks attending the event can ask questions.
Last month, the museum hosted a Bug Dinner, which promised a "unique entomological culinary experience" via a three-course meal using insects.
If you have ever watched a chef in the kitchen and were able to understand how they think, you would think you were with a mad scientist.  Cooking is a science: measuring, cooking temperatures, and lots of experimenting.  I know this first hand because I'm writing a cookbook.  I spend several hours a day in my kitchen.  Experimenting in my culinary laboratory.  Not all of my creations are successful, or even edible, but with persistence, and a lot of groceries, it can be rewarding.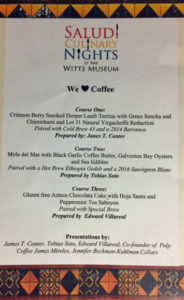 The dinners are complete with wine, beer or cocktails.
Our night featured a three-course meal, farm-to-table infused with Pulp Coffee's exclusive teas and coffee.
Each course was paired with a signature coffee cocktail with Spanish based liqueur licor 43, provided by Pulp Coffee.
I'll explain more about the delicious course in depth below.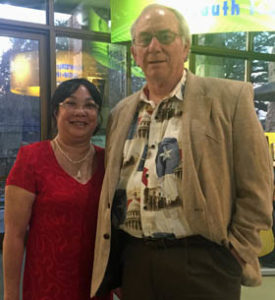 This was our Valentine Date Night.
I brought out my favorite 'Red Dress' and off to my favorite hair stylist, Norman of Visible Changes, I went.  I got a new do!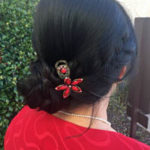 I love Norman, he does fabulous things with my hair!  You should have seen the hair do he did for David's Class Reunion!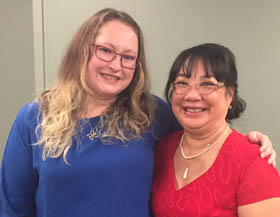 We arrived at the Witte Museum and my good friend Kimberly Suta joined us. Kimberly is also my food photographer and is doing wonderful things, bringing my food to life, you just want to eat the picture! lol
When we get together for a photo shoot, it's not just a lot of cooking, taking pictures, and work, but we have fun, laugh a lot, and eat!  David joins us for the eating part, and sometimes a neighbor stops in and joins in the fun of 'taste testing'.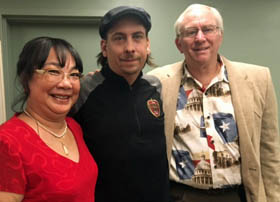 The event was curated by Chef Stephen Paprocki of the Chef's Cooperative. This group of Chefs are a wonderful, giving organization.  I can't describe it any better than their mission statement:
'We, as Chefs, will strive to plow the way for Chefs and Farmers to build long-lasting cooperative relationships.  As Chefs, we will plant the seeds of growth with local farmers and ranchers by buying local to develop strong farms, strong products, and wonderful seasonal menus.  We will grow and nourish the roots of the Chef-Farmer relationship by promoting their product, venue, and growth through our restaurants, events, and support of the south Texas Farm-to-Table movement.  We will harvest the bounty of the Chef-Farmer relationship by paying our respects to them through our dishes and cuisine by the use of fresh, local, and sustainable products that are featured on seasonal menus.  We will respect the Chef-Farmer relationship and feast on the fruits of our labors.'
Getting to know Chef Stephen Paprocki has allowed me to have purpose in developing my recipes.  My life motto is to 'Keep Reaching for the Stars, once you have reached one, there are millions more out there to reach for.'  I want to make just a little difference in peoples lives and teach them through recipes, that you can accomplish anything you set your mind to!
Like in my previous article, where I talk about getting to know the vendors at Farmer's Markets…I am getting to know chefs and their individual stories.  The chefs are so careful and respect the food the local farmers grow and it shows in delicious food and presentation of each dish.
These are my new Chef friends: Chef Toby Soto of Humo of San Antonio, and Chef/Owner James T. Canter of Guerrilla Gourmet.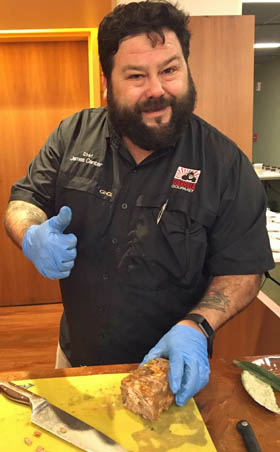 Chef James T. Canter has a very interesting story… to read more about his story, visit  Guerrilla Gourmet
'I was raised in a family that really loved to cook and gather around for the occasion and most of my family worked in my Uncle's seafood restaurant on the Chesapeake Bay in Maryland….I was always an adventurous diner and interested in cooking as a child and well into my teens so I decided to attend culinary school after I graduated High school where I was now transplanted to yet another bay town, Tampa/Clearwater Beach, Florida….
My current goal is to work our family ranch learning organic farming techniques as well as sustainable animal ranching and then to work towards opening a new restaurant concept while applying all that I have learned from ranch life in San Antonio, Texas. During this time I'm really immersing myself into providing a cohesive community driven sustainable farm-to-table and seafood concept.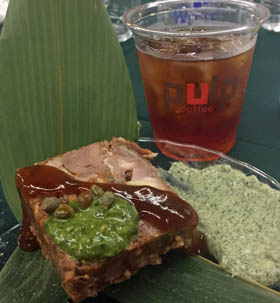 Chef Canter was up for course One:  Crimson Berry Smoked Dorper Lamb Terrine with Green Sencha and Chimichurri and Lot 31 Natural Yirgacheffe Reduction.
Paired with a signature coffee cocktail with Spanish based liqueur licor 43, provided by Pulp Coffee, and a 2014 Barranca wine from Kuhlman Cellars.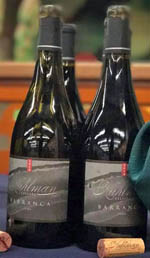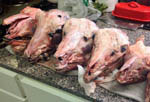 Chef James explains a Terrine most commonly refers to a French forcemeat loaf similar to a pâté, made with more coarsely chopped ingredients.
He smoked the meat from lamb's heads to make the head cheese, which is not dairy but meat that is in a jelled consistency.  This was a 3 day, very time consuming task.  There is a special little wooden box that the Terrine sets up in and once set, the loaf can then be sliced.
It was served with a Lot 31 Natural Yirgacheffe Reduction which is an Ethiopia Yirgacheffe gourmet coffee reduction.  A Green Sencha, a sauce using Green Sencha Tea.  And a Chimichurri sauce on the side.  The Chimichurri sauce is an herby, garlicky, tangy, spicy, and very green and is great with smoked or grilled meats.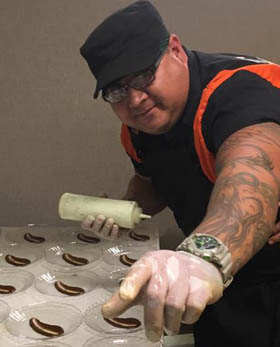 Chef Toby Soto is the co-owner and Executive Chef of Humo.  'I was going through my divorce and working long hours were taking a toll on my time with my daughter. I was on the food truck route for my escape from the corporate industry and to make all the time to spend with my little woman, it was coming along piece by piece. I paired up with my long time buddy and started building the Humo mobile, we were coming up with all kinds of angles for this dream to be.  My buddy is a welder/ carpenter/ electrician and had little connection to the culinary industry, we had the plans drawn out for this unique looking mobile food monster. And all that changed with one phone call , a family asked us to cater a sweet sixteen party. We showed up with all the bells and whistles and blew their expectations away. So now we use his skills to build unique props, displays, lighting fixtures for illumination, ectopic. So now we create the ambience and it helps to showcase the food we custom create for each event.' Humo of San Antonio has been established. There's nothing like two good friends to help elevate the experience in great cuisine.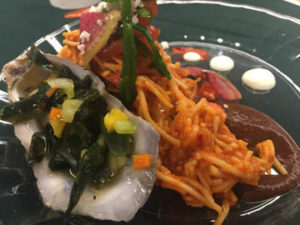 Chef Toby Soto was up for course Two:  Mole del Mar with Black Garlic Coffee Butter, Galveston Bay Oysters and Sea Edibles.  Paired with a Hot Brew Ethiopia Gedeb and a Beckman-Kuhlman 2016 Sauvignon Blanc.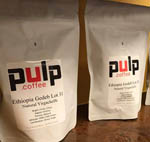 There are so many different Mole recipes, but we learned how Chef Soto pan seared the spices and the nuts bringing out the nutty flavor.  Then he rehydrated some ancho, guajillo, and mulatto chile's in a chicken stock reduction with some Texas Black Gold Garlic. Sweet plantains and some corn tortillas were added along with a few tomatoes and it stewed for about 3 hours adding a little stock to reach the right consistentency.  Added to this was dark chocolate and some piloncillo and let stew for 30 to 45 minutes and puree.  Wow, no wonder it was so delicious!
The Texas Black Gold Garlic Coffee Butter was infused with Ethiopian Gedeb.   Texas Black Gold Garlic Coffee Blackening Spice was along with a dash of the Texas Black Gold Garlic Puree and some butter. 
The fideo is caramelized onion with browned vermicelli as you would do Spanish rice and tomato sauce with some chicken stock.  The fresh Galveston Gulf Oyster was shucked, washed and put back in the shell.  Topped with turmeric, seaweed, mango, and diced tomato and hit with the Texas Black Gold Garlic Coffee Butter. Some fresh lime crema was added on the side.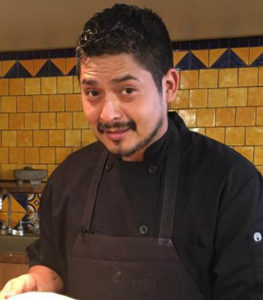 Chef Edward Villarreal is Executive Chef of Alberico Fine Wine in San Antonio. While some chefs are notorious for their larger-than-life egos, Villarreal is typically humble, perhaps because he did not go to school for his profession. He earned his stripes rising through the ranks from dishwasher to executive chef, something he's proud of because he now understands the role of everyone in his kitchen. "My cuisine has a big South Texas influence," Villarreal said, "but because I was not classically taught, I tend to throw a little Southwestern twist into those classics, like my coconut avocado crème brûlée with sweet cilantro, lime, and berries. I enjoy big, bold flavors. I like heat and sweet … I like to smash everything together."
Chef Edward Villarreal was up for course Three:  Gluten Free Azteca Chocolata Cake with Hoja Santa and Peppermint Tea Sabayon.  Paired with Special Brew Latte.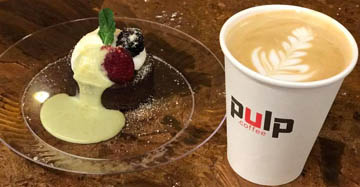 Chef Villarreal explains about his delicious dessert: There is an Agave Whipped Cream,  and the cream sauce that is flowing over the Azteca Chocolata Cake is a Hoja Santa Cream. The Hoja Santa is a plant that grows all over San Antonio.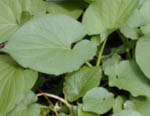 The Hoja Santa Cream goes really well with Chocolate.  It has a flavor with the essence of Basil, Tarragon, and Mint all combined.
With all of the sweetness of the chocolate and cream, Chef Villarreal added blackberries, raspberries, and a little bit of Lime zest.
Served with dessert was a Special Brew Latte prepared with Pulp Coffee.
Through the three courses, we learned about the coffees from our sponsor, James Mireles, Co-founder of Pulp Coffee.  He discussed his choice of four different coffee beans from three different regions and the caffeine content differences between light and dark roast.
Jennifer, Sommelier of Kuhlman Cellars, discussed the wine pairings.
The Kuhlman Philosophy is: 'At Kuhlman Cellars, we celebrate the bounty of each year's harvest through our uncompromising wine quality.  We produce handcrafted wines of unparalleled character and complexity from hand-tended vineyards and well balanced fruit.  Each vintage is a celebration of our handiwork and the unique Terroir that is Texas. At Kuhlman Cellars, it is All About the Wine.'
Located in Stonewall, Texas, the winemaking life is about earth, vines, people, education and tradition. Our proprietary blends honor the essence of each harvest season by using the highest quality fruit available to our team and paying respect to the distinct geography from which they are grown.
The evening was not only educational, but through our palates, we experienced unique and delicious cuisine paired with excellent wines, coffees and teas.  After this night, we will be attending more of the Salud Culinary Nights at the Witte Museum.
I'm Ramona Werst out in Real Texas
….Can't wait to taste what my new Chef friends are cooking up next!