Rain falls on the just…
And Matthew says it also falls on the unjust.
It's a rainy day in much of Texas. But in West Texas, not so much.  There must be a majority of the unjust living there.  Except the scripture means that the same laws of nature or society apply to everybody.  Even crusty West Texans.  But they only get a little rain.  Just as a reminder to them heathens that live out there, I suppose.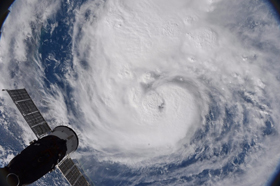 The news of the day is all about Hurricane Harvey, which has hit the Texas coast and moved up through South Texas bringing lots of wind and lots of rain. With the advent of satellites and pictures from far above the hurricanes, the reports are fascinating. We know when the magnificent storms are coming and through the endless discussions and analyzing on TV, we know when and where they will hit land, the route they will travel, and how much rain will fall. It's so very amazing.
But all this was unknown to us back in the day in our perpetually dry West Texas. There were no satellites, cell phones, computers with their generated graphics, and there was no Weather Channel. There were only two or three TV stations. Many of us did not grow up with televisions in our house.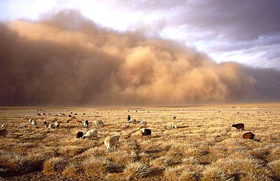 As a child, I once witnessed a very high wall of red dirt approaching from the cotton country to the north of us, and knew even from limited experience a hard rainfall was often behind it. It was easy to predict something was boiling behind the wall of red dirt that tasted like Lubbock.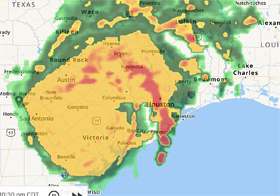 Today, as Hurricane Harvey approaches San Antonio, I can see with precision the Bandera county line just north of San Antonio where I live, as well as the line of rain that is predicted to come to my land. It is dark to the east 15 miles over in Boerne. There is rain all around us and I can easily see it on the TV as it whirls around in Victoria, over to the east in New Braunfels, and Seguin and it is inching ever closer to San Antonio.
They say Rockport is toast. My neighbor has a rental property in a little place called Flour Bluff near Corpus Christi. It's probably toast. A good friend has a couple of condos in South Padre that are in danger.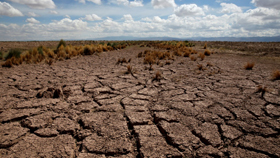 In West Texas we were taught to never turn down a good rain if it was offered. In this part of the world and closer to the coast, folks are better at qualifying their requests for rain: Not too much wind, not too much water, no flooding please, and no damaging tornados for sure.
Back in the day, ranchers paid good money for preachers who could successfully pray for rain. In a few documented cases, their hiring was contingent on their ability to coax a little rain out of the sky after beseeching the Almighty.
I never did see the correlation between prayin for rain and getting actual rain anymore than Janis got her Mercedez-Benz. But I also never thought it hurt to invoke the assistance of Diety. I have to tell you, I enjoy the heck out of a truly enthusiastic rain prayer.
"Lord. Please send us a rain." Not good enough. My Presbyterians were a little too stiff to make much of a good rain prayer. You know, the sprinkling and all….
The best preachers were very specific and showed enthusiasm in their pleadings. I always hoped they were not too demanding considering Who they were dealing with.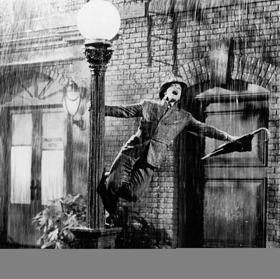 "Lord, please send us a wholesome, nourishing rain. I'm not talking about a little spitter either. We need a gully washer that will fill our barrels, tanks, and ponds and washout the gullys and draws, and repair our pastures. We won't even mind having to fix the fences and water gaps. We are praying for a rain and not just a little. We need a lot of your wonderful, life giving rain to break this awful drought. And Lord, if it rains so much that it even has to wash away a few poor souls who think they can drive their vehicles over low water crossings, we know you will accept them into your Kingdom. "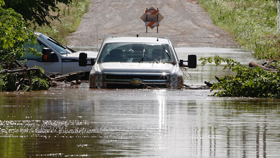 In the wide expanse of what is West Texas, there were always a few reports of drivers who thought they could make across a wide draw only to get washed away into eternity.   One incident report told of an oilfield trucker who had driven into a draw on dry pavement at full speed. A gully washer 20 miles away had filled it to capacity with no rain in sight. It quickly took away a 130 barrel transport truck and the very surprised driver scrambled to safety after it had turned over and got stuck in some rocks a quarter mile down stream.
Rev. H.S. Smith was known to have a few good rain prayers in him. Eloquent. Thoughtful. Grateful. So did pastor J.B. Bitner, Jr., son of a Veribest farmer. He knows a thing or two about needing rain. He also knew he didn't want to be a farmer.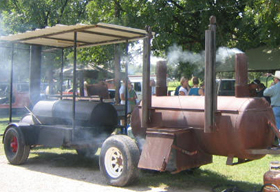 I came up on such a draw one time not far out of town and stopped to watch in awe as the mesquites floated easily across the highway. The dried out mesquites went over the barb wire fences that were no longer visible and had washed on down the draw. A few more pickups stopped on the highway where we were standing looking down the road at all the water. Someone commented they were headed to a barbecue. Since it would be a 130 mile trip around the water that blocked the road, we unloaded his pit and started a fire. Someone else had a full cooler and thus was born an impromptu Texas beer drinking barbecue on the banks of a wide flowing Centralia draw out in the middle of nowhere. It was very entertaining watching some of the largest mesquites we had ever seen floating across previously bone dry ground.
In the West Texas of my childhood, rain was an event. It was time to get outside, float paper boats down streets next to curbs, stand on the side of the road and dare passing cars to splash us.   Sometimes we would sit under a shed or on a porch and just watch the water fall out of the sky. It was a glorious event when it rained.
Because it rarely did.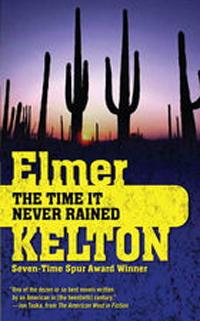 A friend of mine, Elmer Kelton, wrote a book about 'The Time It Never Rained." Several friends of mine and fathers of my friends lived through the times it never rained. They were tough men and women back then. Gordon Roach. P.H. Coates. McMullans, Schneemanns, Hinds. S.E. Stout. Sam Houston Chumley . Many more.
There was a lake on the outskirts of our town that was mostly dry. During my growing up years there, I saw the lake filled with water maybe five times. I have swam in it, fished it, water skied on it and walked nearly across it in waist high water.
Then it would dry up. For decades at a time.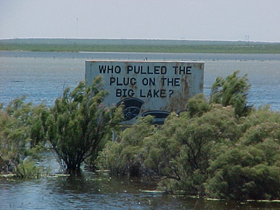 I was mostly embarrassed by the lake, which was dry most of the time.  "Where's the water?" out-of-towners would ask. But when it rained, they came back with fishing poles.
They say it used to hold more water for longer periods of time. Then, doodlebuggers, seismic testers looking at formations, punched holes in the bedrock of the lakebed and the water would eventually drain out after a rain.
When I went off the college, I would stand at the glass door of the dorm and watch the rain. Kids from Houston would shake their heads wonder what the big deal was. But not me. I was watching it rain. It rained so much in San Marcos and Blanco one day that it washed cars out all over the college river area where the girls in bikini's sunbathed. It washed all the alligators out of Aquarena, a local attraction. But San Marcos continued to grow. Just a few years ago, the Blanco River went on a rampage again after a hard rain and washed several families away.
Some Texas rains are as wild as the back side of Houston with little regard for human life.
So we watch as Hurricane Harvey continues to whirl and bring more rain.
As I grew older, I noticed the hurricanes approaching West Texas from the Pacific often crossed over Mexico and stalled out across West Texas. We loved to see those hurricanes coming and bringing their rain with them. In South Texas, the Gulf hurricanes bring the rain, and the wind, and sometimes, they come tearing into town, drunk, obnoxious and loud, wanting to fight. Those storms grab the girls and dance in circles until they all just give out and end up on the floor, exhausted.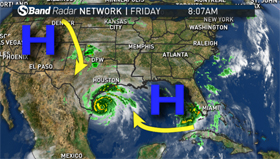 The weatherman says Harvey is stalled between two areas of high pressure. That it might stick around until later in the week. My chickens don't seem to care. They took a nap and are now out in the misting rain looking for bugs. They scratch a little, then bend over to look. Not a bug on the place.
My grandmother said this weather change all started when that Neil feller and his buddy Buzz walked on the moon.  That was back in nineteen and sixty-nine.  She lived in Temple.  Down on French street not too far from the hobo jungle near the railroad tracks.
Since I don't have a dust storm to announce an impending rain storm, I use technology to watch live radar. The swirls are moving closer to Bandera County where I live just north of Helotes and San Antonio.
I'm going outside to check. It's a very heavy mist.
We might get a nice little rain out of all this after all.
I'm David out in Real Texas
Where the air smells clean and the
grass greens up real fast after a rain….