Do you have a favorite Chicken Wing Recipe yet?
We're almost into this year's football playoffs and I hope you have enjoyed all the Chicken Wing Recipes that I have shared this football season.
We can't have all these recipes without a slow cooker recipe, so here it is!
Slow Cooker Honey Mustard Chicken Wings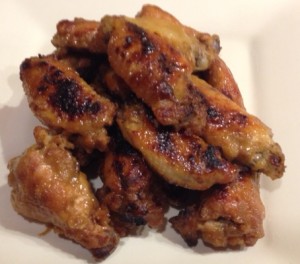 Ingredients
Vegetable Oil Spray
2 tablespoons Brown Sugar
1 1/2 teaspoons Garlic Powder
1 1/2 teaspoons Onion Powder
1 teaspoon Dry Mustard
Kosher Salt and Pepper
2 pounds Chicken Wings, tips cut off and wing cut into 2 pieces
3/4 cup Dijon Mustard
1/2 cup Honey
Directions
Coat inside of slow cooker with vegetable oil spray.  Mix sugar, garlic powder, onion powder, dry mustard, 1 teaspoon kosher salt and 1/2 teaspoon pepper together.  Place the chicken wings in a large ziplock bag.  Pour the season mixture in the bag and shake to coat all the chicken wings.  Transfer the seasoned chicken wings to the slow cooker.
Mix Dijon and honey in a bowl.  Pour 1/2 cup mixture over the chicken wings and toss to coat.  Reserve the remaining Dijon mixture separately.  Cover and cook the chicken wings until tender, 2 – 4 hours on low.
Adjust oven rack to middle position and heat oven to 450 degrees.  Place wire rack in an aluminum foil-lined rimmed baking sheet and coat with vegetable oil spray.  Transfer chicken wings to prepared baking sheet; discarding the extra liquid. Turn oven to broil.
Brush chicken wings with half of reserved Dijon mixture and broil until lightly charred and crisp, 10 – 15 minutes.  Flip chicken wings over, brush with remaining Dijon mixture and continue to broil until lightly charred and crisp on second side, 10 – 15 minutes longer.