Save the Swine:
Pop-Up Event Benefit South Texas Heritage Pork…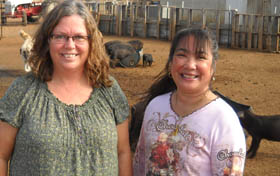 Back in 2013 I published an interview with Kelley Escobeda, Co-owner of South Texas Heritage Pork. She raises pigs.  The nicest, cleanest, most well behaved pigs you ever saw.
We discussed lots of issues about pork, cooking with lard, and natural products.  We cleared up the myth about 'Is natural lard bad for you?'
We talked a lot about cooking with lard.  But is it bad for you?
Natural Lard is nothing like what you buy in the grocery store.
Natural lard is lower in saturated fats than other animal fats.  Some studies show it can raise the good HDL cholesterol and lower the risk of heart disease when combined with a low-carb, low-sugar diet.  It also adds a bonus of Vitamin D.  And it is great in recipes!  Biscuits and pie crusts are flakier, and so much more delicious.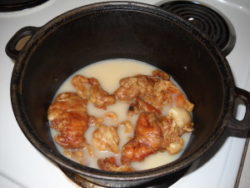 So where do I get natural lard?  You won't find it in grocery stores, but it's easy to render yourself.  You can either ask your butcher, or if you have a local Farmer's Market like we do, you can ask for Leaf lard, which is the best for rendering your own lard.  Leaf lard is the fat from the area surrounding the organs.  If you can't get Leaf lard, you can use back fat or pork belly.  You want to make sure it's organic or animal welfare approved which is even a more stringent standard than organic.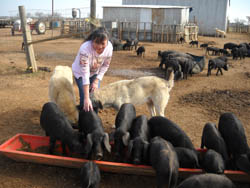 South Texas Heritage Pigs are very well taken care of.  They are able to roam free on pastures or in bedded pens, and lived without the routine use of antibiotics to promote growth and prevent diseases associated with factory farming. They allow the animals to exhibit more of their natural behaviors, get exercise, have extended access to the outdoors and fresh air, and be social with each other. Although the animals are raised for food, these farmers strive to provide them with a high quality of life during their lifetimes.
I only purchase my leaf lard from South Texas Heritage Pork.
I hope you will watch this very informative video with Kelley.  She not only explains how to render lard, but tells you all about her rare Heritage Hogs. They are mainly Large Blacks with a few Tamworth crosses. They spend at least 18 months caring for their hogs and give them a special finishing diet of peanut hay.  Kelley talks about all the different varieties of hogs and takes us on a short tour of their farm.
In this video interview you can get to know Kelley Escobeda and all about South Texas Heritage Pork Farm:
So why am I writing again about Kelley Escobeda and South Texas Heritage Pork Farm?
They need your help!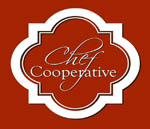 WHO
:  
San Antonio's Chef Cooperatives
, a non-profit group comprised of some of San Antonio most seasoned chefs, has been instrumental in raising funds through their pop-up dinners to actively support the health and prosperity of South Central Texas farmers, ranchers and vintners.
South Texas Heritage Pork is known for raising happy, healthy pasture-raised heritage breed hogs. They are a staple at the Pearl Farmers Market.
WHAT: Save the Swine is an all-day pop-up event set for Sunday, May 7 from 11-4 to assist South Texas Heritage Pork obtain a much-needed new home. Alamo Brewery will host the event.  Guests will enjoy an afternoon of delicious, locally-sourced and chef-crafted food, beer from Alamo Beer and live entertainment provided by SATX Music, featuring Judivan Roots and True Indigo, as well DJ Ras of Shashamani Sound and DJ Gabe Garza of Southtown Vinyl and Deep South Collective.
Chefs 
Stephen Paprocki
,
Jeff Wayne White
,
Chris Cook
,
Toby Soto
,
Edward Villarreal
,
Adrian Davila
,
Christina Everett Werley
,
Chef James Canter
,
John O'Larnic
,
John Herdman
,
Michael Grimes
 and
Tatu Herrera will be cooking for this event.
 (Please see menu below.) 
Beer not included in the ticket price, but a portion of beer sales will also go to help the farm. 
"We know we are growing some of the best tasting, highest quality pigs in the nation. Now we want to take that product to the next level, but we need a permanent home to do that. The

 

Chef Cooperatives
 organizers have spoken to us several times over the past few years, and we have provided pork to many of their events. They asked me what we could do as an event together, and I said we need a permanent home. They immediately said, 'We are on it!'  Mark and I want everyone to know that their efforts will not go unnoticed nor without thanks," said 
Kelley Escobeda, Co-owner of South Texas Heritage Pork.
WHEN: Sunday, May 7, 2017      WHERE:  Alamo Beer Brewery
                 11AM –4PM                              415 Burnet St.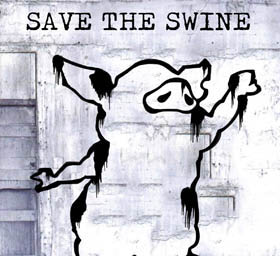 Save the Swine Menu
Chef Stephen Paprocki, Texas Black Gold Garlic
Crispy Texas Drum Throats, Mushroom Escabeche, Black Garlic
Chef Jeff White, Boiler House
Hog Trotter Tonkotsu Ramen, Sous-Vide Quail Egg, Spicy Black Garlic Chili Oil
Chris Cook, Cook Consulting; Farm to Fork Catering
Slow-Smoked Pork Shoulder, Carolina Gold Rice Puddin', Vidalia BBQ Rhubarb Pickles
Chef James Canter, Guerrilla Gourmet
Smoked Duck & Oyster Gumbo, Texas Jalapeno Sausage, Pimento Cheese Fritter, Cajun Trinity
Chef John O'Larnic, HEB
Spicy Smoked Bloody Mary Shot with Gulf Oyster Garnish.
Chef Toby Soto, Humo 
Chicharron-Crusted Pollo Nopal with Mexican Truffle Silk
Chef Ed Villarreal, Alberico Fine Wine 
Braised and Fried Pig Ears, Salsa Quemada, Lemon Aioli, Micro Cilantro
Chef John Herdman, Sustenio
Crispy Sous-vide Pork Belly Sunchoke "Tater" Tot, White BBQ, Aerated Cream Corn
Chef Tatu Herrera, Tatu's Food Debauchery
Grilled Hen of the Woods on Mascarpone Toast with Sauce Veracruz and Bonito Flakes.
Chef Christina Everett, Creations Catering
Andouille-crusted Duck with Sweet and Spicy Pepper Relish
Chef Adrian Davila, Adrian Davila BBQ
Grilled Chipotle Garlic Marinated Texas Gulf Shrimp Mini Tacos
Chef Michael Grimes, Southern Grit Flavor
Tripas BLT with Tomato Jam, Bacon Aioli and Arugula
Jenn White, Brindles
Salted Caramel, Candied Bacon Praline
Food Artisan Mike Miller, Madge's Food Company
Fermented Michelada and Mockalada Bar using Fermented Vegetables, Chicharrons