One step forward
Anyone who has been in recovery after surgery and not able to walk all that great has limited choices.  If you are not on drugs, then reading or writing is certainly an option.  If you are on some amount of drugs, then TV is one mindless way to pass time until you are up and running again.
TV was my option for a while after a total knee replacement in December. It's a particularly horrid type of joint repair that probably has a good success rate, but is extremely painful.  My right knee was successfully replaced years ago and I swore off the procedure for ten years until recently.  I guess it takes me ten years to forgive and forget.  Probably don't have as many brain cells left as in the past.
At any rate, My left knee was replaced with the thought that this time of year and South Texas weather would be best and warmer weather would be soon upon us and I could go back to being the labor around the chicken rancho here outside of San Antonio.
Ramona was a little trooper and for a couple of weeks pulled double duty on all the important chores in my realm;  feeding the animals, taking the trash out, driving us to and from doctor appointments and such as that.  Nothing too cerebral there.  My dog Bowie has also been very sympathetic covering me with licks and occasionally walking on the recovering knee to test my pain levels and vocabulary.
I'm now up and walking and supposedly headed in the right direction.  Those of you who have had this particular procedure know it is pain intensive up to the point of passing out until it suddenly gets better.  And of course, men are much more susceptible to the pain.  I've seen a couple of little old lady friends of mine who had both knees done at the same time.  Must not have hurt them as much for some reason.  That kinda destroyed any claims to toughness I might have had.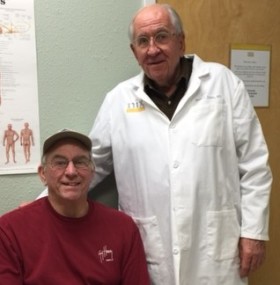 My surgeon is the esteemed Dr. Jesse DeLee.  Dr. DeLee is nationally and regionally very well known and in fact has developed many of the procedures used in modern knee surgery as well as having advised on the development of the new 'mechanical knees' used to replace original equipment.  I say new, but he advised on the development of these devices years ago and they have served lots of knees  for decades.  When I lived in West Texas and went to an orthopedic surgeon in San Angelo, he and his associates all knew of Jesse DeLee of San Antonio.  Suffice it to say he is a legend in his field.  I had some knee problems over ten years ago and was advised to go see Dr. DeLee by Reagan County Coach Ralph Traynham.  Traynham had also coached at a school in the San Antonio/South Texas area and had some experience with Dr. DeLee.  Mr. Traynham is now a successful West Texas school superintendent.
Dr. DeLee is a renaissance style man of many interests including writing and gardening as well as cooking.  He and Ramona immediately started talking cooking and that conversation has so far led to two very tasty fish dishes made with his recommended German butter and Sassy pepper spices.  Can't wait for them to talk more.  He replaced my right knee ten years ago and unlike many others I know, I have not had a single problem with it.  I also expect nothing but success from his latest effort concerning my left knee.  When you are good, you are are good, and he is the best of the best.
Passing the time
Christmas was a welcome distraction and a visit from the #1 son helped to forget about the knee for a few hours to celebrate my birthday on Christmas Day.  Then it was back to the grinding hours of recovery with my drill sergeant wife as chief rehab officer.  She started bringing me a crying towel before the sessions.  She still talks gleefully about the time she was doing my rehab and I passed out.  It was only  less than a minute, but when I woke up, all she could think to tell me was "You only have 15 more minutes to go!"
Thank you, you sweet little thing.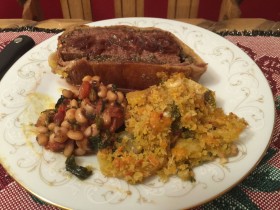 However, I really can't complain too much.  If gourmet food could heal a broken knee, then I'm well on the way to running a 5 yard dash.  My birthday prime rib dinner was very special.  Then there was the Real Texas Wellington, Ramona's version of Beef Wellington that was unbelievable.  Tonight's dinner of chicken and dumplings was the absolute best.  I should be totally healed by now or so fat that I just can't move.  I've lost  several pounds after my surgery and plan to keep it off.  Ramona says good food, just small portions!
TV and football playoff games have been a blessing and a curse.  Political ads on TV and the news from various channels are also a major source of entertainment.  It truly is a vast wasteland out there.  My guy from Ohio  is not doing so well in the polls and it remains to be seen if the FBI  will bring charges against the apparent democratic nominee.  Does the law apply to her or not?  We will see.
It's been one bad scenario after another.  One big lie after another.  If you tell lies often enough do they eventually become the truth?  I changed the channel.
And as I watch the GOP front runner, I am reminded of the two jackasses my neighbor down the street has.  They live half a mile up the road or so, but being jackasses, I can clearly hear them when they start 'talking'.  I'm more of a specifics guy who wants to hear specifics when questions are asked.  Generalities just don't cut it for me.
I may have to secede.  Weld the gate shut and just tend my organic garden and live off Criminal Minds and Netflix.  Write the next Great American Novel and raise my favorite Texas 1015 onions to an outstanding level of sweetness and size.  Seems my life goals have changed to the basics of gardening, walking,  and some amount of literary success.
I've endured some mind numbing TV ads also.  The most irritating hands down is the GEICO Peter Pan ad.  Totally irritating.  On the other hand, the best one that hit a warm spot with me is the PC Matic ad simulating a political speech.  I do believe PC Matic will protect us from overseas threats and I appreciate that he will only have Americans writing the protective code.    I liked the guy, Rob Chang, when he first got started and when he put former Dallas Cowboy Randy White as a spokesperson in some of his ads a while back, he won me over.  The end of the latest ad showing Rob with his family is a winner.  Good for him and his support of American products.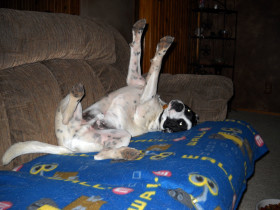 During the time of my rehab, I also have enjoyed the many hours of football playoff games.  Some of my favorites have won and some lost.  A few of my friends had great seats in the Alamodome to watch TCU and the Oregon Ducks.  What a game!  That win did a lot for TCU, San Antonio, and the Alamo Bowl.    And let me brag some more on the class shown by TCU.  They lost their QB 1 to a stupid kid mistake, but that did not stop them from being a classy school and team.  The day of the game, they had a flyer insert in the newspaper touting the school's academics.  And the day after the game and their fantastic come-from-behind win TCU had a full page ad in the paper thanking the bowl sponsor Valero and the people of San Antonio for their hospitality.  TCU is a total class act.  Well done.
So what have I enjoyed most about football besides the terrific competitions between some so-so teams?  It would have to be some of the names of the players.
I have rooted for a kid named DeRunya, KaVontae, Chris Blewitt, a kicker from Pittsburgh, Marquedius, Raekwon, Stevo, Psalm Wooching, Silverberry, and teammates River Cracraft and Hercules Mata'afa from Washington State.
There are more…..Blaze Ryder from Navy, Corn Elder, Jazzmore Clax, and one of my personal favorites…..Cassanova McKinzy from Auburn.  Then there is Bobo, Equanimous St. Brown, Tiawan Deal, Driphus Jackson of Rice, Taco Charleton, Lion King (no kidding) and plenty more where they came from.
I'm truly amazed and wonder if some of those young mothers are on the same kind of pills I have been on lately.
OK, never mind all this. Go Frogs.  It's time for my next pain pill.  Wonder what I'll have to think about after that?
But don't mind me.  I know I must be out of my mind.
I was totally rooting for Oklahoma to beat Clemson.
I'm David out in Real Texas
..on the road to recovery, I hope.