Walking your own Texas trails
Traveling the roads and byways of Texas by vehicle is just too fast to really see all the interesting flora and fauna out there.  Many parts of Texas are a true wonderland of sights seen only by slowly walking your path wherever you are.
Lately Ramona and I have been walkers.  No, not the Walking Dead variety.
It's just us and the two dogs; Bowie, a spotted black and white heeler mix and Starbucks, a registered Brussels Griffon.  Ramona cautions to not say he looks sorta like a stocky weenie dog 'cause it gives him a complex.  Bowie is the lead dog and Starbucks is a momma's boy.  For the past few years, it was only me and Bowie walking, sniffing, and peeing on various bushes, trees, and other signs of animals who wandered before us on our trail.
Now, Ramona has decided that Starbucks is gaining a little too much weight and getting somewhat tubby.  She and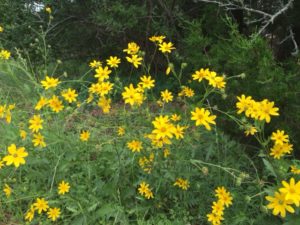 Starbucks have joined us on our walks.  She says it is all for the benefit of Starbucks, but she is the first one up at our house ready for the morning constitutional.  It is just about the only sort of exercise she can physically do anymore  and being a true fanatic, she acts like a woman on a mission.  I wonder sometimes if I am going to have to walk back and get the golf cart to haul her back home, but so far, so good.
Our walks are not fast walks.  Ramona can't do a fast walk anymore, but her mind still goes a mile a minute.  I  explained to her that walking with dogs is different than walking for exercise.  I said we would have to stop and sniff and pee on things as we went.  She declined to participate, but she is still learning to wait somewhat patiently on the dogs who have their own agendas on the walks. At least once on every walk I see her tugging on the leash and telling them to "hurry up and come on!"  We remind ourselves that the dogs have their walk to enjoy also.
Before our move to South Texas after her surgery, we all walked for a ways down Sherwood Lane that goes around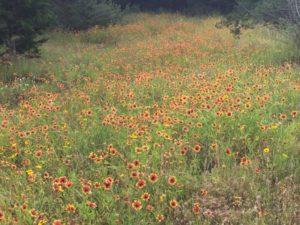 Mertzon and though the community of Sherwood.  We generally only made one mile of the four mile or so loop.  Down to the neighbor's gate and back.  That lane always reminded me of the Texas Hill Country, a short respite from West Texas.  Now, we walk through our rural area here in the hill country that is more country than city by any imagination.  A friend who visited once said it was a very average area.  I suppose she was referring to the homes.  She was correct.  It's not the Dominion, an exclusive San Antonio subdivision of big houses and estates, but it suits us more as certifiable country people who have a hard time, and really no inclination, to shake off our West Texas roots.  Our three acres of cats, dogs, chickens, corn stealing squirrels and visitors of deer, raccoons, and now some coyotes just wouldn't fit in some places around here.  And I keep my guns loaded just in case the coyotes get close enough.
We have been channeling our inner Roy Bedichek lately.  He is the Texas version of Thoreau of Walden Pond fame.  Roy Bedichek wrote Adventures of a Texas Naturalist way back when he, along with J. Frank Dobie and Walter Prescott Webb, were known as the Big 3 at The University of Texas.
Like Socrates, Roy Bedichek the naturalist, examined life.  On our walks, Ramona and I try to do the same and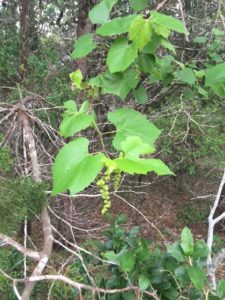 examine what we see and observe.  Like most good Texans, we can identify the most obvious wildflowers and that is a very good start to examining the life we lead instead of having life rush by and missing some of the simple and beautiful offerings nature has for us right on our little trail.  For instance, Ramona usually looks at her world with thoughts of what she can cook.  On our walk, we identified Mustang Grape vines with little grapes being formed.  Some of her friends tell her they have made jelly from their gatherings.  You can bet we will be enjoying Mustang Grape jelly as soon as they ripen.
We also have seen wild blackberries growing beside a little creek we cross every day on our walk.  The blackberries are very small and it would take quite a few to make a single jar of jelly, but we know for sure some of our Texas ancestors and Native Texans picked the wild blackberries and enjoyed nature's bounty very much.
I think most of us Texans are born knowing what our state flower, the  bluebonnet, looks like.  Along with the bluebonnet is my equally favorite Indian Blanket.  I had to get my Wildflowers of Texas book out to identify Wild Buckwheat.   We have also admired Mexican Hat flowers along with another of my faves Engleman Daisy.  But be careful, you might accidentally sniff a purple-head sneezeweed.
Our walk meanders a mile and a half over two small creeks where the dogs can stop and get a drink.  We always laugh at Starbucks as he walks through the running water which is about 3 inches deep and then shakes all over after he gets his ankles wet.  Ramona says they are recharging to pee on more stuff as we walk.  One of the creeks passes over a concrete roadbed and Bowie lost his footing and fell on his butt after slipping on the algae.  He looked surprised as we also laughed at him.  However, after I fell in the pool while using the net to get leaves out, Ramona always hands me her phone while crossing that creek on some flat rocks strategically placed to keep her feet dry.
We have learned the names of most of the neighborhood dogs and some of their owners.  Ramona still marvels at how many flat frogs there are on the roadway.  The dogs enjoy sniffing each and every flat amphibian that I explain are actually toads.
We are learning to be more like our dogs.  They seem to enjoy living the examined life as Socrates once explained it.  I'm not sure they know the difference between a bluebonnet and an Engleman Daisy, but they do know the difference between raccoon scat and deer pills.  Life is all about priorities.
Our walk is kinda like life.  The first part is uphill for quite a ways.  It makes one huff and puff a bit.  Then it levels off for a good ways and conversation is easy.  After a while it is downhill and the walking is easier.  We have to watch for an occasional vehicle, but for the most part we have the roadway to ourselves.  At the end of our walk, there is a slight uphill that we first dreaded, but now not so much.  We know it is coming, and then we will be home.
We are making living an examined life more of a priority.  We are paying more attention at a slower and slower pace.
It's something we enjoy.
I'm David out in Real Texas
Enjoying the examined life more and more