For Valentine's Day, why not make your Valentine a Real Texas Tomato Jalapeno Pie.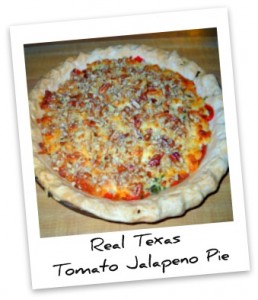 The tomatoes make it 'red' and it's a 'heart healthy' recipe.
The Real Texas Tomato Jalapeño Pie can be served as a brunch dish, or as a side dish served with a juicy grilled steak for supper.
You can download and print a full version of the recipe, just click on the hyperlink below:
Ingredients
9" Pie Crust, unbaked
2 cup package Mozzarella cheese, Shredded (divided 1 cup + 1 cup)
1 package Grape Tomatoes, sliced
1/4 cup Jalapeños, minced
1/4 cup Pecans, chopped
1 cup loosely packed fresh Lettuce Leaf Basil leaves
4 cloves Garlic
1/2 cup Mayonnaise
1/4 cup Parmesan Cheese, grated
1/8 teaspoon ground White Pepper
1/4 teaspoon Kosher Salt
Additional Basil for Garnish
Directions
Preparing the Crust
Take a pie crust and crimp the edge. Place aluminum foil strips and lightly crimp it around the edge. Bake in the oven at 375F degrees for about 5 to 7 minutes or until the bottom is just slightly golden brown.
Remove the aluminum foil during the last 5 minutes of baking the whole pie.
Preparing Basil and Garlic
Wash the basil leaves. Remove the leaves from the stem. Place the Basil leaves in a food processor and add garlic cloves. Process this to a course texture.
Preparing the Mayonnaise Mixture
Mix 1 cup of the mozzarella cheese, add mayonnaise, Parmesan cheese, and white pepper. Stir the mixture and set it aside.
Layering the Pie
Take the pie crust out of the oven. Using the other half of the mozzarella cheese, sprinkle in the bottom of the pie crust while it's still hot.
Cut the grape tomatoes into thin slices. You can slice them in half but I like it much thinner. Arrange these over the mozzarella cheese.
Sprinkle salt over the tomatoes. Sprinkle Jalapeños over the tomatoes. Sprinkle the garlic, Basil mixture over the tomatoes and Jalapeños.
Use your fingers for the mayonnaise so you can crumble all over the top of the tomatoes.
Sprinkle chopped pecans on top of the cheese mixture.
Preheat the oven to 375F degrees.
Place the pie in the oven. Cook for approximately 40 to 50 minutes. The pie needs to be bubbly and for the last 5 minutes take off the aluminum foil ring and let your crust bake golden brown.