In Real Texas we love Salsa and Chips.  This is a chunky recipe that is really great with chips.  Chips and salsa during the ballgame?  It just doesn't get much better than that!
I'm going to show you how simple it is to make Real Texas Salsa.  I usually make a large batch, and put into smaller containers and freeze!  When you thaw, there is a little more juice, but if you strain off the juice and add a little water, boil, add rice, you have a simple version of Spanish Rice.  I'll have the recipe in another post.
Tip: To remove the seeds from your Jalapenos wear gloves at all times.  You can also use a potato peeler to scrape out the seeds.  Video is in the recipe 'Real Texas Stuffed Jalapenos'
Real Texas Salsa
Ingredients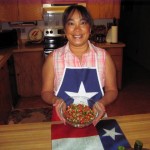 1 cup finely diced Jalapenos
1 medium onion finely diced
2 garlic cloves minced
1 large package grape or cherry tomatoes finely diced
Salt and pepper to taste
chopped Cilantro is optional
1 juice from fresh lime (this actually acts as a preservative)
Directions
Mix all ingredients, except the lime juice, in a bowl and place in microwave on high for 5 minutes.  Stir and cook on high for an additional 5 minutes.  Add the lime juice. Chill in refrigerator overnight.
Serve with tortilla chips.
David said, "Ramona gets in the chop. chop,chopping mode and I know something good is coming out of the kitchen.  We do take a break from our blogs and writing  every now and then, and good Real Texas food is what we like."