Made in Texas Pecan Pie
And speaking of Texas Holidays (as discussed in the last post here on Real Texas Blog), it should be pointed out that more than likely, the very first Thanksgiving was celebrated in Texas.  That's right and it is not just an idle claim:  History records that in 1541 the Spanish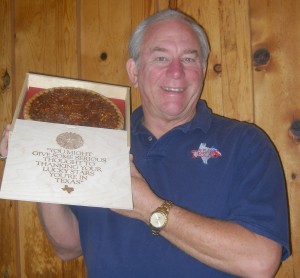 explorer Coronado paused for thanksgiving. On Ascension Thursday, surrounded by friendly Indians, Coronado's expedition celebrated a Eucharistic Thanksgiving at daybreak in spectacular Palo Duro Canyon in West Texas.
Thanksgiving as a national U.S. holiday is celebrated on the fourth Thursday in November.  It was designated Thanksgiving Day by President Franklin Roosevelt in 1941.  Of course we all know that Thanksgiving as a celebration originated in Plymouth Colony back in the days of the Pilgrims in 1621.
Ranking right up there with Turkey and dressing and cranberry sauce is Pecan Pie, my personal favorite.  After all, Pecan Pie made with the state recognized pecan from the official state tree is All Texan.
And also ranking right in there among grandma's homemade Pecan Pie is Goode Company's Made in Texas Brazos Bottom Pecan Pie.
The good news is that  it is also a "grandma' originated recipe that was taken nationally by the good folks at Goode Company.  They have been using Grandma Goode's recipe since they opened for business in 1977.  They still make each one by hand using farm fresh eggs and the greatest tasting Texas Pecans.
Goode Company sent me a pie and their marketing technique worked.  They sent me the Brazos Bottom Pecan Pie in hopes of receiving a positive review and that I would recommend to my blog readers that they all order a pie in time for Thanksgiving.  Of course they had no way of knowing I am actually a well-known connoisseur of Texas Made Pecan Pies and can smell the difference between a merely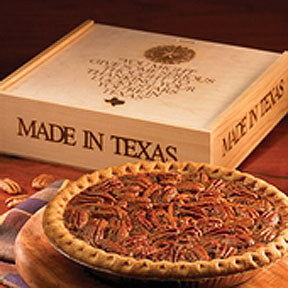 good one from a great on a mile away.  Up until now, the best pecan pie I had ever tasted came from a little old farmer friend of mine named Frank in Seminole, Texas.  That has all changed.  My new favorite is Goode Company's Brazos Bottom Pie.
If you do order a great tasting Brazos Bottom Pecan Pie from Goode Company, it will arrive in a custom made wooden box that has "Made in Texas" stamped all the way around it.
On the cover of the box there is also one of the best quotes I have ever heard…."You Might Give some serious thought to thanking your lucky stars you're in Texas."
My sentiments exactly.  And you can order your very own Great Tasting Goode Company Brazos Bottom Pecan Pie by clicking here and going to their website.  Of course they also have brisket, sausage, ribs, and plenty of other tasty items you can order just in time for the holidays.  No, I don't receive any monetary gain from recommending this great pie.  All I got was a sample pie….and that was enough to turn me into a customer for life!
I'm David out in Real Texas
It's my newest Thanksgiving 'Goode Company' tradition