I love anything Peachy!  Especially anything with Fredericksburg Peaches.  It's the first of June and it's peach season in Fredericksburg and around Stonewall, Texas.  That area is going to have an exceptionally good season since we've had plenty of rain.  The peaches are small right now, but so juicy and sweet.  It's not quite time for my favorite peaches, the Freestone Peach;  That won't be until the end of June.  The Freestone Peach is a special peach where the meat literally  breaks or falls away from the pit.
We recently drove to Fredericksburg and picked out our peaches.  We go blasting down the Interstate at 80 mph and it doesn't take long to get there.  Yes, that is the speed limit out here in Real Texas.
You can keep up with the peach harvest and find all the peach stands at http://www.texaspeaches.com
One of my favorite peach and vegetable stands is Vogel.  The Vogel family is one of the original farming families, and I just love the folks here.  They have grown up working in the business for generations.  We ate homemade Peach ice cream that was made at the peach stand!  That's Fredericksburg!   The farmers not only harvest their fruits and vegetables, but they make some wonderful treats and sell them too.  Go find your favorite peach stand operated by one of the families in the Fredericksburg or Stonewall areas.
On the way out of town we had to stop and have homemade Peach Cobbler with homemade vanilla ice cream on top at a little shop called ClearRiver Ice Cream, bakery and deli.  It's just like an ice cream shop from the 1950's and serves sandwiches, delicious homemade baked goods, specialty coffees, and several flavors of homemade ice cream.
We usually split a  fresh bowl of peach cobbler with ice cream (one for the road) and a couple cups of coffee and we're ready to head home.
We never get tired of fresh Fredericksburg Peaches, we make Peach Cobbler, Ice Cream, Jam, and Salsa!  I use the Salsa to put on top of a pork tenderloin and cook in the oven.  Also, it's great on grilled pork chops or chicken.  When the Freestone Peaches are available, I get a case, peel and slice and freeze.  The peaches are delicious to thaw and put a spoonful of homemade whipped cream on top!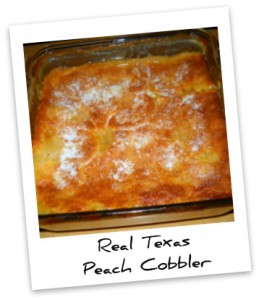 Real Texas Peach Cobbler is so simple and is a fast dessert to make for surprise guests.
Just take out some fresh frozen peaches, whip up some homemade whipped cream, and bake a Real Texas Peach Cobbler!
Your guests will be delighted.  Here"s my Real Texas Recipe!
Real Texas Peach Cobbler
Ingredients
1/2 cup Butter
1 cup Sugar
1 cup All-Purpose Flour
1 cup Milk
2 teaspoons Baking Powder
1/4 teaspoon Salt
2 cups fresh Peaches, peeled and sliced
1/4 cup Sugar
1/2 cup Water
3 tablespoons Sugar to top the crust
Directions
Preheat oven to 375F degrees.
Wash, peel and slice the fresh peaches.
In a saucepan, add water and 1/4 cup sugar. Stir until dissolved. Add peaches and bring to a boil. Remove from heat.
Place butter in a glass 8 x 8″ glass baking dish and melt in microwave; set aside. In a mixing bowl, combine the sugar, flour, baking powder and salt. Add the milk and stir until mixed. Pour the batter into the glass baking dish with the melted butter. Pour the peaches over the batter.
Bake in preheated oven for 30 minutes, remove from oven to sprinkle crust with remaining sugar. Place back in the oven and continue to bake until crust is golden brown and crisp on the edges. Cool on a rack for 5 minutes before serving, serve warm.
Top with homemade whipped cream or ice cream.