Every good BBQ restaurant has their own secret BBQ sauce. That's what makes their restaurant different from all the others.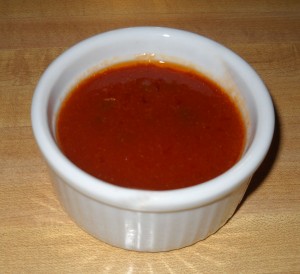 We have created our own Real Texas Lone Star BBQ Sauce that we use when we grill ribs, wings, and sometimes on steaks!
To download and print the full recipe, just click on the title hyperlink below:
Ingredients
1 quart Ketchup
1/4 cup Apple Cider Vinegar
1 tablespoon Garlic Powder
1 tablespoon Cayenne Pepper
1 tablespoon Chili Powder
1/2 cup Brown Sugar
4 tablespoons Worcestershire Sauce
4 tablespoon Kosher Salt
1 bottle Lone Star Beer
3 Jalapeño Peppers, minced
2 sticks Butter
Directions
In a slow cooker, melt the butter.
Add the Lone Star Beer, apple cider vinegar, Worcestershire sauce, minced jalapeños, brown sugar, Cayenne pepper, garlic powder, kosher salt, and ketchup.
Turn the slow cooker to high and stir the sauce very well. Put the lid on and let sauce come to a boil. Cook it for 1 hour so that all those wonderful flavors fuse together.
As the sauce cooks it will thicken. It depends on how you prefer the thickness of the BBQ sauce.
Refrigerate the sauce overnight.