Merry Christmas!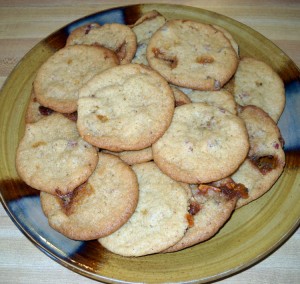 This year's holiday recipe is a unique recipe.
You can easily just make the Real Texas Jalapeño Peanut Brittle, but if you are willing to take just an extra creative step, you can make my Real Texas Jalapeño Peanut Brittle Bacon Cookies!  They are really delicious!
To download the recipes and print them out, please click on the title hyperlinks below:
Ingredients
½ cup fresh Jalapeño Peppers, seeded and finely chopped
¼ cup Light Corn Syrup
1 ¼ cup Sugar
1 cup Roasted Cajun Peanuts (or any Peanuts)
2 tablespoons Butter, divided
¼ teaspoon Vanilla Extract
¼ teaspoon Almond extract
½ teaspoon Baking Soda
Directions
Melt 1 portion of butter in a heavy skillet. Sauté Jalapeños until soft. Add peanuts and continue to sauté for a few moments longer to fuse the flavors. Remove from heat and set aside.
Combine sugar and light corn syrup in a saucepan. Over medium high heat, stirring constantly, bring to a boil. The sugar should be desolved.
Turn down the heat to medium high and add the Jalepeño mixture. Place the candy thermometer on the side of the saucepan. Bring mixture to a soft crackle. You do not need to stir much.
Spray a cookie sheet with Pam or any oil.
Add remaining butter, vanilla and almond extract and stir until the butter is melted.
Add the baking soda and stir until it turns foamy.
Spread hot mixture onto the greased cookie sheet in a thin layer.
Let it sit until the peanut brittle is hard and is cool enough to handle.
Once cooled, lift from cookie sheet and break into nice pieces. They don't have to be too big and will break in all different sizes and shapes!
Real Texas Jalapeño Peanut Brittle Bacon Cookies
Ingredients
1 cup Butter, softened
1 cup Brown Sugar
1 cup Sugar
2 Eggs
½ cup Peanut Butter
2 cups All-Purpose Flour
1 teaspoon Kosher Salt
1 tablespoon Baking Powder
1 ½ cups Bacon, crispy and in ¼" pieces
1 cup Real Texas Jalapeño Peanut Brittle, small ¼" chunks
Directions
Break up the Real Texas Jalapeño Peanut Brittle into ¼" pieces.
Cut bacon into ¼" pieces and fry until crispy in a skillet over medium high heat. Remove from the skillet onto a paper towel to drain.
Blend the butter and the sugars until light and fluffy. Add eggs 1 at a time and mix. Add peanut butter and mix. Stir the flour, baking powder, and salt. Add to the egg mixture a cup at a time, mixing and scraping the sides of the bowl. Fold in the bacon and peanut brittle pieces.
Drop spoonful's onto a cookie sheet lined with parchment paper.
Bake in a 350 F degree preheated oven for approximately 10 minutes, or until golden brown.
Remove cookie sheet from oven and cool.