Dear Real Texas Blog readers:
Sorry there has not been much going on here lately.  Here's an explanation.
On April 19, Ramona and I were in Austin for the day and she started having severe abdominal cramps and pain.  Since she has a history of intestinal problems, we take such pains seriously.  Some of you may know my  wife Ramona through her Real Texas Recipes and other YouTube videos.  She is  a prolific blogger in her own right with several blogs of her own including Ramona's Basil Garden and Cooking Vietnamese Food.  You can click on a tab at the top of her blogs to learn more of her life story….it's very interesting.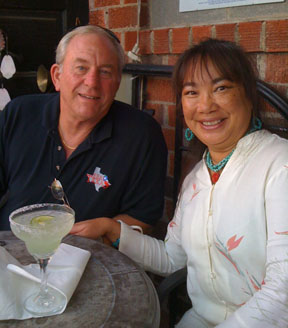 She is a very accomplished person and a proud U.S. Air Force Veteran.
Since we were in South Austin, I made a decision to take her to Audie Murphy VA Medical Center in San Antonio.  It took me about an hour to get her to Audie Murphy.  I made that decision because Veteran's Administration hospitals often see traumatic abdominal wounds suffered by soldiers in our war efforts and they might have more experience than a regular hospital.  In hindsight, it was an excellent decision.  We entered the Veteran's Administration Emergency Room and things started happening relatively quickly.  She was stabilized, given some pain meds,  and seen by the ER docs and nurses.
They decided to admit her to the hospital and we were taken to a room in the surgical unit floor 2 West.  We were there a week while she underwent every test known to modern medicine  in dealing with her type of situation.  We were trying to avoid surgery if at all possible.
It was was not possible, and eight days after we had been here she underwent major surgery.  It was an 8 hour procedure and two surgical specialists worked diligently and professionally.  I was a nervous wreck. In addition to all the stress with her surgery, we had left our home at Sherwood Ranch with only the clothes on our backs.  We had intended to go back home the same day we left.  I was buying my clothes at Wal-Mart.  For a four day stretch while she was in ICU, I slept in the ICU waiting room and was eyed suspiciously by the VA Security Forces who patrol the area.  While she was in her regular room, I slept by her side in the sleeper chair and was able to assist her when she needed to visit the bathroom facilities and such.  In ICU I was not able to stay in her room as a patient needed the room.
I lived out of my vehicle and carried my necessities in one of those re-usable grocery bags.  I washed up in the restrooms.
Fortunately, a good friend who lives near my home came to the rescue and went to my home which is some 200 miles away and packed a suitcase for me and got my computers.  Unfortunately, the VA hospital does not have wi-fi service available. I used Ramona's iPhone to text out updates as many friends wanted news on her condition.  Another friend had heard of our predicament and found someone coming our way.  I met them out on I-10 at the Bass Pro shop on the outskirts of San Antonio and got my clothes and computers.
Our network of friends has been nothing but awesome.
Ramona remained in ICU for four days and it was literally touch and go there for a while.  She had been given 5 units of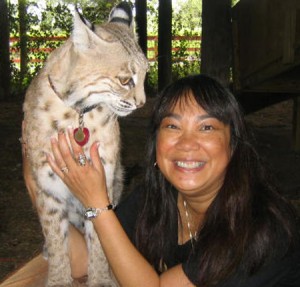 blood after losing 2 feet of her small intestine due to an intestinal blockage.  Her incision can be described as from stem to stern as surgeons needed plenty of room to work.  Those of you who are familiar with adhesions will know that her surgery was complicated by the insidious adhesions that impeded surgeons in their work.
A very good friend of mine who lives in San Antonio,  Eddie Burkett and his wife Dr. Janna Wilder, graciously offered  me a bedroom and private bath in their home.  I spend most of the day here at the hospital and nights at the Burkett residence.  It is a pleasure when their dogs lick my legs.  Ramona and I miss our own dog children as well as the rest of her 'zoo' at our home.  Yes, that is including her pet, Bobby the bobcat she is pictured with here.
Son Joe David is totally taking over duties of one business we have together.  He has diligently stayed in touch.
our good friend Richard, a retired truck driver, stays at our home while we are away keeping all the animals fed and watered and the newly planted garden up and running.  He has been giving away eggs by the dozen to all takers.  We did not intend to be gone this long at all.
The doctors have said Ramona will be hospitalized for a minimum one month more from this date,  probably longer.  He has described it as a long hard road back to our former life. They are concerned with leaks after they start giving her clear liquids and 'restarting' her system.  She has had no food by mouth for two weeks now.  She is being fed with a mixture known as TPN through a tube directly into her bloodstream.  She will have no food by mouth for another three weeks.  She also has a GN tube, which is a tube inserted through a nostril down into her stomach which sucks all stomach fluids out into a canister mounted on the wall.  She has expanding booties on her lower legs to prevent DVT's or blood clots.  As expected, she is extremely weak, but you can see the fighting spirit in her eyes when  the physical therapist comes to visit and get her up to walk a few steps.
It takes the nurses longer to unhook everything from her than it does to take her walk.  We take every little victory as it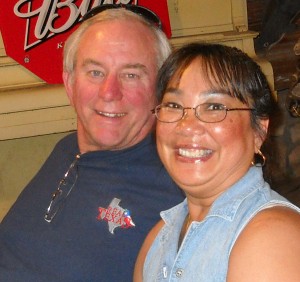 comes.  When she walked for a lap in ICU followed by two nurses and a massive infusion pump with all her tubes, her chin stuck  out and she resembled a track champion headed for the finish line at many Texas track meets I have attended.  When she finished the one lap,  she asked for another.  It was an inspiring sight to see her very slowly shuffling forward after being so near death two days before.  The doctors and nurses had genuine smiles on their faces and clapped and urged her on.  She finished the second short lap exhausted, but triumphant.
Many of you have heard horror stories of the VA hospital system, but we have experienced nothing but 'world class' care here in San Antonio.  It is a teaching facility and it is interesting to see the entourage of doctors making rounds with  their doctor mentors. There was always a big discussion outside Ramona's room in ICU.  At one point while there, I counted 15 tubes of things being pumped into her little body.  They had every technology available on the planet available and in use to save her life.  After her blood pressure hit 72/33, it was touch and go.  They literally had a nurse standing by her bed monitoring all the machines, pumps, vital signs,  medicines, and devices on a 24/7 basis.  Many of the nurses are ex-military and very competent. Several have taken a special interest in her and come to her room to visit and encourage  her.
It appears it will be a long hard road to recovery, but it is a challenge we will meet together and work as a team in her care.  I am learning more about this fabulous medical complex and this entire medical area of our Great State.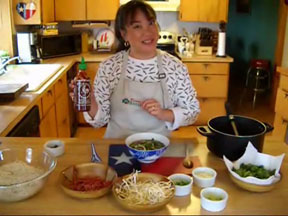 It's one more reason to be thankful we live in Texas and that our veterans have such an outstanding facility in their time of need.
I will try to keep you updated and post here as often as possible. I hope to get back to my 'How To Be Texan-Wherever You Are series as soon as possible.    I have to travel down the road to a close-by Starbucks to get a wi-fi signal in order to send messages.  I did go the the Apple Store in the La Cantera area of San Antonio and purchased a new iPad 64 gb 4G connected device to use in the hospital room.  The keyboard will take some getting familiar with.  She can use the iPad at home easily as we have a wireless network at our home all the way down to the creek.  I registered it in her name and it should be easier for her to manage.
So here we are for the time being.  We wonder what will happen when they 'restart' everything.  Will it all hold together?  Are we facing more of this?
It is what it is….and we will deal with it as many of our veterans have to do every single day.
She is one very courageous person whom I love and admire with all my heart.
I'm David out in Real Texas
At a Real Texas VA 'world class' hospital….