Best Hamburger in Texas
Texas Monthly magazine recently published a guide to finding THE best hamburger in Texas.  They settled in on a hamburger served by a restaurant named Folc in San Antonio.  The number 2 burger is made in Austin.  Here is a list of the top five as picked by TM:
Brisket Burger with Pork Belly – Folc, San Antonio
Congress Burger – Second Bar, Austin
L.U.S.T. Burger – The Bearded Lady, Fort Worth
Pimento Cheese Burger – Knife, Dallas
Philly Cheese Steak Burger – Original Hubcap Grill, Houston
The top burger on the list is kinda pricey at $18.  But is says that you get potatoes with it.  My favorite waitress, Peggy Sexton from Ala-****ing, bama, called that kind of burger a basket burger.  Had the burger on one side and fries dumped on the other side.  Quite a meal.  Peggy and I share December birthdays.
But $18 for a hamburger?
But $18 for a hamburger?  Really?  My little Ramona, the head chef at our house, would explain that nowadays they have lots of expenses and living in the city and operating expenses and all make producing that burger and a profit to go with it, does cost money these days.  I'm sure it does.  She also explains that I am sometimes stuck in the past. Again, truth hurts me.  Just let me go on the record that I am all in favor of establishments making a profit.
If you break it down, we usually get our money's worth.  We very often split a hamburger and a great big burger like that can make two meals.  For the both of us.  The photo at left was from a recent touting at the "In and Out" hamburger place in San Antonio.  This time we got two.
Is the Brisket Burger with Pork Belly at Folc the best burger in the Great state of Texas, maybe even of all time?
I would have to answer no it is not.
The best hamburger of all time was served at an oilfield restaurant named The Park Inn Cafe in in Big Lake, Texas  back in the day.  Big Lake's claim to fame is Santa Rita No. 1, the discovery well of the fabulous Permian Basin.  Those young people at TM, Texas Monthly, in Austin might know about the old oil rig Santa Rita replica on MLK near DKR Stadium.  It was that discovery well near Big Lake that made The University of Texas rich.  I mean as rich as three feet up a cow's butt, and that is very rich territory.
The Park Inn Cafe served that hamburger perfectly cooked and seasoned through years of serving them to roughnecks coming off evening tower and to those headed to work on morning tower.   Those are  oilfield terms that refer to shift work.  If the hamburgers were not to their liking, those hard nosed characters might turn the plate upside down and stomp out.  But that never happened.  Many of the roughnecks would eat those hamburgers for breakfast and wash 'em down with a cold Pearl beer right at the counter.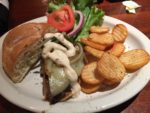 It was an exquisite hamburger, dripping with just the right amount of tasty juices on a toasted bun with a large onion, perfectly spread lettuce, and pickles, and a generous patty of meat.  Those men did not have to wonder "where the beef was" when they bit into that perfect hamburger.  Drippings ran down the corners of their mouth and were promptly licked off by a rough tongue dragging over a few days growth of beard.  They didn't dab at their faces with linen napkins, instead, they had large paper napkins packed into a dispenser nearby.
Being just a kid, I generally ordered a sissy burger.  Mayo with lettuce and tomato.
The potatoes were fried in the hottest grease you ever saw, often in a very large cast iron skillet swimming in trans-fats and cholesterol. They came out golden brown and were dowsed with a large dispenser that liberally coated the hot fries with salt.  The burgers were wrapped in paper and fries were dumped on the side to make it a basket burger.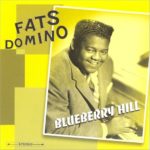 It didn't take long for the burger to arrive. Someone usually had a song going in the jukebox that sat in the corner of The Park Inn, just like every other cafe in Real Texas. It played a fine version of Fats Domino:
" Ah foun' mah three-yulll,
on blueberry hee-uhl."
The owner was named Jeff Kelly and his staff of long time waitresses put my basket burger in a brown paper sack and I took it across the street to the Rialto Theater.  The basket burger cost me 35¢ and the picture show was another 15¢. I had spent the earlier part of the day doing chores, collecting coke bottles to re-sell, or some other way to earn that 50 cents.
So when I tell Ramona about my 50¢ hamburger and movie after we just spent $30 at the Palladium Theater in San Antonio, all I get is an eye roll.  I feel it is my duty to repeat that story each and every time she gets tickets and a large popcorn and drink.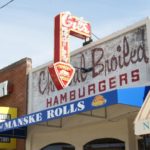 There were other cafe's that also served up fantastic hamburgers all over Real Texas. There was one in Crane, Texas that had the largest hamburger you ever saw.  Big as a medium size cow patty at least.  Another was the original Charcoal House in San Angelo.  When I went to college, I consumed at least a thousand Gil-a-burgers and hundreds of chili cheese dogs that were 6 for a dollar.  Those Gil-a-burgers in San Marcos were mighty tasty charcoal burgers.  The old Holiday House on Barton Springs in Austin made a good charcoal hamburger with mayo and lots of grated cheddar cheese.  I had to have one of those after getting leave right after Army basic training.  I remember feeling silly for squaring off corners when I turned and went down a row of tables.
There were also very good hamburgers at The Dairy King (not queen) in my hometown.  I bought plenty of them at 25¢ and later 35¢ a pop.  I betcha there were great burgers served all over Real Texas at the little joints in your hometown too.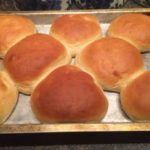 I still stop and try out the burgers on my travels in and around Real Texas but I'm not sure when I'll ever get to to that $18 burger and fries here in San Antonio.  I have been ruined by Ramona on a lot of my favorite meals.  When I describe something, she tries to duplicate in it her own kitchen. She made a hamburger two nights ago that had a little pork in it along with plenty of great seasonings.  She topped it off with a home-made hamburger bun she made from scratch the night before.
It was hard to beat.  Even by The Park Inn Cafe.
She called me 'hon' and winked at me when she served it.  Made me think of some of my many favorite waitresses over the years. Clara, Peggy Sexton, Peggy Holden, Flo Miller, Freddie (Freda) Kruse, and many others.  Those girls-ladies- put up with a lot over the years and served up those hamburgers and chicken fries with a little bit of sass and even some TLC.
I'm David out in Real Texas
Found my favorite burger right here at home