Editor's Note:  This is part 8 of How To Be Texan, Wherever You Are.  It's an up and coming eBook on how to maintain your Texan ways, no matter where you live.  Some of us fortunate souls still live in the Great State and others are Ex-Pats who were forced to leave by marriage, jobs, or circumstance.  You all however, have a great heritage and you can still be Texan, Wherever You Are.
Drink up, you're from Texas!
Texas drinks
Dr Pepper is the coke of choice for most Real Texans.  It was invented in Waco, Texas.  Some folks pronounce it Wacko, Texas.
A very common exchange goes like this: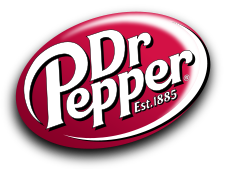 "Wanna coke?"
"Yeah."
What kind?
"Dr Pepper."
Authentic Dr pepper is made in Dublin, Texas from pure cane sugar.  Up until very recently, you could still buy it from the Dublin bottling plant and a good Texan CAN taste the difference.  The Dr Pepper brand is owned by Snapple and there has been a flap recently about closing the Dublin Bottling Plant or not offering the original product there.  I don't know what has actually been resolved, but I did see a large display of original Dublin Dr Pepper at Central Market not long ago.
In the alcohol section of Real Texas drinks, Lone Star beer IS the National Beer of Texas, but you have to be tough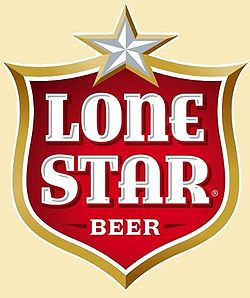 enough to drink it.   Pearl beer, made from liquids unknown, was another longtime favorite of serious Texas beer drinkers, but only the strong forefathers of beer drinking could consume it and live to tell about it.
And, there are a few of us left who used to drink 25 cent Coronas in a place just south of Del Rio.
There are several breweries or made in Texas beers available.
I grew up on Lone Star, but switched over to Coors at an early age.  For a long time, Coors was not available statewide and we were about the farthermost western town that had Coors.  College boys would come to our town, get a pickup load of Coors and re-sell it in Austin-San Marcos for a profit.  Some made a good living as modern day bootleggers.
Today, Coors and Miller are owned by the same company and Miller is brewed in Fort Worth.  It is called MillerCoors.com
Their top selling beers are Miller Lite and Coors Light. Other brands include Blue Moon Belgian White, Coors Banquet, Foster's, Henry Weinhard's, Icehouse, Keystone Premium, Leinenkugel's, Killian's Irish Red, Miller Genuine Draft, Miller High Life, Milwaukee's Best, Molson Canadian, Peroni Nastro Azzurro, Pilsner Urquell, Red Dog and many more.  I am not sophisticated enough to know what some of the brands listed above are except Miller and Coors, Keystone, Fosters and Blue Moon.
Alas, Lone Star, The National Beer of Texas, is owned by Pabst Brewing Company,  and it is brewed in Fort Worth by Miller Brewing Company.  Lone Star has a colorful history and the brewing is actually outsourced to Miller Brewing Company in Fort Worth.  The old Lone Star Brewing Company San Antonio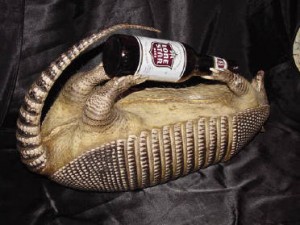 headquarters is being remodeled by a private developer and will be a great place to visit in the near future.
Lone Star:  The beer that made armadillos famous!
Spoetzl Brewing Company which serves up the ever popular Shiner Beer is brewed in Texas and always has been.  Shiner Bock is available in over 41 states now.  It was started in 1909 and is the oldest independent brewery in Texas.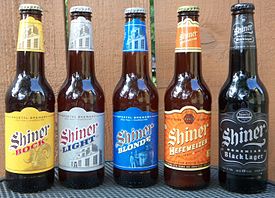 Shiner Beer was successful because it kept its production small and local.  After prohibition ended, many of the larger breweries came to Texas.  Shiner struggled, but kept its distribution to within 70 miles of Shiner, Texas.
It has grown and prospered and is now the 10th largest brewery in the U.S.  Like Lone Star, it has an almost cult like following.
There are many other Made in Texas beers including Shiner along with Southern Star, Real Ale, Saint Arnold, and Independence Brewing Company.  Those are all Real Texas beers and you can work your way through all of them if you are really thirsty.
Here is another listing of breweries in Texas:
Adelbert's Brewery – Austin, Texas.
Austin Beerworks – Austin, Texas.
Wicked Beaver Brewery – Lubbock, Texas.
(512) Brewing Company – Austin, Texas.
Franconia Brewing Company – McKinney, Texas.
Fredericksburg Brewing Company – Fredericksburg, Texas.
Freetail Brewing Company – San Antonio, Texas.
Independence Brewing Company – Austin, Texas.
Jester King Craft Brewery – Austin, Texas.
Live Oak Brewing Company – Austin, Texas.
New Republic Brewing Company – College Station, Texas.
Rahr and Sons Brewing Company – Fort Worth, Texas.
Ranger Creek Brewing & Distilling – San Antonio, Texas.
Real Ale Brewing Company – Blanco, Texas.
Saint Arnold – Houston, Texas .
Southern Star Brewing Company – Conroe, Texas.
Spoetzl Brewery – Shiner, Texas Commonly referred to as Shiner. Most known for their beer, Shiner Bock.
Thirsty Planet Brewing – Austin, Texas.
Twisted X Brewing Company – Tex Mex Beer – Cedar Park, Texas.
Circle Brewing Company- Austin, Texas.
No Label Brewing Co. – Katy, Texas.
Karbach Brewing Co. – Houston, Texas.
Buffalo Bayou Brewing Co. – Houston, Texas.
Margarita's are a Texas favorite
The other alcoholic drink worthy of mention if you are a good Texan is the Margarita.  There are several claims of where the original margarita was first introduced to a thirsty Texas, but one is the following:  In Galveston, Texas, head bartender Santos Cruz created the Margarita for singer Peggy (Margaret) Lee in 1948 in Galveston's Balinese Room.
The Balinese Room was Texas' finest nightclub with A/C, casino gambling, superb food and drinks, and stellar entertainment until the Texas Rangers finally shut it down in 1957.  The last remnants of the infamous Balinese room were wiped out by Hurricane Ike.
Here is one of my favorite Peggy Lee songs.
Made in Texas Vodka

And Vodka aficionados can sip on Texas made Tito's Vodka, Dripping Springs Vodka, Savvy, or Enchanted Rock Vodka.   All make pretty good Dirty Martinis if that is your form of poison.
 Don't forget Ice Tea!
And for you teetotalers……There's one more.  Ice tea.  Or, iced tea.  It is actually true that you don't have to consume prodigious amounts of alcoholic beverages to have a good time in Texas. Although I sing and dance much better after having my fair share!
When we order tea, it comes with ice cubes in it and you can get it already sweet.  We drink ice tea winter and summer and in prodigious amounts during the summer.  We go to bed with a glass of it beside the bed in case we get thirsty during the night.  You can imagine my surprise in New York when asked by the waiter what my drink preference was…..I answered ice tea……and was brought….hot tea.
We take our drinks seriously in Texas from Dr Pepper to your favorite version of Margaritas to ice tea.
By the way…it's not a typo.  There is no period in Dr Pepper.
You can be Texan Wherever You Are by toasting your friends with your Texas favorite.