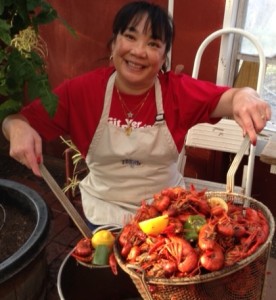 It's Crawfish season!!!
From February through June, you can get your Louisiana Crawfish from Groomer Seafood.  Just call and ask for Blake, he'll set you up and they can deliver right to your door step!
Note:  Groomer's gets their crawfish on Friday, so they can't ship it out immediately.  However, you can go by and pick it up.
These Crawfish are the largest, freshest and so clean.
The recipe will take you from Boiling the Crawfish, Peeling them, Making the Crawfish Stock, and then finally Making Real Texas Crawfish Étouffée!
Peeling the Louisiana Crawfish is really a simple art, and this illustration is from Louisiana Cookin
Now, not each tail will come out perfectly.  It's an art to be able to peel a Crawfish.  If you need encouragement, a Lone Star beer will give you the little boost that you will need.
Some folks will suck the heads, but I haven't gotten that brave yet.
Ingredients
Crawfish Boil
1/2 tablespoon Whole Black Peppercorns
1/2 tablespoon Whole Coriander Seeds
1 tablespoon Whole Cloves
3/4 tablespoon Whole Allspice
2 1/2 gallons Water
1/2 cup Kosher Salt
2 tablespoons Cayenne Pepper
1 tablespoon Garlic Powder
1 tablespoon Paprika
1/2 tablespoon Onion Powder
1/2 tablespoon dried Thyme
1/2 tablespoon dried Oregano
1/2 tablespoon dry Mustard
1/2 tablespoon dried Dill Weed
3 Bay Leaves, crumbled
5 pounds live Crawfish
4 Lemons, halved
4 fresh Jalapeños, ends cut off and halved
Crawfish Stock
The Crawfish shells, head and tail ends
3 gallons Water
1 cup Onions, diced
1/2 cup Celery, diced
1/2 cup Carrots, chopped
For the Spice Bag
4 Bay Leaves
3 tablespoons fresh Basil Leaves
3 tablespoons fresh Oregano Leaves
3 tablespoons fresh Thyme Leaves
1/2 tablespoon Black Peppercorns
Crawfish Étouffée
1/4 cup Onion, chopped
1/4 cup Celery, chopped
1/4 cup Green Bell Pepper, chopped
1 fresh Jalapeño, minced
1/3 cup Olive Oil
3/4 cup All Purpose Flour
2 cups Crawfish Stock
1/4 lb Butter
2 pounds shelled Crawfish Tails
1 cup Green Onions, chopped
1/4 lb Butter
1 cup Crawfish Stock
4 cups Steamed White Rice
Seasoning Mix
2 teaspoons Kosher Salt
1 teaspoon Cayenne Pepper
1 teaspoon White Pepper
1 teaspoon Black Pepper
1 teaspoon dried Basil
1/2 teaspoon dried Thyme
Directions
Crawfish Boil
Place peppercorns, coriander, clove and allspice into a grinder and grind. In a bowl add the fresh ground spices to all the other spices and mix together.
In an outdoor stainless steel pot fill with the water. Add all the spices, lemons and Jalapeños. Bring to a boil. Add the clean crawfish to the boiling water. (Make sure you remove and discard any of the dead crawfish before adding to the water.) Boil for approximately 3 – 5 minutes or until the shells are a bright red color.
Remove the crawfish and cool.
Remove the crawfish tail meat and put the body and tail shells in a separate bowl for the crawfish stock. Refrigerate the crawfish tails until ready to use.
Crawfish Stock
Clean the stainless steel pot and add fresh water.
Make the spice packet, using 4 x 4 untreated gauze, over lap the 2 open gauze and add the bay leaves, basil, oregano, thyme, and peppercorns. Fold the gauze and tie with string to form a spice packet.
Once the water comes to a boil, add the vegetables and the spice packet and boil for approximately 5 minutes. Add the crawfish bodies and tail shells….boil to reduce for a couple of hours…
Strain the crawfish stock so only have the dark stock left and discard the shells, spice packet and vegetables.
Crawfish Étouffée
Combine the seasoning mix ingredients and set aside.
Combine the onions, celery, bell pepper and Jalapeños in another bowl.
Heat the oil in a cast iron dutch oven over high heat until it begins to smoke (approximately 4 minutes). Using a metal whisk gradually add the flour, whisking until smooth. Continue cooking, whisking constantly until the roy is dark red-brown (3 to 5 minutes) Don't let the roux scorch or burn in the pan. Remove from heat.
Immediately stir in the vegetables using a wooden spoon. Add 1 tablespoon of the seasoning mix. Continue stirring, until cooled (approximately 5 minutes) In the meantime bring the first measure of crawfish stock to a boil in a saucepan. After the vegetable mixture stops sizzling, gradually add the boiling stock to the roux. Continue whisking until the roux is completely dissolved. Reduce heat to low. Cook until the flour taste is gone (approximately 2 minutes), whisking constantly. Remove from the heat.
Melt the first measure of butter in a skillet. Stir in the green onions. Saute for approximately 1 minute, stirring constantly. Add to the Roux mixture. Add the crawfish tails and the second measure of butter. Cook until the butter melts and is mixed into the sauce. Do not stir!
Add the remaining seasoning mix and stir well. Cook at a bubbling simmer for approximately 1 hour.
Steam the white rice.
To put together the crawfish étouffée pack the white rice in a small cup. Turn over into a bowl. Ladel the crawfish étouffée around the rice and garnish with fresh basil leaves and serve!