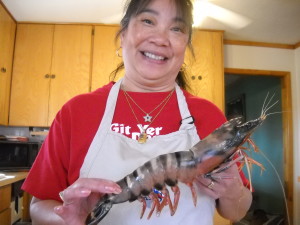 You think everything in Texas is bigger, well wait until you see these Shrimp!!!
They are flown in fresh to Groomer's Seafood... If you call Blake, I'll bet he can fix you up and ship directly to your doorstep.  Check out their weekly specials too.  I know I'm becoming a regular customer and we are eating more fish than we ever have and it's all so fresh and delicious!
Yes, this is a shrimp and not a lobster.  They are beautiful.
After to put these African Tiger Shrimp on the grill, all other shrimp will seem like little cocktail shrimp.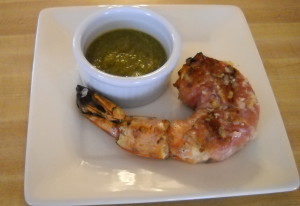 Ingredients
2 cloves Garlic, minced
1 Shallot, minced
1 tablespoon fresh Ginger, minced
1 cup Margarita Mix
1 shot Tequila
1/2 stick Butter
3 African Tiger Shrimp, cleaned and deveined
1 Jalapeño, sliced in thin slices lengthwise
1 package Proscuitto Ham
Wooden Skewer Sticks, soaked in water for 1 hour
Directions
Puree together garlic, shallot, ginger, margarita mix, and tequila. Divide into 2 parts and add melted butter to 1 part and set aside.
Shell (leaving the tails on, removing the heads), clean and devein the shrimp. Rinse in cold water.
Place the thin slices of Jalapeño in the crevice where you removed the vein in the shrimp. Place 2 pieces of the ham next to each other just overlapping just a little. Wrap the shrimp in the ham.
Curl the shrimp and put the 2 skewers through the shrimp. Place the shrimp in a pan large enough to lay them flat with room for the skewers. Pour the marinade (without the butter) over the shrimp and place in the refrigerator for 1 hour.
Heat grill and spray with oil. Place the marinade with the butter on the top rack of the grill to keep heated.
Place shrimp on hot grill and turn down to medium. Cook for 3 minutes, turn and baste with the marinade. Continue turning and basting until the shrimp is cooked…approximately 9 minutes…the ham should be crisp on all sides and the shrimp sticking out should be transparent and firm.
Remove from the grill and remove the skewers and serve with Real Texas Cha Cha Sauce