A new way of snacking
It was a roundabout trip on Friday to be sure.  We headed out from Sherwood Ranch to Llano to pick up half a wild hog our friends had processed at Miiler's Meat Market.  Yes, that's the way they spell it…. then we headed down highway 16 for a beautiful 36 mile trip to Fredericksburg for some Christmas sightseeing and shopping.  The drive through the Texas Hill Country was beautiful that day and it was misting ever so slightly as we went by the Texas icon Enchanted Rock out in the distance.
Fredericksburg was crowded as usual this time of year, but you have to know that the good 'volks' in Fredericksburg know how to do Christmas.  The decorations alone are worth the trip and the Marketplaz, the city park there, is lit up like nobody's business.  Every store had Christmas decorations and it was a treat for Ramona to walk a block or two and window shop.  After not being able to get out much lately, it was an enjoyable outing for us both.  The Marketplaz even has a skating rink there and it is some sight to see Texans out trying to learn how to skate on ice.  We are a lot more familiar with 'breaking ice' in the water troughs out in pastures than we are skating on ice.  Fredericksburg is just a delightful community and a great place to get in the Christmas Spirit.
Most of you long time Real Texas readers  and fans of Real Texas Recipes know that Ramona simply cannot pass up a grocery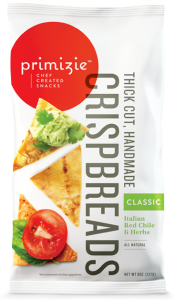 store.  She had to stop at the Fredericksburg H-E-B.  As we were strolling through the store, we came up on a series of sample displays where vendors offer samples of H-E-B products.  I sampled the apple cider and wine and in that same area I was offered a pita looking chip and the person manning the booth by way of introduction said, "this will change the way you eat chips and dips."
Turned out it was a Primizie (pronounced pri' mitt zee).  It is an Italian crispbread, pronounced out here in Real Texas as eye-talian, crispbread.
Here is how they describe their product:
The basis for our crispbreads was discovered in Italy while traveling on a culinary tour through the country. The bread recipe was re-developed and became the cornerstone to our menus for Neapolitan pizzas, paninis and antipasto platters. We then discovered that when these breads were "crisped" they served as an even better vehicle for passed hors d' Oeuvres, as bruschetta for antipasti and had superior "dipability" characteristics for cheeses and hearty dips. Primizie Crispbreads became an instant favorite to all we served.
Chef Mark and Lisa Spedale created the the snacks and they advertise that they are 'chef created snacks.'   The person who manned the sample booth was actually the president of the company, Brion Cimino, and that is something I really like to see when those with a vested interest in a company do the 'down and dirty' work of promotion in the start-up phase.  the good news is….they seem to be doing everything they can to have a good product, enthusiastic promotion, and plenty of hard work.
You can visit their website at primiziesnacks.com
While there, you can possibly learn where the products can be purchased and how the product is being promoted.
It really is could be a product that "will change the way you eat chips and dips."
It's a real Texas product!  My favorite kind, and it's just in time for those Texas Christmas parties.
I'm David out in Real Texas
Munch, munch…mmmmm.