Have you ever been to a Farmer's Market?  Not only can you purchase fresh fruits and vegetables, but also other products including baked goods, fresh eggs, herbs, spices, dog treats, and much more.  But it's not just what you can purchase that makes a Farmer's Market…you can appreciate what the farmers have done and that is also worth more than you can imagine….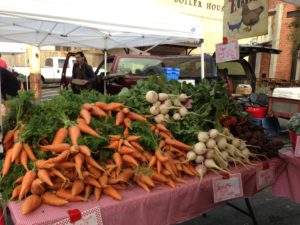 I love going to Farmer's Markets. We have traveled over 50 miles one way just to go to one!  Most are year round, and you'll find whatever is available for the season.  The best time to go to experience the most vegetables is of course in the spring and early summer when all the vegetables are available.  (Provided that the weather has cooperated.)  One of my favorites is The Pearl Brewery Farmer's Market in San Antonio, Texas.  Another is New Braunfels Farmer's Market in New Braunfels, Texas.
You'll find the most delicious fruits and vegetables you can imagine. The reason for this is the produce is grown differently than what you are used to in the grocery stores.  Most is grown organically, meaning with no chemicals or insecticides.  Also the crops aren't as large as the commercial grocery store and more than likely everything is hand picked fresh that morning.  Fresh is the word.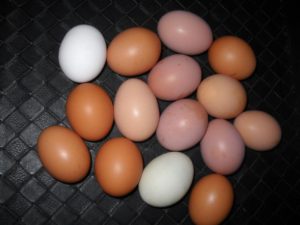 Another popular item found at Farmer's Markets, are fresh eggs.  Have you ever eaten a real egg from a free range chicken? This is an egg that came from a hen that is not in a cage, she roams free, able to eat lots of bugs, grains, grasses and some get special treats.  Sometimes, I'm not sure if our chickens aren't pigs! They are my compost chickens…they love when momma's in the kitchen cooking because when they go into their pen to roost at night, they get all kinds of vegetable and fruit scraps.  If you eat a real egg, you'll notice how dark orange the yolk is, and how much more flavorful it is than commercial eggs.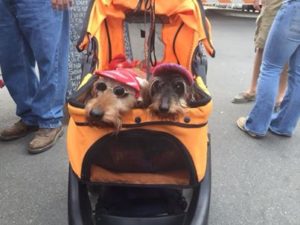 A Farmer's Market is so much more than just a place to go to buy more expensive fruits, vegetables, eggs and other items.
It's a social event.
I love to look at all the different breeds of dogs.  Yes it's true, their people partners do look like them!  If our doggies were more social, we would take them too.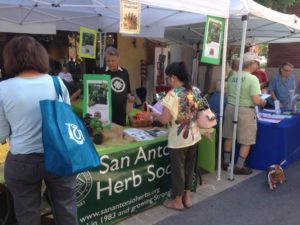 There are different events year round.  I love the annual Herb Festival at the Pearl. And I really love the Basil Festival.  I can purchase healthy plants, herbs, basils, and all kinds of flowers to take home and plant.
Right before Christmas, there is a Tamale Festival.  You can't believe how many different varieties of Tamales there are! H-E-B is a big sponsor or the event and the individual tamale vendors are fantastic.
There's a pottery festival, coffee festival, and all sorts different festivals.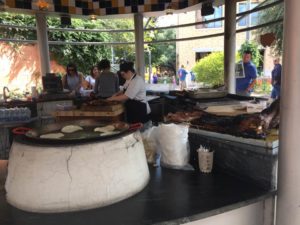 The Culinary Institute of America's school is also located at The Pearl.
Every Saturday they are cooking up something in their outdoor pavilion. There it is in the photo to the left.
The CIA even has a working restaurant called, 'NAO'.  NAO is a Latin Gastro Bar.
All of the events at a Farmer's Market are exciting for the folks attending, but there is so much more behind the scenes that is so interesting.  The vendors themselves are not just selling a product, but have very fascinating stories themselves.  You could spend hours listening to each one of them and they each not only have different backgrounds, but they have their own unique visions.
They specialize in what they have brought to the market, but it's more than just baby kale, or a bag of Texas Black Gold Garlic, (what's that?) maybe wildflower honey compared to mesquite honey.  You can really get educated about the new movement 'Farm to Table.'  These folks are working together to bring us not only fresher produce, because it's all grown locally, but also it's more nutritious.  Chefs are working together to teach us how to cook healthy and serve healthy food through their menus in local well known restaurants that also use farm-to-table practices in sourcing their menu items.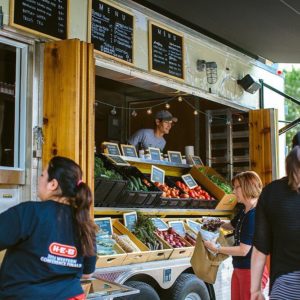 Today, Wednesday, I was invited to go to a Mid Week Market, hosted by Truckin' Tomato, a farmer's market and specialty grocery store.
I love the Truckin' Tomato. I had ordered some meat and fresh vegetables online, then picked it up in a school parking lot from their mobile Farmer's Market.
They had my order all ready to go in an insulated bag.  But I couldn't just stop there, of course I had to shop!  How could I resist, beautiful fresh vegetables, right there for me to pick up and take home.
I was so fascinated when I arrived to pick up my package.  It was a truck that had been converted into a complete mobile market!
How convenient for folks who worked and couldn't get to a Farmer's Market. The Farmer's Market came to them.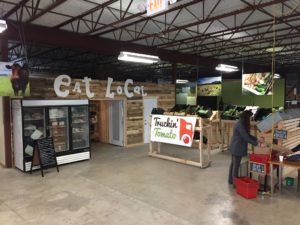 The mid-week Market is located at 503 Chestnut Street, San Antonio, Texas.
It's right downtown San Antonio in a large warehouse.
We have had extremely warm weather for this time of year, but today mother nature decided to change the weather to a cold winters day.  This was actually lucky for me because it wasn't as crowded and I had a big surprise in store for me.  I actually got to know the vendors and I have a whole new respect for the passion each one of them have and the hard work and love that goes into their product.  Now when I pick up one of their goods, I feel like its a special gift made just for me.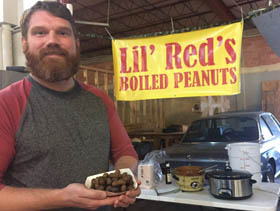 I met Michael McAndrew of Lil' Red's Boiled Peanuts.  Lil' Red's was founded in 2016 by Michael, a Southerner from the panhandle of Florida who finds it astonishing that boiled peanut stands don't line the roadsides in South Texas like they do in the Southeast. Michael is married to Lacy (the original "Lil' Red"), and together they are parents to Archer (the new "Lil' Red"), born in 2015. This family has made San Antonio home and wants to share with you their love for The Caviar of the South.
Boiled peanuts are not only delicious; they're also great for your health! The process of boiling peanuts draws antioxidants from the shells. Boiled peanuts have four times the antioxidants of raw or roasted peanuts. They're also high in protein and perfect as a vegetarian snack.
I had never eaten a boiled peanut and Michael taught me how to eat one.  After he fished some peanuts out of the hot water, he picked one up and said 'you squish the sides until it opens, then suck the peanut out and enjoy!'  I tried both the cajun and the salted.  What a treat!  They are not what I expected.  The peanuts are warm, soft and full of flavor.  I think my favorite are the cajun, so I brought some home to enjoy…next time I see Michael, I'll have to try both flavors again and bring home the salted flavor.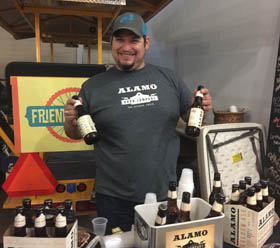 While I was learning all about Boiled Peanuts, guess where David was?  Of course having a beer with the Alamo Beer guy, Matt Menchaca.
They were talking about how David can't find his Original Longneck Coors any longer and needed to find a new beer.  For a while he drank Lone Star until I started using it in my recipes and there was never any left for him to drink.
Then he switched to Shiner because it's a Texas made beer with just a great taste.
So now he likes Alamo beer, thanks to the tasting and making a new friend.  He wants to try a Red Beer using a Madge's Black Garlic Fermented Bloody Mary Mix with an Alamo Amber Lager.  I shared with them that when I bartended, I could make a pretty mean Red Beer, but the recipe I made back east in Boston, was in a chilled glass, pour spicy bloody Mary mix into the glass, add dash celery salt, dash Tabasco sauce, dash Worcestershire sauce, dash brine from a jar of spanish olives, pour in a Samuel Adams beer and serve with a slice of lime.  Not too sure David would even consider such a yankee sounding beer concoction.
Alamo Beer Company Brewery sits beneath the historic Hayes Street Bridge in East Downtown San Antonio. Using age-old methods of brewing the company brews ALAMO Golden Ale, ALAMO Pilsner, ALAMO German Style Pale Ale and ALAMO Amber Lager plus seasonal selections.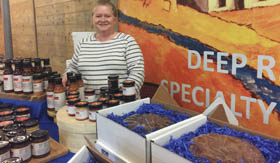 I love Texas Black Gold Garlic Mustard and just had to meet Cheri White of Deep River Specialty Foods. She created my favorite mustard, but also has several other mustards.
As I was reading the labels of all the different varieties of mustards, I came across and interesting one, Bacon Mustard.  I just had to try this flavor.  Wow! The bacon flavor was so delicious, it was the first flavor on my tongue.  Then the slight sweet tang of the mustard coming together with the bacon, made me want to spread some on a piece of bread and enjoy as a bacon sandwich.  Just a little spoonful was so flavorful, it was like eating a piece of bacon with just the right amount of mustard.
We went into a room just behind the wall and it was a commercial kitchen.  This is where Cheri spends her time developing delicious flavors and new products. Deep River Specialty Foods specializes in handcrafted small batch processing of jams, jellies, fruit butters, mustard and Barbecue sauces.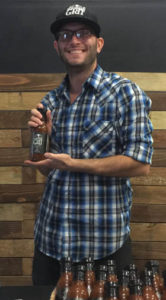 I wanted to give David a taste of the Bacon Mustard, but now he was over talking with Michael Grimes of Southern Grit BBQ Sauce.  Next to beers and salsas, I think this is his next favorite food item…you should see how many different bottles of BBQ sauce he has on my pantry shelves.
David doesn't just go for flavor, he likes meeting the creator behind the flavor. I think he enjoys the story and this makes the BBQ sauce more delicious.
I walked over and caught just a bit of a story of how Michael also rescues and raises bees.  I always wanted to have a bee hive for the honey, except for one little reason …I'm deathly allergic to bee stings, I even have to carry an EPI pen with me wherever I go.  But the story I heard was how he saved a huge bee hive in a tree.  The people wanted to fog it and kill all the bees, but Michael was able to relocate the hive and save all of the bees.  Good for him!!
I met Brandon Roberts, Michael's partner and we talked more about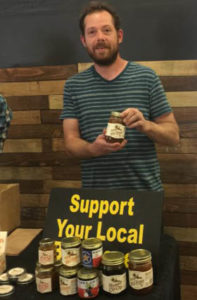 their honey and how they rescue bees. They specialize in no-kill beehive extraction. They are dedicated to protecting the feral honeybee from extinction through relocation, rehabilitation and eduction. Profits from this honey go to the American Honey Bee Protection Agency.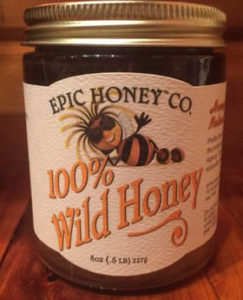 I love the sweet taste of their honey too!
You can order their delicious honey at, Epic Honey Company
Every jar of Epic Honey is the result of rescued bees, who were up for extermination, but nobly saved in their final moments and relocated to a safe haven, where they could continue serving the population at large. Proceeds from your purchase, today, go directly towards the efforts of saving hundreds of thousands of bees every month.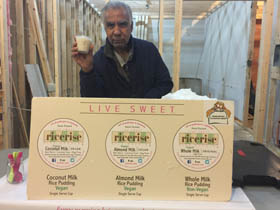 I love a good rice pudding and even though I wasn't able to taste today, I plan on trying it next time I get a chance.  After eating boiled peanuts, drinking Alamo Beer and don't forget Bacon Mustard, I was too full to eat rice pudding. But this gives me something to come back to next time I'm back.
Asad Siddiqui, owner of RiceRise, soon have a way to allow tasting.  I learned all about how the human mind uses sampling to decide whether or not to buy.  Did you know that it takes you 3 tastes for your mind to decide if you like?
Yep, 3 tastes…so those folks who only give you a little dab to taste will probably not get your sale.  Here's the science.  The first taste introduces the flavor to your taste buds.  Then it's gone, taken away from your taste buds, either leaving you wanting more, or wanting to forget you ever put that in your mouth.  The second taste, you are trying to identify familiar flavors, and deciding if you like the flavor.  The third taste, is the hook.  You are now enjoying the flavor, texture, smell, and if you want to go back for more.  You're sold!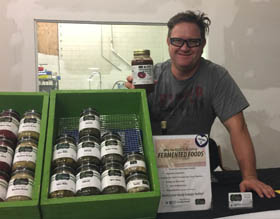 My next stop was to meet Michael Miller of Madge's Food Company. They are a San Antonio artisan food manufacturer. Crafting all natural food that will bring enjoyment to their customers lives is their mission.
They have created Madge's Black Garlic Fermented Bloody Mary Mix.  I can't wait to try both as a Bloody Mary and also as a Red Beer.
My first experience was a bit bumpy.  I received a jar and I'm not familiar with fermented foods.  They need to be refrigerated, not after opened, but immediately.  Fermented foods contain a live cultures.  I'm used to refrigerating after opening, so I placed in my pantry on a shelf.  Hmmm…it popped and oops.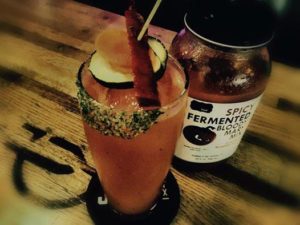 I now have a new jar of Bloody Mary mix and it's in the refrigerator. I think in the morning I'll make my first Bloody Mary. They have a delicious looking recipe right on the jar.
I know the flavor of Texas Black Gold Garlic Sea Salt is going to give it an extra 'pow' in flavor and I'll dust the lip of a glass with a little swipe of a lime and dip it in Texas Black Gold Sea Salt.  Maybe I won't wait until morning…is there a rule that you drink Bloody Mary's just in the morning?
We stopped at H-E-B and purchased Alamo Amber Lager, so I can wait until the afternoon to try my Red Beer.  I think with a squeeze of lime and a little Texas Black Gold Garlic Salt will be just the right little touches to make this a refreshing afternoon drink.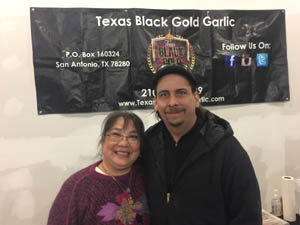 Now my all time favorite stop….Texas Black Gold Garlic and my friend Chef Stephen Paprocki.
A few years ago, Chef Stephen Paprocki discovered black garlic in his unending quest for new flavors from the kitchen. He learned that, like regular garlic, black garlic has properties that provide amazing health benefits, like being rich in antioxidants … and unlike regular black garlic, didn't give people bad breath.
His line of incredible products include:  Texas Black Gold Garlic bulbs; Texas Black Gold Garlic Powder; Texas Black Gold Garlic Sea Salt; Texas Black Gold Garlic Coffee Blackening Spice; Texas Black Gold Garlic Mustard and several other great products too.  You can order online at:  www.TexasBlackGoldGarlic.com
Chef Paprocki's story is so interesting and I will have an interview with him posted soon.
You might not know it, but I'm writing a cookbook and all of the recipes in this first cookbook are featuring Texas Black Gold Garlic products!  I put a hold on my Real Texas Recipes cookbook, because when I tried my first taste of Texas Black Gold Garlic, that is the only flavor I can think of!  I go to sleep and recipes come to me.  I have to wake up and type a note to myself on my iPhone that I have right next to my bed.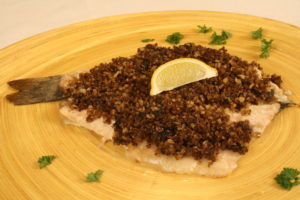 I have a list of all kinds of recipes. These aren't your ordinary recipes, but some like Toffee dusted with Texas Black Gold Garlic Sea Salt, Candied Jalapeño Apple Pie with Texas Black Gold Garlic Sea Salt, Brazino with Texas Black Gold Garlic Mustard, and more and more just keep coming to me.
When I first started taking him samples of my recipes, it was so intimidating.
Chef Paprocki is an accomplished and highly recognized professional Chef, having graduated from culinary powerhouse Johnson & Wales University, and at a young age was Executive Chef at the Fig Tree in San Antonio.  It was like taking a sample to Chef Gordan Ramsey of Hell's Kitchen!!!  I was scared, but I believed in Texas Black Gold Garlic and I had tested some of my recipes with our neighbors, so I 'Cowboy'd up' and he loved them!  He even told me that my flavors could hold up to some Chef's in town…Wow!  My recipes!!!  That sent me up to cloud 110!!!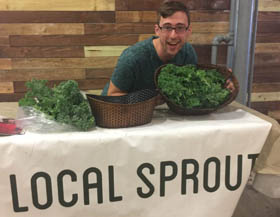 A week later, I went back to pick up some of the BEST kale I have ever eaten from Mitch Hagney of LocalSprout.
LocalSprout, is devoted to growing a different San Antonio. With the newest hydroponic technology, they can grow healthy and sustainable produce in the same city they are selling it.
I started with the Baby Kale, and loved it!  I have developed a Baby Kale Salad dressed with Texas Black Gold Garlic and the recipe will be in my cookbook.
I have now successfully made Kale Chips with Texas Black Gold Garlic Powder and Texas Black Gold Sea Salt.  I'm using LocalSprout's large Kale leaves.  This recipe will also be in my cookbook.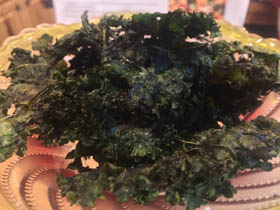 I have tried to make Kale Chips before without success.  So disappointing.  I burned them so bad, there were just ashes where the little kale leaves were.  I even tried to use my dehydrator and they actually went transparent and shriveled up.  I have found the secret!  It takes time, but it's all in the caring, and time consuming technique how you handle each piece of kale.  You literally have to massage the olive oil in all the little ridges, carefully not to bruise the tender leaves.  Then being careful with the heat of the oven, and you have to turn each piece over half way through cooking.  I started with 2 baking sheets full and ended up with just a single serving, which I gave as a present to someone I know loves Kale Chips.  I will be getting a larger bag and it will take me a long time to make, but it's so well worth it and just think how healthy it is!
We've been back to visit Mid-Week Market and this time we enjoyed a Latte from Pulp Coffee.
A Latte is espresso and steamed milk.  The steamed milk creates a nice thick cream on top of the espresso.  Pulp's espresso is a medium roast and roasted to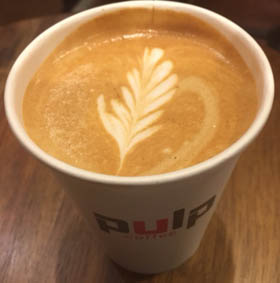 perfection creating a natural sweetness tasting flavor.  I like my coffee, cream, sugar and just a splash of coffee!  But this Latte was so rich and a natural sweet, that I really enjoyed it.  The artsy leaf design was a pretty fancy touch.
I am familiar with roasting coffee from my days in Nashville. I almost started a coffee cafe, and even went to roasting classes in Seattle.  It was so fascinating.  What a way to end a day, talking with all the great folks at the Mid-Week Farmer's Market.
I love meeting the people who develop recipes and products and their fresh farm-to-table attitude and practices.  These local farmers and producers of our vegetables and meats toil in the weather and sometimes in anonymity to bring us the very best foods available. Let's try to support them whenever possible.  Go to your nearest Farmer's Market and give them a try.  I'm a believer!
A tip of the hat to them all!
I'm Ramona out in Real Texas
Loving Farmer's Markets and fresh foods…..