Get the grill ready for these delicious Grilled Vietnamese Chicken Wings!
Grilled Vietnamese Chicken Wings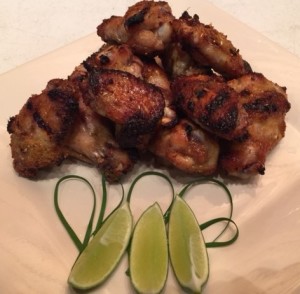 Ingredients
1 pound Chicken Wings, tips removed and split at joings
1/3 cup Honey
1/4 cup Lemongrass, minced
1/4 cup Fish Sauce
2 tablespoons Garlic, minced
2 tablespoons fresh Ginger, minced
2 tablespoons fresh Lime juice
2 tablespoons Oil
Fresh Lime Wedges
Directions
Place wings in a large ziplock bag.  Combine honey, lemongrass, fish sauce, garlic, shallots, ginger, lime juice and oil in food processor and process until smooth.  Pour over wings.  Seal bag, toss to coat.  Marinate in refrigerator overnight.
Prepare grill and preheat oven to 350F degrees.
Remove wings from marinade and reserve the marinade.  Grill wings 10 minutes or until browned, turning and basting occasionally with marinade.  Discard any remaining marinade.
Once the wings have a nice grill mark on them remove from the grill and arrange in single layer on a baking sheet.  Bake 20 minutes or until cooked through.
Serve with lime wedges.